5 Biggest Takeaways From 'Outlander' Season 4 Episode 6
William is back...and so is Lord John.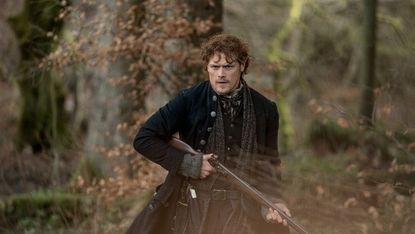 (Image credit: Starz)
After enduring many months of Droughtlander, Outlander, and everyone's favorite century-defying couple, is back. A lot has happened in the show's previous three seasons, and this new chapter is no different. So Marie Claire recruited a diehard Outlander fan to keep up with all the Fraser drama this season. Buckle up, Sassenach.
This episode, called "Blood of my Blood," has every emotion: envy, fear, pettiness, anger, and also generosity, hope, and love–of all kinds. The love a parent gives a child. Unrequited love. The deep, enduring love between soulmates. Again, Sam Heughan and Caitriona Balfe give subtle, finely tuned performances. They can say so much just with their faces. But in this episode it is words that are the focus. They're used to cause pain and also to bring comfort and joy.
LORD JOHN
An old friend of Jamie's–once a British soldier, Jamie's jailer, wanna be lover and now the step parent of Jamie's illegitimate son–shows up at Fraser's Ridge with that son, William. The kid is a Lord, that is unless anyone figures out who his real father is. David Berry as Lord John has a complicated task. He's supposed to be charming and worldly, and he is. But in many ways he comes across as a complete bastard. He takes the Frasers by surprise and they give up their cabin to their visitors and sleep outside. When he comes down with the measles, Lord John is left with Claire to nurse him, while Jamie takes William away to prevent infection. Alone with her, he tells her he's come to the Ridge to see Jamie, to see whether he still has feelings for him. In a bitchy moment, he tells her that she must be envious of him because he is raising Jamie's son. Fed up, Claire tells him she and Jamie have a daughter together but because of the Scottish uprising against the English, they were not able to raise her together. She knows his game. "You did mean to imply that you and Jamie have something together that we do not." Don't mess with Claire.
WILLIAM
What must it be like to see the son you can't acknowledge after so many years and realize he's become a spoiled brat and a stuffed shirt? First demanding that Claire remove leeches from his legs immediately, to being shocked that he has to go outside to the privy (will someone not fetch a chamber pot?) to nearly getting himself and Jamie killed because he's crossed into Indian territory and stolen their fish. But Jamie's joy at being with the boy is so clear. He glows when he looks at him and they begin to bond in the days they must spend away from the cabin. Heughan brings so much to this episode with his nuanced portrayal of Jamie's emotions–while teaching William to hunt, to dress the deer he killed (because again, no servants to do it) he is proud, tender, and tough.
CLAIRE
I know she's taken the Hippocratic Oath to do no harm to patients, but she's sorely tempted in this episode. She is so generous to Jamie about William. Jamie glows when he talks about him and she knows he's thrilled to see him. "He's very handsome," she tells him ignoring the fact that she's going to spend the night outside while the kid is in her bed. Later, as she's caring for Lord John as his fever mounts, he becomes more open about his jealousy of her. "It's hard watching you with him." Balfe's performance is amazing. Claire is stunned. And then it gets worse. When she asks, "Why torture yourself, surely you knew you could never have him?" In his attempt to score points on her, Lord John reveals something guaranteed to hurt her. "I could have had him," he tells her. Jamie offered himself to LJ in exchange for him caring for William. "Of course, I refused." Claire is shocked, wounded, and close to tears. Personally, I might have dropped a bit of poison in his tea. But again, her generosity wins out. Later when LJ apologizes, she even comforts him, saying he does have something of Jamie, he has William.
COURAGE
It took courage on Claire's part to do that. When Indians find Jamie and William on their land, they threaten William, who's taken their fish, saying he must pay with his blood. Jamie jumps in, saying, "He is my son, his blood is my blood" and offers to die instead. William then admits it was his fault, denies that Jamie is his father, and stands ready to take the punishment. The Native Americans, impressed by his courage, let them go. Jamie is impressed, because courage is perhaps the quality he values most in a person. He is proud to see it in his son.
A THOUSAND KISSES
Finally they all leave and Jamie and Claire are left blissfully alone. In a very sensual scene, Jamie gives Claire a bath as she moans in pleasure. "So often I've burned for you," he says, "you won't need clothes tonight." Their love is deep, it's passionate, it's playful. She doesn't need a ring to know he loves her. But it helps, he says, and produces a ring that Murtagh has made from the silver candlestick. It's beautiful with a Latin inscription from the poet Catullus: "da mi basia mille"–give me a thousand kisses. "And a thousand more," she responds. Jamie carries her to bed and begins to deliver on those thousand kisses. His laugh when she loses count is everything. But don't get too excited–it fades to black.
RELATED STORIES
Marie Claire email subscribers get intel on fashion and beauty trends, hot-off-the-press celebrity news, and more. Sign up here.