18 Essential Breakup Movies to Watch to Get You Through It
...or get you through those bad Tinder dates.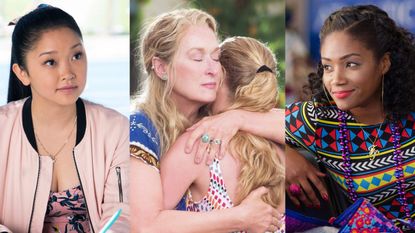 (Image credit: Netflix / Disney / Universal)
Nobody has to remind you that breakups are tough—especially when you're going through one of your own. Whatever the circumstances, breakups are painful and scary, and there's no good way to get through them except to...keep getting through. While nothing can really make you forget about the person who was once The One, these movies, all of which involve some sort of a breakup and, for the most part, a happy ending, will help distract from lingering negativity—even if it's just for a couple of hours. You'll finish the movie feeling a little less hopeless and a lot more understood.
The Parent Trap (1998)
There's nothing like a little #TBT to Lindsay Lohan's glory days to take your mind off of a breakup and remind you of your childhood (when the last thing you thought about was a relationship). People who went to sleep away camp will be reminded of the great friends they made throughout the years (the ones who really matter), and the movie proves you never know what will happen with an ex...even after so many years have passed.
Legally Blonde (2001)
Cue the iconic "LIAAAAAR!" scene. If Elle Woods can go through a nasty breakup ("If I'm going to be a senator by the time I'm 30, I need to marry a Jackie, not a Marilyn"), get accepted to Harvard Law School ("What, like it's hard?"), and land on her feet at the top of her class, so can you.
The Notebook (2004)
Sometimes you just need to let it all out and that's OKAY. The Notebook will put you in your feels and remind you that, despite your current circumstances, true love isn't dead. Also, Ryan Gosling is great to look at. If he's a bird, I'm a bird.
Closer (2004)
Sure, breakups can be funny (at times), they can be amicable (occasionally), and they can lead to better things (almost always), but breakups can also serve as a kind of emotional violence, leaving you raw and more vulnerable than ever. Closer is about what happens to the intimacy you shared when someone decides to no longer love you.
Eternal Sunshine of the Spotless Mind (2004)
If all you want to do is erase the memory of your last relationship and move on immediately, well—here's a movie about just that! This arresting film is about what happens when we literally have the technology to forget someone ever happened to us.
John Tucker Must Die (2006)
Channel your rage by watching this breakup classic in which three unlikely friends work together to take down the titular high school heartthrob, who thought he could get away with dating all of them at once because they belonged to different "cliques." Use it for your own inspo with a cheating ex (but also, you didn't hear that from us).
Forgetting Sarah Marshall (2008)
When on a breakup vacation, the last thing you want to do is run into your ex—and the hot new guy she's dating (gloriously played here by Russell Brand). It doesn't matter how many tears you've shed (or are actively shedding)—this movie will make you laugh through them.
Mamma Mia! (2008)
Oh, I didn't know they named a movie after my dating life! Forget about that awful Tinder date by queuing up a feel-good movie like Mamma Mia!, then proceed to blast the entire ABBA album on repeat. It might even encourage you to book a "me trip" this summer to Greece, where the film is set. Follow it up with this year's sequel, Mamma Mia! Here We Go Again if you're in the mood to binge.
(500) Days of Summer (2009)
Perhaps no movie on this list so perfectly captures the roller coaster of early-20s love—the yearning, the playfulness, the self-denial—as this indie classic. You think it's a love story, until the truth hits you over the head: It's actually just one small chapter of your story. Just like your recent breakup!
The Hangover (2009)
This movie isn't really a "breakup movie" per se, but it does end with Stu not proposing to that evil witch Melissa, so we're counting it. Plus the fact that the plot is full of over-the-top ridiculousness is precisely what you need right now. The Hangover will give you a good laugh and remind you that your life isn't half as bad as Stuart's when he wakes up with a tattoo on his face. (Yes, this is in the second film. Watch both and skip the third.) Friendly reminder: Bradley Cooper is also in the movies.
Eat Pray Love (2010)
The movie version of Elizabeth Gilbert's 2007 Eat Pray Love, starring the inimitable Julia Roberts, is an inspiring reminder that the universe has a plan for all us (exes not included) and traveling across the globe solo after a breakup could be the best thing you ever did in your life.
Like Crazy (2011)
This heartbreaking romance, which stars Felicity Jones, Jennifer Lawrence, and the late, great Anton Yelchin, follows a quirky British student (Jones) who falls for an American (Yelchin) while studying abroad. Theirs is a great love story—but she overstays her visa, and the years after their first summer together are riddled with immigration problems and painful efforts to separate, reunite, and separate again.
Crazy, Stupid, Love (2011)
No matter where you think you're at in life, there's so much more to come. That's one of the lessons of this sweet, hilarious rom-com, which has become a sleeper classic since its 2011 release. The other lesson is that Ryan Gosling, who appears twice in this list, looks really, really good without a shirt.
Silver Linings Playbook (2012)
When it's difficult to accept that the relationship is over, find the silver lining (pun completely intended) in Silver Linings Playbook, in which Bradley Cooper's character, Pat, struggles with losing his job and his wife until he meets Tiffany (Jennifer Lawrence). It's not exactly your typical "breakup and fall in love again" movie, and that complexity comes through in Cooper and Lawrence's flawless performances. (Warning: Don't watch this if your S.O. was an Eagles fan.)
Gone Girl (2014)
If you didn't go missing and your husband isn't a prime suspect, consider yourself lucky and watch Gone Girl—no one wants to be in a relationship after watching this completely messed up duo.
La La Land (2016)
Okay, so La La Land may have you heavily reflecting on your relationship, but rather than let that get you down, focus on the fact that the film is a beautiful reminder that timing doesn't always work out in our favor. Sometimes you have to let the person you love go so they can follow their dreams. Le sigh. Still, come for Ryan Gosling and Emma Stone's amazing chemistry, stay for the music you'll want to download immediately.
Girls Trip (2017)
Instead of hiding under the covers, throw some popcorn in the microwave and invite a few of your besties over to watch Girl's Trip. This feel-good, hilarious comedy starring Regina Hall, Queen Latifah, Tiffany Hadish, and Jada Pinkett Smith is an instant mood booster and will remind you the single life isn't as bad as you think.
To All the Boys I've Loved Before (2018)
To All the Boys I've Loved Before feels weirdly relatable (in the best way) for anybody who has ever had a big fat crush (which, let's be honest, is all of us). It's a reminder to be vulnerable, say what you want to say, and know that your Peter Kavinsky is out there...somewhere! Noah Centineo, call me?
For more celebrity news, beauty and fashion advice, savvy political commentary, and fascinating features, sign up for the Marie Claire newsletter.
RELATED STORY