Love Is Messy. You Need Your Crew.
My favorite Black rom-coms are a reminder that falling in love isn't a solitary affair.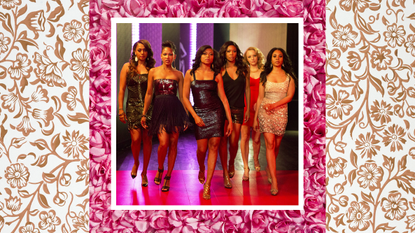 (Image credit: Getty Images)
Growing up in an Afro-Latino household, I didn't really watch romantic comedies. My mother was a new immigrant, living a hard knock life—telenovelas and biting political humor were more her speed. So by the time I went to college, I had a lot of catching up to do. For a semester, I binged on the Hepburns, Audrey and Kate. I watched everything from Adam's Rib and Breakfast at Tiffany's to Two for the Road and Woman of the Year. These classics solidly followed the formula of "boy meets girl, boy loses girl, boy gets girl back again." The solitary journey of love they portrayed mimicked the loneliness I felt as a Black girl on a predominantly white campus. And partly because of these movies, I thought love—an everlasting, you and me against the world, stop in the name of love, kind of love—would change that. Except in college, that's not what I found. I dated a little. I made some dear friends. But when friends from college moved in together and started new couple lives, I felt woefully left out.

Then, in the kind of happy accident that you never see coming, I had a meet-cute with a movie director. It wasn't romantic love, but it was definitely professional like and he invited me to come work on his next movie. I was 21 years old, and I moved to L.A. with this dream job and no drivers license. For three months, a posse of about a dozen of us—all young, Black, and ambitious—lived together, worked together, traveled up and down the California coast together, and made a movie. It was my first time being part of a crew, literally and figuratively. I had crushes, but mostly I fell in love with the pure, unadulterated joy of rolling with a posse of smart, gorgeous, bad-ass women and equally smart, charming, bad-ass guys.
So many of my favorite African-American rom-coms mirror the dynamic I felt on that movie set. They feature posse plots that suggest that falling in love isn't a solitary affair. In these movies, there are always brothers trying to throw shade, sisters getting up in the mix, and friends of both genders working to push the couple together...or pull them apart. Is it cultural, the legacy of writers and directors who grew up in neighborhoods—from Harlem to Compton—where you lived outside and up close with everyone around you? Or perhaps the legacy of early African-American filmmakers like Oscar Micheaux, whose gonzo style of independent filmmaking favored filling every frame with as much entertainment as the story could bear? Whatever the reason, there is a strong, proud lineage of films that herald what Drake calls "crew love" (without the groupie implications).
You only have to look at the poster for Chris Rock's ode to hip hop and love stories, Top 5, to know that, while Rosario Dawson is the girl in this boy-meets-girl, there's going to be a whole lot of people up in that romance. The first scene in the trailer isn't Rock gazing longingly at Dawson across a crowded room. It's Rock intro-ing his new girl to a posse of friends and begging them, "No snitching." To which, Tracey Morgan replies, "You come at me, baby girl, and I'm going to turn over like an apple pie." Leslie Jones builds on the riff when she promises, "We gon' tell all his sh*t."
Few movies pack in the volume of love stories like Think Like a Man. There's Taraji P. Henson and Michael Ealy, Regina Hall and Terrence J, and Romany Malco romancing Megan Good. (A quick aside: If you're not watching Romany Malco on my favorite crew-love TV show, A Million Little Pieces, you are missing out.) Think Like a Man, based on Steve Harvey's best-selling romance advice book, keeps the laughs coming and is, at the end, an entertaining reminder of what Jane Austen aspired to teach us so long ago—the perils of pride and prejudice.
If you want to take it way back to the late '90s and you don't have an aversion to spoken word, then I highly recommend, Love Jones. What keeps me coming back to this film again and again is that the women are never the butt of the joke. It's the guys who have to elevate their game to get with these sisters. When a cocky Bill Bellamy announces that "I don't need poetry to get women." His best gal pal cuts him down to size by explaining, "No, you need a personality to get women." To which his best friend adds, "Try a breath mint and a Visa."
(Another aside: The neo-soul soundtrack is reason enough to watch this old-school romantic comedy. It features Dionne Farris singing the song that elevates every rom-com playlist, Hopeless; a young Lauryn Hill singing The Sweetest Thing; jazz singer Cassandra Wilson; and the king of baby-making anthems, Maxwell.)
Sometimes it seems like these movies throw together so many friends and couples purely for the eye candy. If what you want for Valentine's Day is some good looking people falling in bed and/or in love, you could do worse than two other late '90s comedies, The Wood and The Best Man. They are both testament to the fact that Taye Diggs has been good-looking, and young-looking, for a suspiciously long time.
It's not a Black film, but really, I have to admit, that Four Weddings and a Funeral is the standard-bearer when it comes to movies that depict the power of falling in love while surrounded by your peeps. No movie has made me laugh and cry and want (desperately want) to walk around with a British accent more than that film. It's telling that when Mindy Kaling decided to remake Four Weddings (currently in production), she decided to cast Jessica Williams in the lead, to freshen up this classic of the genre by replacing Hugh Grant—charming, foppish, English white boy—with a confident, clever Black woman who can hold her own in a big ensemble cast.
Williams showed that confidence in 2017's The Incredible Jessica James. That movie reminds us that life is messy. We're not perfect. The people we fall in love with are even less perfect, because they can't read our minds and fix all of our problems. But somehow, we can connect and make a little magic or a little mayhem, or both.
It helps, it may even be imperative, to surround yourself with a posse of friends—girls or guys, or a mix—who remind you how dope you are. Even now, all these years later, my friends from that movie text me from California, where they continue to work on films and TV shows. They are around the most flawless actors and the most powerful producers and directors and yet not a week goes by that I don't get a text that says, "You're incredible. You're a badass. Beauty Queen, emoji crown." It's that kind of cheerleading that helped me find the man I would marry, and forced me—even when I really wanted to—not to settle for relationships that didn't feel right, just for the sake of being booed up. It's the love of my crew that helps me take a deep breath and take on the world when my Spanx don't fit and I'm feeling like a hot mess. My friends, like the friends in these movies, remind me that my hot mess-ness makes me human, not less worthy of love and praise. As the heroine in Jessica James states proudly, "I'm tall. I'm pretty. I'm smart. I'm a cocoa queen. Obviously I will have many great loves in my life." I'm not tall, sadly. But the rest of it, oh hell yes. If these movies have a common theme, it's this: Every super fresh love story starts with a woman who thinks she's worth it—and the friends who never let her forget it.
Veronica Chambers is the editor of Queen Bey, Celebrating the Power and Creativity of Beyoncé Carter Knowles. Follow her on Twitter & Instagram, @vvchambers.
MORE ROM-COM COVERAGE, RIGHT THIS WAY
Marie Claire email subscribers get intel on fashion and beauty trends, hot-off-the-press celebrity news, and more. Sign up here.
Veronica Chambers is the editor of Queen Bey, Celebrating the Power and Creativity of Beyoncé Carter Knowles. Follow her on Twitter & Instagram