Elizabeth Kendall's Ted Bundy Memoir Is the Inspiration Behind the New Netflix Film
Ted Bundy's then-girlfriend's story is even more chilling in writing.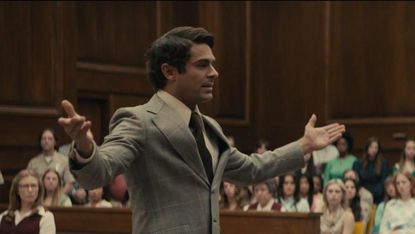 (Image credit: Netflix)
Already, 2019 has been filled with acclaimed true-crime series', from Hulu's eerily addictive series The Act to Netflix's The Case Against Adnan Syed. And now Zac Efron is taking on the true crime genre: The High School Musical star will be playing infamous convicted murderer Ted Bundy in the upcoming Netflix movie Extremely Wicked, Shockingly Evil and Vile.
Don't let the star power fool you: Ted Bundy was a real person, and his crimes were monstrous. All you have to do is read Elizabeth Kendall's 1981 memoir, My Phantom Prince: My Life with Ted Bundy, to learn that. Kendall was Bundy's girlfriend, and Extremely Wicked, Shockingly Evil and Vile is based on her story. Here's everything you need to know about the book that inspired the upcoming Ted Bundy movie.
It's actually a pseudonym. Her legal name is Elizabeth Kloepfur. She swapped out the last name Kloepfur for Kendall when she decided to write and publish her memoir, detailing her romantic relationship with Ted Bundy amid his secret killing sprees.
According to Vanity Fair, screenwriter Michael Werwie said that Kendall was "not findable" when he was working on the script for Extremely Wicked, Shockingly Evil and Vile. It didn't help that other Ted Bundy biographers were also using fake names, like Meg Anders and Beth Arche in their works. But Joe Berlinger, director of the Netflix adaptation, was already one step ahead. He'd already been listening to hours of Ted Bundy tapes, discovered Kendall's real name and invited her to discuss the adaptation.
In an interview with the Daily Mail, Collins said she sat down with Kendall to get tips on how best to portray her character. "I went and met the woman that I play. It was really helpful," Collins said. "She was so gracious, giving me material to look at and speaking to me." According to the Love, Rosie actress, Kendall even came on set during filming, but Collins said watching the movie may be challenging for Kendall.
"I don't know if she's going to see the movie because it's difficult, but within the filming process she came on set and she was a positive light on set," Collins said. "You wouldn't expect that with what happened. She gave us her support. She's really lovely."
The book wasn't popular when it came out in the '80s.
According to an Esquire interview with Sara Levant, Kendall's editor, the memoir was mildly successful when it was published in 1981. "The book sold well, but nothing spectacular," Levant said. "We had some huge books, but that wasn't one of them."
This isn't the first book-inspired Ted Bundy project.
Berlinger, director for Extremely Wicked, Shockingly Evil and Vile also directed the Ted Bundy documentary released on Netflix earlier this year. Conversations with a Killer: The Ted Bundy Tapes was a four-part series that dissected and compressed over 150 hours of interviews with Ted Bundy for Stephen Michaud's book, Ted Bundy: Conversations with a Killer. The documentary focuses on the chilling tapes, recorded in prison, mentioned in Michaud's book, and unpacks Bundy's murder and mutilation of more than 30 women during the 1970s.
The memoir describes their relationship as normal at first.
Kendall and Bundy met bar in 1969, when Bundy was a college student in Washington working at the University of Washington Medical School. She approached him and the two instantly connected, she says. But eventually things got violent. "We would be getting along fine and then a door would slam and I would be out in the cold until Ted was ready to let me back in. I'd spend hours trying to figure out what I had done or said that was wrong. And then, suddenly, he would be warm and loving again and I would feel needed and cared for," she wrote in the memoir.
As the memoir goes on, Kendall reveals the gradual violence and deceit that grew between herself and Bundy, even stating that he also tried to kill her. Kendall recalls one night when Bundy closed the chimney duct and stuck a towel under her door, leaving her to suffocate. "I remembered that night well. My eyes were running and I was coughing. I jumped out of bed and threw open the nearest window and stuck my head out." Kendall wrote in her memoir. "He wanted me to die that night."
The memoir is now being sold for as much as $2,000.
Copies of Kendall's My Phantom Prince have surfaced on Amazon and the prices are astronomical. The lowest you'll get away with paying is $295, and the highest is $2012.96. And here's the real catch: none of the copies available for purchase are new, since the memoir went out of print when Kendall's publisher shut down in 1988, according to Esquire.
You can watch Extremely Wicked, Shockingly Evil and Vile on Netflix now.
For more stories like this, including celebrity news, beauty and fashion advice, savvy political commentary, and fascinating features, sign up for the Marie Claire newsletter.
RELATED STORIES
Alexis Jones is an assistant editor at Women's Health where she writes across several verticals on WomensHealthmag.com, including life, health, sex and love, relationships and fitness, while also contributing to the print magazine. She has a master's degree in journalism from Syracuse University, lives in Brooklyn, and proudly detests avocados.