'The Sun Is Also a Star' Is the Perfect Beach Book
Think: a quick read, young love, and fate. Lots of fate.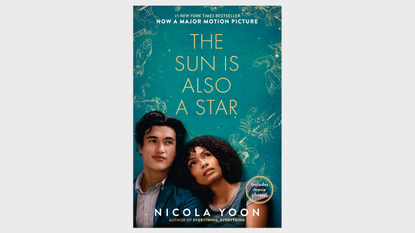 (Image credit: Design by Morgan McMullen)
Nicola Yoon's The Sun Is Also a Star is one of those books you want to re-read over and over again. The 2016 YA novel about the fateful encounter between two teens, Natasha and Daniel, the day before Natasha is scheduled to be deported, is equally as beautiful as it is timely considering the current administration's harsh immigration policies.
I, personally, could not put the novel down. And watching the movie starring Yara Shahidi and Charles Melton (released May 17) further cemented that every single decision we make affects the life we live, and the other potential lives waiting for us when we, say, choose to take a different route to work in the morning. You just have to allow the universe to work its magic.
#ReadWithMC reviewers agree that Yoon crafted a compelling story about life for an overachieving Korean-American guy and a Jamaican-born girl who just wants to experience the opportunities America has to offer. See exactly what #ReadWithMC had to say about the novel, below, then find out how you can have your review featured on the site for next month's Marie Claire book club pick (The Farm by Joanne Ramos), here.
"So, I finished The Sun is Also A Star by Nicola Yoon and oh my was it good. The book starts out with Daniel and Natasha who meet when Daniel saves her life from a car accident. The two end up spending the day together and do a bunch of adventures together. Sounds like an awesome typical rom-com right?! WRONG! Natasha is also being deported and has no time to fall in love as her flight leaves at 10 p.m. that night. Overall, this book was a classic YA read. If you enjoyed [Yoon's] other work, Everything, Everything, you will also enjoy this cute tale." —@pattyisbooked
"The beginning was a bit slow, but after getting into the bulk of the plot, I fell in love with Natasha and Daniel. Listening to the two of them bicker and discuss the universe, science, and fate just made my heart happy. The drama of race and traditional beliefs added to the rising action and the final fall. Now I can't wait to watch the movie!" —Nicole on Goodreads
"I forgot how much fun it is to read YA novels and this was one of the first books I've read this year where I was hooked after the first few pages. I was immediately drawn to the character of Natasha, who is strong, resilient, smart, and a realist, though not without flaws, like all of us. Because of her personality and her dynamic with Daniel, who's more of a dreamer and an optimist, it provided an interesting juxtaposition for the reader to see and explore. In the end, I loved both characters so much and can't wait to see the film." —@marinaa2214
"Has this changed my mind about romance novels, YA or otherwise? No. But it was not as bad as I'd feared. On the one hand, yes, there's lots of goopy, earnest, 'lalala we just met but it's true love and fate and destiny' stuff that's just not my bag. On the other hand, there's a good deal here that is unconnected to the romance that I did like. For example, the chapter narrated by the waitress at the Korean restaurant was a perfect bittersweet amuse-bouche.

For the most part, this is a day-long mooshy-sweet meet-cute between the rational scientific mind of a Jamaican immigrant facing imminent deportation and the hopeless romantic heart of a Korean-American poet about to disappoint his parents (yeah, that old story). It's really fast-paced, served up in short, POV-switching chunks that alternate between our two young lovers, the people that will cross their path/alter their fate over the course of this single day, and some rather more dispassionate interjections from an unattributed, omniscient source popping in to drop knowledge about topics as varied as the multiverse or the evolution of eyeballs or why the African American haircare industry is almost entirely in the hands of Korean-American immigrants. These facts interest me.

As for the rest, if you can embrace the fantasy of it, you will like the book more than me. (Both 'more than I liked it' and also, probably, more than you would like me). I am an irredeemable curmudgeon full of practical concerns and I'm reading this thinking, Natasha, girl, you better go home and pack your things right now instead of traipsing all across town with some stranger-danger boy!" —Karen on Goodreads
"This book was amazing and it taught me so much. It taught me the effect that we can have on others life's without when realizing it. It taught me that you can't judge someone that you just met. There is no way that what you think about them will be correct. Everyone has a different story and you can't just walk into the middle of someone's chapter and judge them off the first sentence you read. I also loved how the book ended and how the chapters perspectives constantly switched. It was just beautiful." —@baesbookshelf

"Personally, I loved this book! If you don't like romance, this is probably not the book for you. And no, I'm not the type of person to believe in love at first sight, but that's in the book. I loved how it's based on a Jamaican immigrant and a Korean-American, just like Nicola Yoon and her husband. It was simply magical." —Elizabeth on Goodreads

"This book takes place in New York and documents the POV of a few characters, the main two being Natasha and Daniel. Natasha faces deportation while Daniel has his interview with Yale, but somehow their days end up intertwined. This book was a slow start for me, as I had to remember who each of the characters were when they had a chapter in their POV, since sometimes they are a minor person. Overall, this book is a whirlwind and a rather good read as well as quite a short one (if you get going). I read it in two days!" —@rosieannareads
"I loved this book so much more than I expected to. The way it's written is unique in the sense of how everything is laid out for you. You learn so much about every character that appears in this book. No character is too small to not have an impact on the story. Characters that you normally wouldn't give a second thought about are given a whole new perspective, and it really makes you think. I also loved the way it ended. I've seen a few reviews saying the opposite—that they liked the book up until the ending. However, the ending that was given makes it a little more realistic, in my opinion, and therefore more relatable for some people. This was an easy read so it only took me about a day and a half to read. I can definitely see myself reading this again in the future." —Cienna on Goodreads
Missed out on our May pick? Starting June 1, we'll be reading Joanne Ramos' debut novel, The Farm. Learn more about the book and read an exclusive interview with the author here.
For more stories like this, including celebrity news, beauty and fashion advice, savvy political commentary, and fascinating features, sign up for the Marie Claire newsletter.
RELATED STORY
Marie Claire email subscribers get intel on fashion and beauty trends, hot-off-the-press celebrity news, and more. Sign up here.
Rachel Epstein is a writer, editor, and content strategist based in New York City. Most recently, she was the Managing Editor at Coveteur, where she oversaw the site's day-to-day editorial operations. Previously, she was an editor at Marie Claire, where she wrote and edited culture, politics, and lifestyle stories ranging from op-eds to profiles to ambitious packages. She also launched and managed the site's virtual book club, #ReadWithMC. Offline, she's likely watching a Heat game or finding a new coffee shop.