Hunter Schafer Isn't So Sure About Being a Role Model
The 20-year-old breakout star on grappling with Instagram, trans visibility, and newfound fame.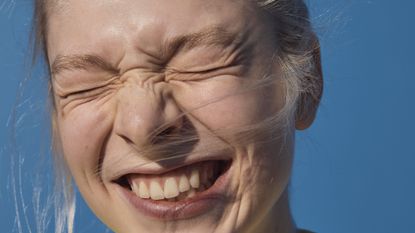 (Image credit: Magdalena Wosinska)
This summer, millions of people tuned in to Euphoria to watch Zendaya depart from her squeaky-clean Disney Channel image once and for all. She plays Rue Bennett, a 17-year-old drug addict fresh off an unsuccessful stint in rehab, on the Drake-produced HBO drama series. But it was 20-year-old model Hunter Schafer, making her acting debut, who stole the show. Schafer plays Jules, a trans girl who has just moved to town from the big city and quickly befriends Rue while also inadvertently winning her romantic interest.
As one of just a few visible trans actresses in Hollywood, Schafer gives a performance that has been hailed as revolutionary for the way it casually presents her gender identity. Jules isn't a token character. Notably, her plotline is largely devoid of any pat explanations about her transition (though there is one frightening flashback to Jules's childhood stint in a psych ward), and Schafer plays her with captivating vulnerability.
"I certainly wasn't living my life the same way Jules was in high school," the actress says with a laugh, presumably at the thought of sleeping with a parade of married men in sketchy motels—something Jules does with alarming regularity. "The environment I was in at her age differs, but the headspace felt accurate. I could definitely relate to her motives."

To say Schafer grew up in a different environment is an understatement: She was raised by conservative parents (her dad is a pastor) in the South. But as far back as middle school, she knew she wasn't long for small-town life. Schafer's dreams of fleeing her native North Carolina to pursue a career in fashion began in middle school, and by the end of high school she was watching each season's runway shows. Her future started to take shape when, on a college tour of New York City at 18, Schafer met with an Elite Model Management agent she'd met on Instagram. A self-professed late bloomer, she credits a growth spurt as one of the reasons she decided to go on the meeting. She was signed on the spot.
By Schafer's third season of modeling, her career had seemingly taken off: She was walking in Paris and Milan for the likes of Dior, Miu Miu, and Helmut Lang and appearing in fashion magazines all over the world. While the fashion industry embraced Schafer for her ethereal yet edgy look and cool-kid versatility, she refers to her ascent as a "slow burn."
For the most part, she saw her foray into modeling as a postponement of her real-life plan. She'd deferred her acceptance to the renowned Central Saint Martins in London—where she hopes to study fashion design eventually—in order to save for tuition.
As a model, she says, "I worked with some of my favorite designers on the planet, but I never really made a lot of money. I was living paycheck to paycheck." But just as she contemplated leaving modeling and heading to school, she saw another opportunity: auditioning for a then–unnamed HBO series. "I had seen the casting call floating around on Instagram," she recalls. "A few days later, I got a call from my agent saying that the network requested I come in [and read] for it. So I decided to give it a shot." She continues, "I didn't know what I was doing. I had never been on an audition before." Nonetheless, she dove headfirst into the material, and with every callback (there were "at least five"), she grew more attached to the role.

Even though her college plans were derailed once again, Schafer doesn't feel as though she's missing out on an education. "In a way, filming Euphoria was like a year of college, learning this new craft and getting to build on it every day," she says.

In the wake of Euphoria's June debut, there's been a flurry of sensational reviews, most of them either celebrating the breakout cast's portrayal of such complicated and wildly attractive high schoolers or criticizing the show's explicit content. (There's a fair amount of nudity, hard-core drug use, and explicit sex, even in the first episode.) Whether viewers were moved by each episode's brutal honesty or overwhelmed by the barrage of gaspworthy scenes, Euphoria had everyone talking.
Since then, Schafer has been trying to get used to the spotlight. "It's really wild to be at this new level of visibility," she says. "It's something I'm still adjusting to and trying to understand." For example, she's made a conscious effort to keep what she calls "a pretty solid distance" from social media. "I've received quite a few messages from trans people who are excited about the representation on the show," she says.
Because of the palpable realness Schafer brings to her character, members of the trans community have been quick to crown her a role model. "I think that [term] has a lot of weight to it," she says, admitting she's unsure she can live up to their expectations. But ready or not, it's happening. "I don't really know if it's up to me anymore."
This story originally appeared in the September 2019 issue of Marie Claire.
RELATED STORY
Marie Claire email subscribers get intel on fashion and beauty trends, hot-off-the-press celebrity news, and more. Sign up here.
Maxwell Losgar is the Entertainment Director at Cosmopolitan. He books the covers and inside features with all of your favorite stars. He's probably watching Netflix right now. Like, as his job. For research.