Zendaya Isn't Taking Center Stage—She's Making Room
At 21, Zendaya has never been shy about using her voice, whether she's calling the shots at Disney or clapping back on social media. Here, she opens up to Janet Mock about re-rewriting the Hollywood narrative and inspiring others to do the same.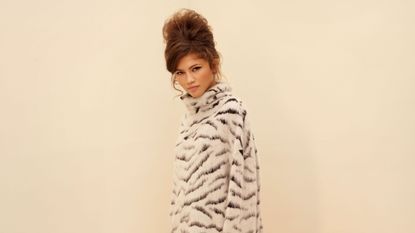 (Image credit: Thomas Whiteside)
I've been enamored with Zendaya since 2015, when her image began to take over my Twitter and Instagram feeds. My friends' captions, loaded with exclamation points, hailed the budding fashion plate as their queen. She was beloved by girls and women who shared her hue and textures, seeking mirrors of themselves. Her sartorial choices were fearless and bold, epitomizing the carefree black girl who refused to let her race and gender block her from living a life of freedom, joy, and the fullest expression.
The moment I became a superfan, though, was simple and profound. I came across a video on Instagram in which the then-star and coproducer of Disney Channel's K.C. Undercover explained how she could walk a carpet with a sleek bob one day and long waves the next. "So many people get stressed out every time I wear a different hairstyle on the red carpet," she explains in the video. "It's called a wig, people. Say it with me: 'W-I-G: wiiiiiiiiig.'" I reference it any and every time I need to laugh.
But Zendaya, who turns 22 on September 1, has done more than just serve a look and a performance. She also has a deep sense of duty to explain and educate, which makes complete sense since she was raised by teachers. Hair for black women is much deeper than follicles. Our hair can carry messages about our ability, our worth, and, yes, our freedom. Let's not forget that Zendaya became a household name to adults after being attacked for pairing her Vivienne Westwood gown with waist-length faux locks at the 2015 Oscars. When E! host Giuliana Rancic said she looked like she "smells like patchouli oil...or weed," Zendaya set her straight on social media: "There is already harsh criticism of African-American hair in society without the help of ignorant people who choose to judge others based on the curl of their hair."
What's worth noting is that this is her only controversy. For a former child star who has been on TV since she was 14, the fact that she has managed not to screw up in public or rebel against her squeaky-clean Disney persona is a miracle. Instead, she has chosen to be a "real model" for what's possible for girls and young women craving to see themselves. But she's clear that she cannot be the sole representation.
"As a black woman, as a light-skinned black woman, it's important that I'm using my privilege, my platform, to show you how much beauty there is in the African-American community," she said at this year's Beautycon in New York. "I am Hollywood's, I guess you could say, acceptable version of a black girl, and that needs to change. We're vastly too beautiful and too interesting for me to be the only representation of that. What I'm saying—it's about creating those opportunities. Sometimes you have to create those paths. And that's with anything: Hollywood, art, whatever."
The actress, who starred in last year's Spider-Man: Homecoming and Oscar-nominated musical The Greatest Showman, lends her voice to this month's animated adventure Smallfoot. I chatted with Zendaya shortly before she flew to London to shoot Spider-Man: Far from Home, due out in 2019.
---
Janet Mock: Is this the life that you imagined for yourself?
Zendaya: It is. I'm very lucky. I knew even when I was little that this was what I wanted to do and this is what I wanted to be. I definitely couldn't see myself doing anything else. The only career path I could see my life had gone off into is teaching because both my parents are teachers. So had I not pursued acting, I probably would have been a teacher in my home in Oakland.
JM: I feel like you do that, though, through your social platforms and media appearances.
Z: I'm very aware that I don't know everything, but I do try my best with the platform that I have, knowing how many people look to me. I try my best to inform myself and live my best life so that I can inspire my fans to live their best lives, be more educated, and learn for themselves. And I try to do it in a way that's not telling people what to think but opening up their eyes to possibilities, ideas maybe they never thought about. I try to look at it as a responsibility more than anything.
JM: When I first stepped forward with my story in 2011 in this magazine, I felt immense pressure to be something to someone. That burden of representation is real. I feel the pressure to show up and speak up and use my access to bring my sisters and siblings with me. How do you navigate that? What spaces do you turn to, to take care of yourself as you're grappling not just with your own career but with the social responsibility?
Z: Reaching out and hearing other people's perspectives always helps. The people I usually call are my mom and my big sister. I'm a very family-oriented person. My chill zone is, honestly, just being with my family. And I know that sounds super corny. I have a lot of nieces and nephews. I've become that older person to them, which is super weird. They're in their teen years, and they don't necessarily think I'm cool all the time. But they're watching everything I do. That direct relationship has a huge impact on my life as well, trying to teach them things, keep them aware. I'll send them articles, and they don't even read them, but I try. One day maybe they'll appreciate it. I'm just trying to be the cool auntie.
JM: What are the biggest priorities for you in your career?
Z: Right now, acting has been a great outlet. It's definitely been a process, especially because I'm coming from this very different world of Disney. Having been consistently on a television show, I felt stagnant. Not having that anymore, I am being seen as a real actress, doing what makes me feel pushed and motivated. I don't necessarily think comfort is always the best place to live in. I'm kind of excited as I decide what projects I want to take on or if I want to produce. I've really found the power in just doing what makes me happy.
JM: It sounds as if there's some kind of stigma for a young actor out of that specific Disney Channel family. I don't know why it just struck me, but are there only two black girls who have come out of the Disney machine? Is it just you and Raven-Symoné?
Z: I believe China Anne McClain as well, who is amazing and super talented. There's a couple of us, but not too many.
JM: Who did you look to as you figured out ways to break out of that Disney framework and be taken seriously as an actor?
Z: What's funny is I didn't have someone to look to in that sense. I call it like my Olivia Pope gut. I just had to be in tune with that and be like, "Listen, whatever feels right, go after that." There's going to be a lot of different opinions and a lot of people telling you what you should do and what you shouldn't do, but I had to home in on what Zendaya wanted and drive straight toward that. There's something liberating about making decisions for yourself. A huge part of it was to take my time. I wanted to create who I was as a person outside of my Disney character. Fashion helped with that. My stylist, Law Roach, and I created a world beyond what I was known as through clothes. Picking the right projects helped too. There was a lot of not getting the audition that I wanted and often going out for parts that weren't written for a girl who looks like me and just saying, "Hey, see me anyway," until the right thing stuck. Whenever I've been persuaded or trying to do something to please somebody else or because there's pressure from people in general to make a decision, it always blows up in my face. So I have been in this zone of only doing shit because I want to do it and because it feels right all the way through.
JM: What drives you? What does success look like for you? You're already successful, but how would you define where it is that you want to be? And what's pushing you to get there?
Z: I want longevity in my career, and I try to always think about how to create that. But I also like to live in the moment and do what feels right, right now. I think I'm fueled by—oh, wow, here's a corny moment again. I get fueled by the different people I'm able to positively affect. When people come up to you, and instead of saying, "I loved the last project you did," they're like, "I appreciate that you said this," that makes me feel good. When I'm able to do great things in my career, and fortunately be financially blessed, and then give it away and watch the money actually do good shit, that is the purpose. That's the reason why you do things. Supporting students in Oakland is important to me. Roses in Concrete Community School there is truly trying to change how we teach our young people in underserved communities. Every child, regardless of where they come from, deserves to have access to a great education. For me, I get to do my passion and what I enjoy, and that has become a forum to do much greater things. Sometimes you build your platform to step off so others can step on, and that's honestly what motivates me.
JM: How do you process the challenges and the difficulties that you face in your career and in life?
Z: The one thing I struggle with is I sometimes get so afraid to make a mistake. Like, I want to be perfect, I want to make all the right decisions, and when I don't, it stresses me out. But I can't allow myself to be scared of not always doing the right thing. I will make mistakes in my career, but I can try my best to make the best decisions that I can and learn from my mistakes. Like, "I'm about to kill it on this next go-round because now I know better."
JM: But I also wish that black girls could be able to navigate these public spaces and make mistakes and be given chances.
Z: That's 100 percent true. What my white peers would be able to get away with at this point in their career is not something that I will be able to do. And I knew that from when I was real young. That's just the truth, and so you'll be kind of afraid of making mistakes because I love what I do. I don't want to jeopardize it at any point because I am not allowed the room to mess up.
JM: I think about the actors of your generation, the black girl actors specifically, who are often paired in these kind of interesting ways: you, Amandla Stenberg, and Yara Shahidi [also a voice in Smallfoot]. All three of you are in this rarefied space of navigating this wild industry as black girls.
Z: I know Yara a little bit more than Amandla. I'm a little bit older than Yara, so it's cool to talk to her and learn where she is in her coming up and her figuring it out. What is important to me is knowing we are not the only black girls in the industry. We kind of have been painted as the face, and that's not the truth. It's important to have a conversation where we are opening the door to our peers and more black women who don't necessarily look like us.
JM: I loved what you said at Beautycon, this idea of being Hollywood's acceptable version of a black girl, and your call to widen the scope. You three are vocal about these issues, and you all are successful in your different spheres, yet it's no coincidence that you all are listened to because of the privileges you have as mixed girls. When you called that out, I felt like there was this revelatory kind of shift because you recognized that gap in a public space.
Z: It's one of those things that is so important to recognize and begin that dialogue. I feel like it's like such a taboo topic, so we don't want to talk about, but let's talk about it.
JM: And why do you think it's so taboo?
Z: People just don't want to see it or they just want to pretend it doesn't exist. I don't know exactly what the answer to that question is, but I think people just kind of want to avoid it a little bit. I mean, it's right in our face. We can talk about it. Like, a lot of people in charge who are making things happen in the industry don't even see it, and that's the weirdest part.
JM: You talked a little bit earlier about going out for roles that weren't maybe written for a black girl.
Z: Most things I go out for. For example, Spider-Man definitely wasn't originally written that way.
JM: And how did you push for that?
Z: At first I thought I would have to because you're kind of used to the notion that, OK, even though the character is fictional and could be anybody, they probably are going to go with the standard of what they want and what they've always had. I definitely went into it like, "Hopefully they'll"—as they call it in the industry—"go ethnic." I remember making the decision to straighten my hair. I didn't know that they were going to be more diverse in their casting. I didn't know that I was walking into a situation where they were already breaking the rules. You get so used to having to break the rules for people.
JM: You mentioned earlier there were roles you wanted but you didn't get.
Z: I'm an actress. We've all experienced getting the no's, and that's okay. I always say, "If you don't get cast, it wasn't yours to begin with." But there's been a few things. I always tell my theatrical manager, "Anytime it says they're looking for white girls, send me out. Let me get in the room. Maybe they'll change their minds." And, honestly, if there's a part that I didn't get or that I really wanted at the time, shit always ends up working out.
JM: That process must have been behind your decision to create a project for yourself with A White Lie, about Anita Hemmings, the first black woman to graduate from Vassar College. You're starring and producing it with Reese Witherspoon. Where is that project, and how did that come about?
Z: We literally just got a script! The first thing that caught my eye about the project was that Reese was producing it. She is doing a great job at being a boss and creating spaces and telling stories and doing what she wants to do. She's so dope, and I've learned a lot being in the room with her and her team, who are all women. It was like a master class. One day I might want to have my own production company and create the material that I want to be in. Sometimes we have to create our own lane and our own opportunities when they're not handed to us.
JM: When you're not concentrating on shifting the industry, what does a day off look like for you?
Z: A day off is doing absolutely nothing. I don't want to leave the house. I'm just lying down. I'm chilling. I have a pool. Everybody can come over, but I'm not going anywhere.
This article originally appears in the September issue of Marie Claire, on newsstands August 21.
Lead photo: Givenchy top and skirt; Hue socks; Miu Miu shoes.
Celebrity news, beauty, fashion advice, and fascinating features, delivered straight to your inbox!