Jenny Slate Is Deeply Weird
And she loves that. Her debut book Little Weirds explores the oddities—and magic—of everyday life.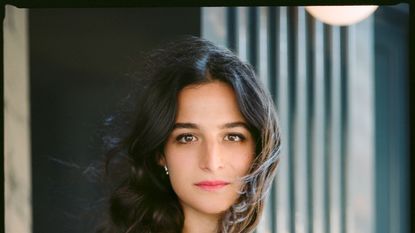 (Image credit: Katie McCurdy)
In December, Marie Claire's book club, #ReadWithMC, is reading Little Weirds by actress, comedian, and author Jenny Slate. If you're interested in the book and looking for some friends to talk about it with, find out how to participate in our interactive monthly book club here.
Jenny Slate is lying on a couch with an ice pack under her back, legs draped over its arm, looking out the window of her Massachusetts home. She's had back issues her entire life, and though it will be "hard to get out of this position," she thinks she's in a very good spot, generally speaking.

"I am conditioned by gratitude for sure," says the 37-year-old comedian and actress, known best for her roles in Parks and Recreation and Saturday Night Live. "And I feel joy in my natural state." That feeling is evident in Slate's first book, the surrealist-style Little Weirds, (Little Brown, November 5), which is less an essay collection and more a map of her brain.
Each "Little Weird," as she calls the 48 entries, muses on topics like mysterious strangers, ghost-pirates, wildness, and Valentine's Day, and often leads to a revelation about self-love or finding peace in solitude. In "Beach Animals," Slate describes, in phantasmagoric detail, a girls' trip where she realizes she shouldn't settle for the wrong guy when her friends love her the way she is. "Trench Times/Dream Dog," a darker piece inspired by a breakup and the 2016 election, explores depression, PMS, socio-political despair, and personal anguish. Together, the entries illustrate how Slate navigates the world, illuminating the oddities of social constructs. Many of the Weirds find Slate in flux, when she finds the bright side of tough situations and refuses to apologize for her broad spectrum of feelings. "I'm an emotional person," she says. "I can get really low, and I can go really high, and I'm tired of feeling like those dips and swoops can't be incorporated into one expression of what it feels like for me to be alive right now."

Little Weirds chattily chronicles Slate's highs and lows and dips and swoops as if the actress is absorbing sunshine through an I.V. "Even in the sad pieces, I guess the joy is there, because it's just like, 'Thank God I can say anything at all. Thank God I'm not quiet. Thank God I haven't given up,'" she says. There's a pause. "You know what I think the joy is? I think it's faith. I think it's faith. Not religious faith. I'm not religious, but I think it is a non-secular faith that there's still life there to be lived."

The word "weird" has become a catch-all for anything that doesn't fit the norm, on either side of the spectrum. Slate makes a point of taking weirdness seriously, "like the way that Shakespeare uses the word weird," she says. "I think it's just another way to say this is something that can't be described as anything but itself." After landing a book deal in 2016, Slate didn't quite know what she was setting out to write, but she knew what she wasn't: "I didn't want this to be a book of comedy essays or a memoir about my time at SNL," she says. "That's not very important to me at this point. I started to write things to myself to soothe myself, and to just remember why I liked myself, and why I liked writing." That's when Little Weirds started to take its wonderfully zany, undefinable shape. Slate's okay with the fact that her book doesn't fit neatly into a genre—in fact, she loves that. "To be weird," she says, "is to be magical."
Listen to an exclusive excerpt of the book available on Audible, below.
Audio excerpted courtesy Little, Brown & Company from Little Weirds written and performed by Jenny Slate.

A version of this article originally appeared in the November 2019 issue of Marie Claire.
RELATED STORY