'Little Weirds' Is Emotional, Magical, and Fun All at Once
"To see the world through Jenny's eyes is to see it for the first time, shimmering with strangeness and unlimited possibility."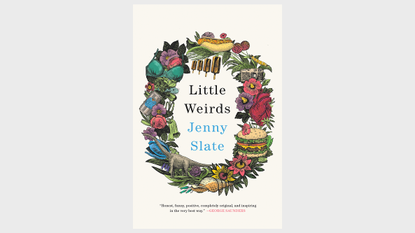 (Image credit: Design by Morgan McMullen)
Reading Little Weirds, Marie Claire's December #ReadWithMC book club pick, was like taking a journey into the parts of your brain that harbor thoughts you've been unable to express for years; somehow Jenny Slate articulated them perfectly on paper. You don't have to know Slate to relate to the crippling anxiety she's consumed with for hours leading up to a performance, or how she's managed to save herself from drowning in heartbreak. Little Weirds may be derived from Slate's personal experiences, but those experiences are universal—bringing readers a sense of comfort and familiarity we can all use right now. By the end of the book, you feel a little less alone. And isn't that the point?
One #ReadWithMC member felt inspired to write her own book after reading Slate's notes slash collection of essays and poems (it's impossible to place Little Weirds into one genre). Another reader said she wishes she "could trade brains and eyeballs with [Slate] so I could see the world from her unique perspective." These descriptions are easier to understand once you dive into the book, which is best read with a warm cup of coffee and an understanding of the strength that comes with vulnerability. Here, the #ReadWithMC community explains exactly why Little Weirds is so beautiful and will make you feel all of the things—in the best way.
"You know when you read a book and realize, 'Wow, this is the kind of book I want to write!' A book that just speaks to you on an unexpected and lyrical level. I knew I would like Little Weirds because I love @jennyslate but I wasn't expecting to fall in love with it like I did. It was a strange experience reading this book because I felt emotional the entire time I was reading it. I had a lump in my throat and tears building as I read each page. Her writing was just so otherworldly and beautiful! It inspired me so much and I cannot wait to revisit her work as I continue my own writing." —@quietmountainreader
"I saw @jennyslate on her book tour last night and I left feeling like I'd been wrapped in a warm blanket. Reading her book makes me wish I could trade brains and eyeballs with her so I could see the world from her unique perspective. Need a little pick me up and some encouragement to be vulnerable? Little Weirds is the book for you." —@pennyreadsthings
"For those who don't know Jenny Slate she is an actress, comedian, and author. This is her debut book and one of my anticipated reads. This is a book like no other. It's very genre bending—part essay, part vignette, part poetry. At times she reflects on her childhood and adult life so far, others parts are filled with poetic, interesting, and deep philosophical thoughts. It's honest, insightful, kinda weird, and very whimsical." —@bookalong
"Little Weirds is not written like a traditional memoir. There is no chronological breakdown of Jenny Slate's life and rise to fame. Instead, Slate decides to tell her story through micro essays—sometimes no longer than a paragraph. I enjoyed these vignettes and snapshots of moments in time where she describes things from the mundane (such as a bonkers description of her eating in a restaurant) to more heartfelt moments (her relationship with her mother and even her divorce from her husband).
My favorite moments from this book is when Jenny lets her vulnerability shine through in her own whimsical way that she can only pass off. Her charm and emotion and weirdness really makes this book unlike any memoir I've read before. If you adore Jenny Slate like I do you will absolutely fall in love with Little Weirds. She is boinking crazy in the best possible way!" —@jeveuxmonlivre_
"Little Weirds is a lot weird (but in a good way)! When you read this collection of essays you will know exactly what I mean by that because Jenny Slate's writing style is absolutely one of a kind. To see the world through Jenny's eyes is to see it for the first time, shimmering with strangeness and unlimited possibility." —@alittleoverbooked
"Bought this book on a whim browsing Barnes & Noble a few weeks ago. Best book impulse decision ever. This is the weirdest, sweetest little book. I read a fair share of weird books, but they usually have a lot of darkness along with the bizarre. This book is just a joy to read. I fell in love with Jenny Slate. Her writing and her voice are my favorite things I've encountered in a long time. It's getting me through a little bit of a rough patch emotionally and making me look at all the weird little life things a little different. I love it. I just love it." —@ashleycrtalic
"I ordered #LittleWeirds on @AudibleUK because I love @jennyslate; her Netflix special cracked me up so I figured the book might do the same. Spoiler: It didn't make me laugh as much as I expected (although definitely still a bit!), but that's because it took me on a soul-deep journey back into myself in ways I hadn't even anticipated. Maybe it helps that I listened in the most beautiful place in the world, during a week that was otherwise dedicated to writing, journaling and meditating. But this book…I felt like it cracked a part of me open in a truly beautiful way.
Ideas like 'If only we could all be more like plants growing to become the best and most beautiful we could be without caring what anyone else says' made me stop and question the meaning I'd attributed to everything around me–including myself. And some of the very modern, very beautiful metaphors Jenny used to describe life as a woman and the way the world treats us today hit me as deeply as some of the old myths and legends I've read.
I know, I sound like I'm gushing. And yes, I totally am. But that's only because I found this little book to be a beautiful and unexpectedly deep read, which left me feeling all floaty light and happy while also thoughtful and inspired–some of my most favorite feelings in the world, and feelings I'd like to share with anyone..." —@miss_cmr
"Feminism, ghosts, comedy, family, loneliness, animals, life. This book lives up to its name: short essays on what it means to be alive, written in one of the weirdest, most whimsical styles I've ever read. I have mixed feelings here because I think Jenny Slate is adorable and gentle and has some AMAZING insight in this book. However, some of this book went right over my head. It's so intimately personal and uniquely JENNY, that I felt myself grasping to understand what she meant sometimes—I couldn't always relate. I think I'd like to hear this as an audiobook read by her because some sections might land a little differently if I could hear her inflection and tone. If you pick up this book, know that you're getting something totally original and some essays may be hit or miss for you depending on your sense of humor or stage of life. Enjoyed it, but skimmed a little." —@shelf.centered
"I really enjoyed this book. I read it all while sitting alone in a cabin in the woods, and that seemed like the perfect atmosphere for such an intimate, tender, strange book. This is not your typical celebrity memoir, and I am sure you would be disappointed if that's your expectation. I think it's hard to describe the concept when the title does such a good job. It is a memoir of sorts made up of 'little weirds' or a combination of creative nonfiction, essays, and short stories, which includes Slate's real life experiences, but also includes her extrapolations, dreams, and daydreams through a variety of different perspectives.
Slate takes the reader through her journey to heal from heartbreak and deep sadness. She approaches discussions of love, friendship, wildness, and patriarchy in new, creative, strange ways. I loved the essays where she talked about her childhood. Throughout the collection, she paints her family and friends in a beautiful but realistic light. Some of the chapters seemed particularly confusing at first, but as I continued reading, I found that they were all in conversation which each other and continued to move her journey forward.
I'm not surprised that this book has been polarizing, and I doubt that Slate would be surprised, either. It reminds me of an ongoing criticism of millennial humor (see: The 2017 Washington Post news story, 'Why Is Millennial Humor So Weird?' which just couldn't grasp why millennials enjoy 'surreal, dark, and completely meaningless' comedy). I think Little Weirds is at times dark and surreal, but it's also quite meaningful." —@suzyreadsbooks
Missed out on our December book club pick? In January, we'll be reading Kiley Reid's buzzy debut novel, Such a Fun Age. Learn more about the book and read an exclusive interview with the author here.
For more stories like this, including celebrity news, beauty and fashion advice, savvy political commentary, and fascinating features, sign up for the Marie Claire newsletter.
RELATED STORIES
Rachel Epstein is a writer, editor, and content strategist based in New York City. Most recently, she was the Managing Editor at Coveteur, where she oversaw the site's day-to-day editorial operations. Previously, she was an editor at Marie Claire, where she wrote and edited culture, politics, and lifestyle stories ranging from op-eds to profiles to ambitious packages. She also launched and managed the site's virtual book club, #ReadWithMC. Offline, she's likely watching a Heat game or finding a new coffee shop.