The Best Sad Songs of 2020 Because It's Good to Feel Things
It's been a very tough year.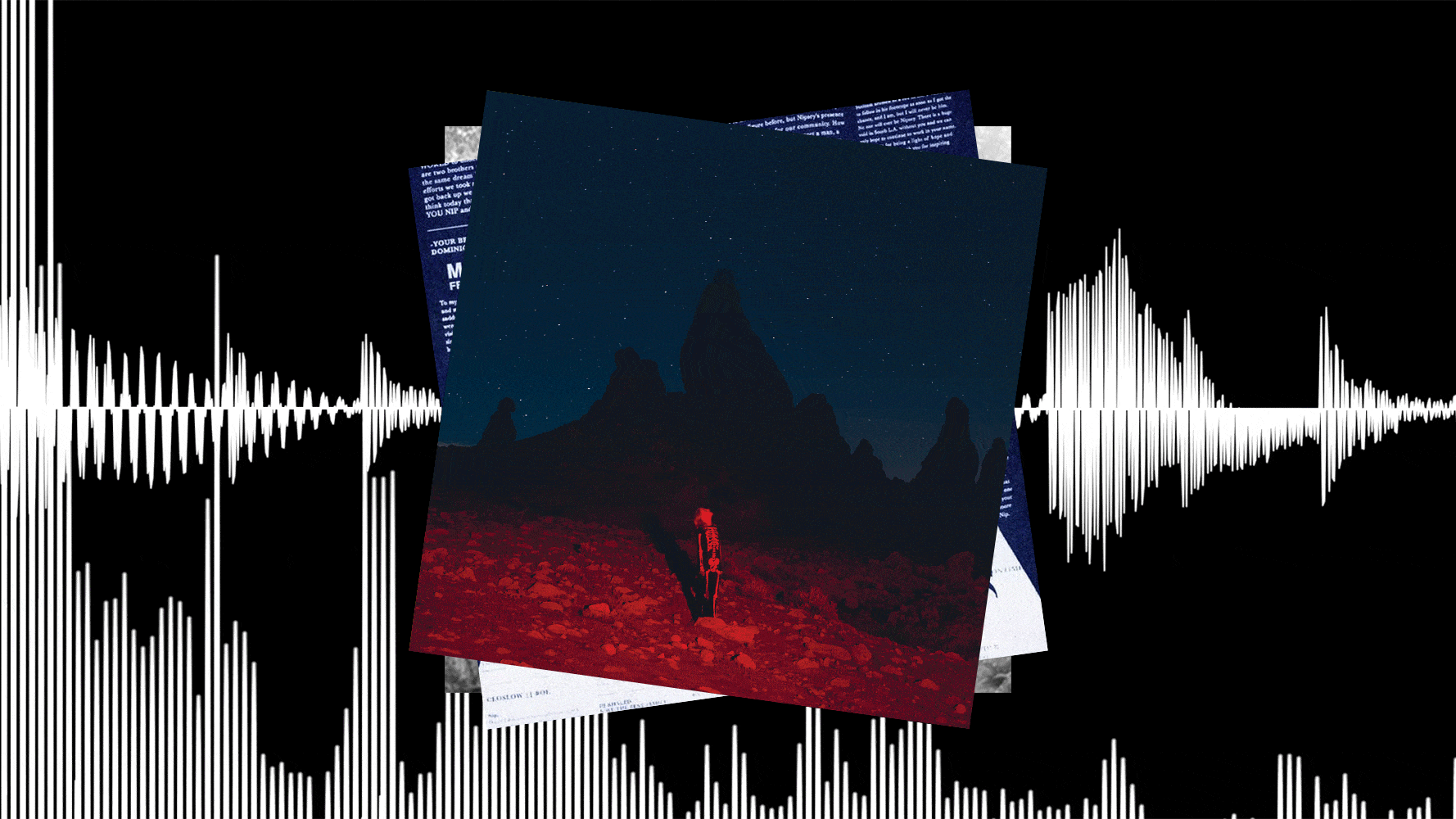 (Image credit: Design By Morgan McMullen)
Whatever you're going through—whether that's attempting to wrap your head around the pandemic that's upended our lives, dismantling the systemic racism our country faces, coping with heartbreak after someone recently ghosted you, or simply feeling all of the feels after an excruciatingly long week, sadness comes in all forms and these new songs are here to help us take a few breaths, exhale, and release it. From Taylor Swift and Bon Iver's "Exile" to Meek Mill and Roddy Ricch's "Letter to Nipsey," this is our running list of the best sad songs of 2020.
"Flawed" - Wale ft. Gunna
In "Flawed," Wale and Gunna capture the somber realization when a person—flaws and all—no longer serves a purpose in your life, despite the history you two had. Listen to it when you need an extra dose of maturity.
---
"Exile" - Taylor Swift ft. Bon Iver
Between the piano ballad and the sweet, sweet combination of Taylor Swift and Bon Iver's vocals, "Exile" is arguably the best song on Swift's surprise 2020 album, folklore. When she dropped the album in late July, suddenly the long winter months ahead seemed somewhat bearable.
---
Play This When I'm Gone" - Machine Gun Kelly
Nobody anticipated Machine Gun Kelly's Tickets to My Downfall (released September 25) would go as hard as it did. If you're not in the mood for bangers like "Bloody Valentine," "My Ex's Best Friend," and "Title Track," put on "Play This When I'm Gone" for a slower, vulnerable reflection on the singer's life. "I'm twenty-nine my anxiety's eating me alive / I'm fighting with myself and my sobriety every night / And last time I couldn't barely open up my eyes, I apologize."
---
"Forget Me Too" - Machine Gun Kelly ft. Halsey
Like I said, an absolute banger. When you're reeling from heartbreak, play Machine Gun Kelly's "Forget Me Too" featuring Halsey and be prepared to Let. It. Out.
---
"Brother's Keeper" - DaBaby
DaBaby released a moving ode to his late brother in "Brother's Keeper," part of his new EP, My Brother's Keeper (Long Live G). Since his brother's death, the rapper has been an advocate of mental health awareness and tweeted, "If you can't get over depression GET HELP, you see a loved one struggling get them help, they refuse the help, MAKE em get treated anyway. You suffer from PTSD take that shit serious & get help! I'm bouta get a therapist my damn self!"
---
"Chinese Satellite" - Phoebe Bridgers
If you haven't listened to Phoebe Bridgers' Punisher yet, do yourself a favor and download the 11-track gem immediately. One listen to songs like "Chinese Satellite" and "Punisher," and it's impossible not to be put into your feels immediately.
---
"Lonely" - Justin Bieber & Benny Blanco
In "Lonely," we're introduced to a Justin Bieber we've quite literally never heard before—incredibly emotional, honest, and, well, lonely. Throughout the somber piano melody, the 26-year-old reflects on his past mistakes and opens up about the way early fame dramatically affected his life. Even if you're not a Bieber fan, it's worth a listen.
---
"929" - Halsey
Speaking of being incredibly vulnerable, Halsey has always been unfiltered in her lyrics. But there's something about the nostalgic "929" (Halsey was born on September 29 at 9:29 a.m.) that feels different—like she's sharing this with us because she knows we'll get it. A mutual trust between artist and fans is a gift within itself. "And I've stared at the sky in Milwaukee / And hoped that my father would finally call me / And it's just these things that I'm thinking for hours / And I'm picking my hair out in clumps in the shower / I lost the love of my life to an ivory powder / But then I realize that I'm no higher power."
---
Pray for You" - Jhené Aiko
On the days when the most energy you have is laying on your bed and staring at the ceiling, turn up Jhené Aiko's "Pray for You" from her incredible album, Chilombo, and listen to the meditative lyrics the singer is known for throughout her 20-track treasure.
---
"Righteous" - Juice WRLD
"Over ice, I'm freezing / Beautiful eyes, deceiving / We may die this evening / Coughing, wheezing, bleeding." Juice WRLD's posthumous single, "Righteous," is a devastating listen when you realize the pain he was going through before his tragic death.
---
"Grieving" - Kehlani ft. James Blake
Kehlani and James Blake are the duo I didn't know I needed after listening to "Grieving" from Kehlani's incredible sophomore album, It Was Good Until It Wasn't. Play it on repeat when you just want to vibe and reflect on your emotions after a long day.
---
"No Cryin" - DVSN ft. Future
DVSN and Future's "No Cryin" is the song that you play on your way home from the club (remember those?) while you consider texting your ex. Don't.
---
"Inside Friend" - Leon Bridges ft. John Mayer
Leon Bridges and John Mayer dropped a melancholy quarantine jam to listen to while we stare at the ceiling and count the days we've been inside, pondering how we got here.
---
"To Die For" - Sam Smith
Sam Smith is the king of putting their fans in their feels, and they certainly doesn't disappoint in "To Die For," where Smith longs for a significant other. Really, don't we all want somebody to die for?
---
"Julia" - Lauv
This won't be the last time I mention Lauv—his debut album, ~how i'm feeling~, is a masterpiece. "Julia" is an emotional three minutes and 37 seconds of vulnerability as the 25-year-old reflects on how he did his lover wrong. Expect to be in your feels for at least an hour after listening.
---
"Snowchild" - The Weeknd
Nobody expected After Hours to be a cheery album, but most of us didn't expect it to be this dark. The Weeknd seems to be on the verge of an awakening as he realizes that everything he's worked for up until this point lacks the depth he's been craving. L.A. is the number one culprit, as proven in "Snowchild."
---
"Another Day" - PARTYNEXTDOOR
Loyal PARTYNEXTDOOR fans won't be surprised to see "Another Day" on this list. While he does produce bangers with the likes of Drake, a lot of his songs are sultry and moody. "Another Day" is no exception.
---
"Modern Loneliness" - Lauv
Lauv perfectly describes the current state of our society in a poignant song called "Modern Loneliness," reflecting on how we're "never alone, but always depressed." As we grapple with physical loneliness during the COVID-19 crisis, it's more relevant than ever. Let's figure out how to change that once this is all over.
---
"Sometimes" - H.E.R.
"Sometimes" pierces through your soul, much like the rest of the 22-year-old's music. This one is all about navigating unpredictable change. "'Cause sometimes shit don't go your way, sometimes / And sometimes you gon' have those days / And sometimes you'll feel out of place / You can't promise me it'll be the same."
---
"No Time to Die" - Billie Eilish
Billie Eilish created "No Time to Die" for the upcoming James Bond movie (out in 2021). Like everything else she produces, it's a beautiful mix of melancholy and more capital-F feelings.
---
"Anyone" - Demi Lovato
The world was moved to tears when Demi Lovato performed her new single, "Anyone," at the 2020 Grammys. Lovato wrote the song, which is a devastating cry for help, four days before her near-fatal overdose in 2018. "I remember being in the hospital and listening to the song and it was about a week after I had been in the hospital and I was finally like awake, and I just remember hearing back the songs I had just recorded and thinking, 'If there's ever a moment where I get to come back from this, I want to sing this song,'" she told New Music Daily.
---
"Wrong Direction" - Hailee Steinfeld
Hailee Steinfeld entered 2020 by releasing her heartbreaking single, "Wrong Direction," about a past relationship with a partner who was unfaithful to her. "Love me with your worst intentions / Didn't even stop to question / Every time you burned me down / Don't know how, for a moment it felt like heaven."
---
"Everybody - Mac Miller
Every song on Mac Miller's posthumous album, Circles, feels a bit soul-crushing knowing that we're never going to hear new sound from the rapper again. Lyrics like, "Everybody's gotta live / And everybody's gonna die / Everybody just wanna have a good, good time" give fans an inescapable feeling that Miller knew what was coming next.
---
"Letter to Nipsey" - Meek Mill ft. Roddy Ricch
Meek Mill and Roddy Ricch teamed up to create "Letter to Nipsey," a single dedicated to Nipsey Hussle who was killed in a shooting near his Los Angeles store in 2019. Meek and Roddy performed the song at the 2020 Grammys in front of Nipsey's wife, Lauren London, to celebrate the life of the late rapper and activist. As Nipsey would say, "The marathon continues."
RELATED STORIES
Rachel Epstein is a writer, editor, and content strategist based in New York City. Most recently, she was the Managing Editor at Coveteur, where she oversaw the site's day-to-day editorial operations. Previously, she was an editor at Marie Claire, where she wrote and edited culture, politics, and lifestyle stories ranging from op-eds to profiles to ambitious packages. She also launched and managed the site's virtual book club, #ReadWithMC. Offline, she's likely watching a Heat game or finding a new coffee shop.