The Best New Songs of 2020 From Mac Miller to Selena Gomez
From Selena Gomez's "Dance Again" to Justin Bieber's "Intentions," these are the best new songs of 2020.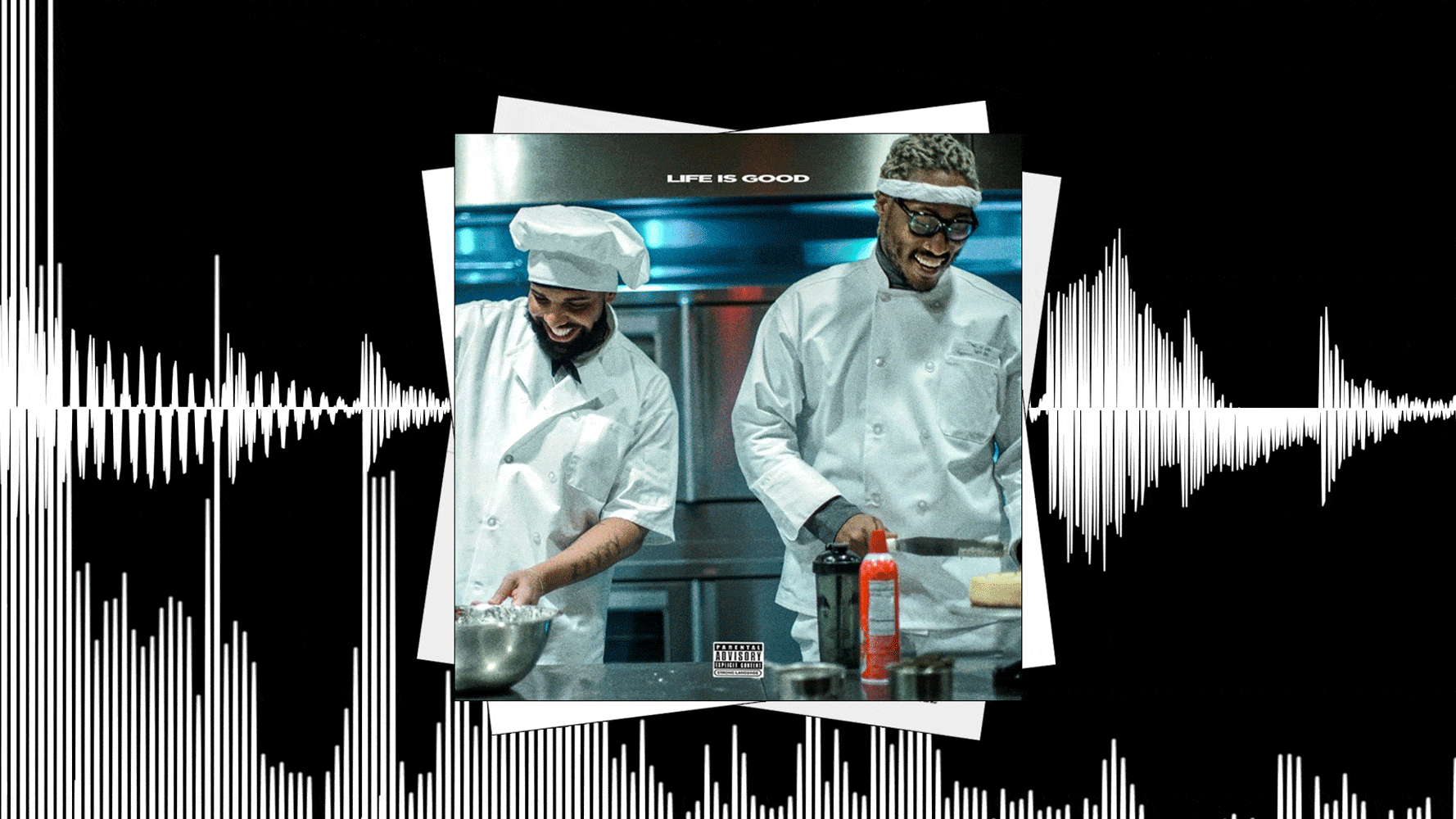 (Image credit: Design by Morgan McMullen)
More than halfway through 2020, we've been blessed with new sound from Drake and Future, a posthumous album from Mac Miller, and an incredible body of work from Jhené Aiko. If that's not enough to get you pumped to listen, add The Weeknd, Megan Thee Stallion, Selena Gomez, and more to the list of artists who are releasing brand new music to help distract us from the tumultuous year we're living in.
Here, we're keeping tabs on the best new music of 2020. Check back frequently to see who made the cut.
"White Tee" - Summer Walker ft. NO1-NOAH
"White Tee" stands out as a top track on Summer Walker's new EP, Life on Earth, not only for the capital-V Vibe, but also for the sentiment behind the lyrics. "You know you always wanna keep a white tee fresh and clean, but in my verse, I'm basically saying the opposite," Walker told Apple Music about the song.
DOWNLOAD IT (opens in new tab)
---
"The Adventures of Moon Man & Slim Shady" - Kid Cudi ft. Eminem
In the collab we truly don't deserve, Kid Cudi and Eminem speak truth to power about police brutality in "The Adventures of Moon Man & Slim Shady" with lyrics like, "Prayers to George Floyd and Ahmaud Arbery / How the f*ck is it that so many cops are dirty? / Stop, man, please, officer, I'm sorry / But I can't breathe when I got you on top of me / Your goddamn knee's on my carotid artery."
DOWNLOAD IT (opens in new tab)
---
"WHATS POPPIN" - Jack Harlow ft. Tory Lanez, DaBaby, & Lil' Wayne
I'm calling it: Jack Harlow will become a household name by the end of the year. The Kentucky rapper made his first Billboard chart debut when he released the remix of "WHATS POPPIN" with big-name rappers Tory Lanez, DaBaby, and Lil' Wayne—giving the 22-year-old the much-deserved clout he needs to be respected in the industry. Listen to the rest of his music, and you'll wonder how you slept on him before this.
DOWNLOAD IT (opens in new tab)
---
"Snitching" - Pop Smoke ft. Quavo & Future
Pop Smoke's posthumous debut album, Shoot for the Stars, Aim for the Moon, has too many great songs to include in one list, but "Snitching" stands out as a top track, featuring Quavo and Future.
DOWNLOAD IT (opens in new tab)
---
"Desires" - Drake
Drake and Future's "Desires" leaked in January, alluding that Drake's mixtape, Dark Lane Demo Tapes, would absolutely not disappoint. Much like Pop Smoke's album, it's hard to choose a favorite on this mixtape, but "Desires" makes the top of the list along with "From Florida With Love." (More on that below.)
DOWNLOAD IT (opens in new tab)
---
"From Florida With Love" - Drake
"I'm back, baby, where the love at?" -Drake and also me. "From Florida With Love" makes us nostalgic for Old Drake™ but is a surefire sign that deep down he's still there and he'll prove it in his next full album. Release date TBD, though we should expect it this summer.
DOWNLOAD IT (opens in new tab)
---
"Tap In" - Saweetie
Gone are the days when Saweetie was solely known for her single, "My Type" (2019). With the recent release of "Tap In" and "Pretty Bitch Freestyle," the 27-year-old rapper is making fans anxiously await a debut album from her.
DOWNLOAD IT (opens in new tab)
---
"Open Up" - UMI
Start doing your research on UMI, and you'll realize she's not only incredibly talented, but she also has a calming aura that radiates through her social media. She'll have you wishing you were laying in the grass meditating while listening to her music.
DOWNLOAD IT (opens in new tab)
---
"Moana" - Jack Harlow & G-Eazy
Like I said earlier, do not sleep on Jack Harlow's beats. Harlow and G-Eazy produced this banger in the beginning of quarantine and even managed to make a music video that's an incredible sign of the times we're living in.
DOWNLOAD IT (opens in new tab)
---
"BLACK PARADE" - Beyoncé
The country needed nothing more than for Beyoncé to drop "BLACK PARADE" on Juneteenth after the recent murders of George Floyd, Ahmaud Arbery, Breonna Taylor, Tony McDade, and more Black people who didn't deserve to die. "Ooh, motherland, motherland, motherland, motherland drip on me / Eeya, I can't forget my history is her story, yeah / Being Black, maybe that's the reason why they always mad / Yeah, they always mad, yeah / Been passed 'em, I know that's the reason why they all big mad / And they always have been."
DOWNLOAD IT (opens in new tab)
---
"Dangerous City" - dvsn & Ty Dolla $ign ft. Buju Banton
Dvsn, the R&B duo under Drake's OVO label, released their third studio album, A Muse in Her Feelings, in April—giving us capital-V Vibes throughout the entire album, but especially in "Dangerous City."
DOWNLOAD IT (opens in new tab)
---
"Savior Complex" - Phoebe Bridgers
Fans have been cognizant of Phoebe Bridgers' talent since she released her debut album in 2017, but her latest album, Punisher, feels like a perfectly-timed soundtrack to our lives while we bask in the solitude of quarantine. "Savior Complex" is a reminder of that.
DOWNLOAD IT (opens in new tab)
---
"Savage Remix" - Megan Thee Stallion ft. Beyoncé
Reminisce on better times dancing with your friends in hot, sweaty bars while listening to Megan Thee Stallion and Beyoncé's "Savage Remix." The best line? "Hips tick-tock when I dance / On that Demon Time, she might start an OnlyFans."
DOWNLOAD IT (opens in new tab)
---
"CHAMPION" - DaBaby
When you're tired of hearing "Rockstar" while scrolling through Tik Tok, play DaBaby's "CHAMPION"—an underrated song off his album, Blame It on Baby, which emphasizes that he certainly didn't take the easy route to get to where he is today.
DOWNLOAD IT (opens in new tab)
---
"Snowchild" - The Weeknd
The Weeknd is his most vulnerable yet in "Snowchild," which is precisely why, along with "Escape to LA" and "Hardest to Love," it's one of the best songs off his After Hours album.
DOWNLOAD IT (opens in new tab)
---
"NO MAÑANA" - Black Eyed Peas
After exploring their identity the past couple of years in a post-Fergie world, the Black Eyed Peas have found a new home in the latin-pop genre with their album, Translation. They absolutely did not have to go this hard, but alas!
DOWNLOAD IT (opens in new tab)
---
"B.S." - Jhené Aiko ft. H.E.R.
It's hard to pick a favorite off of Jhené's incredible album, Chilombo, but "B.S." is certainly the most relatable for those of us ready to move on from that toxic person in our lives. "Back up on my bullshit / Back up on the scene / Done dealing with you / Don't know how to deal with me."
DOWNLOAD IT (opens in new tab)
---
"Baby Girl" - Bryce Vine ft. Jeremih
There are two types of people in this world: Those who will love Bryce Vine's "Baby Girl" and those who won't. If you know good music, you'll be in the former group.
DOWNLOAD IT (opens in new tab)
---
"Do the Most" - Tory Lanez
Tory Lanez knows how to produce the bangers, and "Do the Most" certainly doesn't disappoint. It was one of his first singles from The New Toronto 3, released in April.
DOWNLOAD IT (opens in new tab)
---
"GUESS WHAT" - Russ ft. Rick Ross
Russ' new album, Shake the Snow Globe, is full of jams, but "GUESS WHAT" is the song we'll all be playing on repeat at the pregame. The artist is known for his singles "Losin Control" (2015) and "BEST ON EARTH" (2019, a favorite of RiRi), and we'll only be seeing more of him.
DOWNLOAD IT (opens in new tab)
---
"Anyone" - Demi Lovato
"Anyone" is the most heartbreakingly beautiful song Lovato has written to date. She wrote it just four days before her near-fatal overdose and premiered the single at the 2020 Grammy Awards (opens in new tab), which makes it that much more powerful.
DOWNLOAD IT (opens in new tab)
---
"Dance Again" - Selena Gomez
Selena Gomez's Rare will go down as one of the best albums of 2020. It's hard to pick a standout song when you have such an incredible roster of jams ("Rare!" "Crowded Room!" "Ring!"), but "Dance Again" consistently presents itself as the single not only filled with some of the most relatable lyrics, but actually will make you want to dance again. Every. Single. Time.
DOWNLOAD IT (opens in new tab)
---
"Comfortable" - H.E.R.
The only thing better than a single from H.E.R. is an acoustic single from H.E.R. The Grammy award-winning artist dropped "Comfortable" shortly after debuting her new single "Sometimes" at the 2020 Grammys, and it's most definitely a vibe.
DOWNLOAD IT (opens in new tab)
---
"Don't Start Now" - Dua Lipa
Dua Lipa released "Don't Start Now" in 2019, but it's technically part of her album released in April, which makes it an essential part of this list—mainly because the 24-year-old British pop star can produce no bad song. Listen to her entire album, Future Nostalgia.
DOWNLOAD IT (opens in new tab)
---
"Industry Games" - CHIKA
You may know Jane Chika Oranika, a.k.a. CHIKA, as the rapper who called out Kanye West after he wore a MAGA hat and praised Donald Trump, but she's way more than that. After releasing her first single last year, the 23-year-old is continuing to earn the respect she deserves in the industry. "Industry Games" is her latest drop, which talks about the lack of passion from certain artists in the game while praising her own, part of a new EP she's set to release this year.
DOWNLOAD IT (opens in new tab)
---
"Intentions" - Justin Bieber ft. Quavo
Never in my life did I imagine a Justin Bieber x Quavo collaboration, but I'm here for it! "Intentions" comes off of Bieber's album, Changes, which is essentially one big love letter to Hailey Bieber.
DOWNLOAD IT (opens in new tab)
---
"Fire, Ready, Aim" - Green Day
Green Day's "Fire, Ready, Aim" sounds like it belongs in the background of a movie where the character is accomplishing a goal, and that's exactly how the new song will make you feel every time you listen to it. While you're at, download the rest of Green Day's new album, Father of All Motherfuckers (truly an incredible title), that will make you realize how far the band has come since their "American Idiot" (2004) days.
DOWNLOAD IT (opens in new tab)
---
"Life Is Good" - Future ft. Drake
Life is, in fact, good when you're reminded of Drake and Future's 2015 What a Time to Be Alive upon listening to the rappers' single, "Life Is Good." When Drake said "Workin' on the weekend like usual" ...I felt that.
DOWNLOAD IT (opens in new tab)
---
"Good News" - Mac Miller
A year and a half after the devastating loss of Mac Miller (opens in new tab), the rapper's family decided to release a posthumous album, Circles, that allows the world to reflect on the incredible talent it lost. "Good News" is the first single from the album, which carries the familiar nostalgia we're used to from Miller all the way back to his Blue Slide Park days. The first listen hurts, but the second listen is oddly comforting knowing his legacy will live on.
DOWNLOAD IT (opens in new tab)
---
"Changes" - Lauv
Most people will recognize Lauv from his 2017 hit, "I Like Me Better," but the 25-year-old artist has proven he's more than a one-hit-wonder. "Changes" is amongst a series of songs the self-proclaimed "one man boy band" released ahead of his debut album, How I'm Feeling.
DOWNLOAD IT (opens in new tab)
---
For more stories like this, including celebrity news, beauty and fashion advice, savvy political commentary, and fascinating features, sign up for the Marie Claire newsletter.
subscribe here (opens in new tab)
RELATED STORIES
Rachel Epstein is a writer, editor, and content strategist based in New York City. Most recently, she was the Managing Editor at Coveteur, where she oversaw the site's day-to-day editorial operations. Previously, she was an editor at Marie Claire, where she wrote and edited culture, politics, and lifestyle stories ranging from op-eds to profiles to ambitious packages. She also launched and managed the site's virtual book club, #ReadWithMC. Offline, she's likely watching a Heat game or finding a new coffee shop.