So Dennis Rodman Has Thoughts About 'The Last Dance,' Sort Of?
The whole situation is very...Dennis Rodman.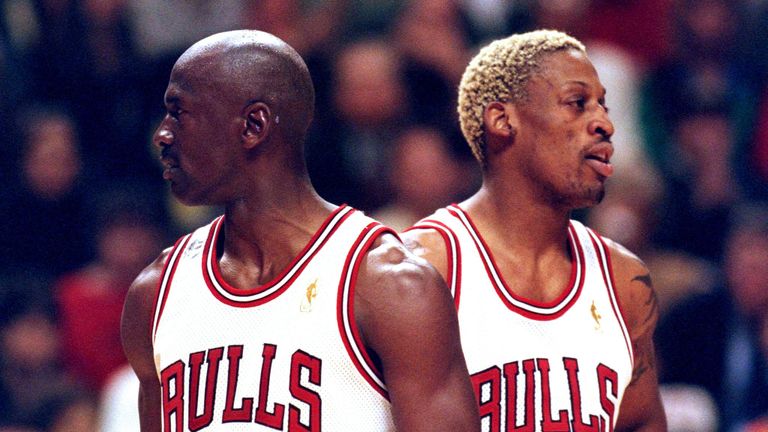 (Image credit: Sporting News Archive)
When I think about all the e-boys thriving today, I can only think about Dennis Rodman in the '90s. The man took the term "personal style" to new wavelengths with his multicolor hair, bucket hats, and trench coat. I could go on and on about the dude, but what I'm more interested in is what he thought of ESPN's documentary series The Last Dance.
Director of the series Jason Hehir has explained that getting him to sit wasn't exactly easy. In the ESPN podcast Jalen and Jacoby, Hehir explained that Rodman showed up for his interview for the documentary two hours late—and didn't know what he was getting interviewed about. Uhhhh, mood?
"He's like, 'Ten hours (for this documentary), huh?' I was like, 'Yeah.' He's like, 'Alright, I'll give you 10 minutes,'" Hehir said in the podcast. "Every page of questions I have (for him to answer) is an hour. I have 11 pages for this guy, and he's saying 10 minutes."
The Rodman antics didn't stop there. "So he sits down. I'm just kind of shooting the shit with him, and he says, 'I need a tuna sub from Subway and some chamomile tea.' It was like Chappelle sending the guys for a sugar cookie in Queens," Hehir explains. "Unless you pass this test, you cannot do this interview. So we got him the tuna sub, we got him the chamomile tea, and he sat down for three hours. But that is a difficult guy to interview."
Out of those three hours, we received Rodman's tales of his crazy times with him and Carmen Electra to how he mastered the art of rebounding, but my personal favorite? What Rodman said about his teammate Scottie Pippen...except he said that part offscreen. (Sorry, Hehir.)
"Scottie was so underrated—and so underpaid. He should be holding his head up higher than Michael Jordan in this documentary," Rodman said to ESPN. "I think a lot of people are now realizing what he went through. The kid was a hero, in a lot of ways, during those great Bulls runs."
Unlike Rodman, Pippen has been quiet about his portrayal in the documentary, but people like his estranged wife Larsa Pippen and Rodman have stuck up for him."I wish he didn't give a shit like me about what people say," Rodman said to ESPN.
That "I don't care" attitude is precisely why you and I haven't exactly heard about his thoughts on The Last Dance documentary, and fans have taken notice.
It looks like he's still modeling that mindset today based on his minimal feedback about the series...and also the dyed hair too. Good for him!
watch 'the last dance' on espn+
Shop Air Jordans
For more stories like this, including celebrity news, beauty and fashion advice, savvy political commentary, and fascinating features, sign up for the Marie Claire newsletter.
Bianca Rodriguez is the Commerce Editor/Writer at Hearst Magazines Digital Media, where she covers fashion, beauty, home, and more. She likes long walks through shopping malls, a good book, and thinks a closet without platform sneakers is a travesty.