Sarah Pinsker, Author of 'Song for a New Day,' on Predicting the Pandemic in Her 2019 Novel
As Pinsker's fiction becomes our reality, she offers her views on how we can weather the COVID-19 crisis.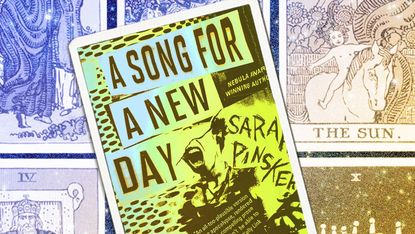 (Image credit: Collage by Susanna Hayward. Tarot cards: Getty Images)
Marie Claire Newsletter
Celebrity news, beauty, fashion advice, and fascinating features, delivered straight to your inbox!
Thank you for signing up to Marie Claire. You will receive a verification email shortly.
There was a problem. Please refresh the page and try again.
Sarah Pinsker has been thinking about how to navigate a pandemic for much longer than most of us. In 2015, she began writing her speculative fiction novel, Song for a New Day, which takes place in an America turned upside down by a highly contagious superbug. Upon its release in September 2019, Booklist praised it as "riveting and plausible." It's even up for a Nebula Award, a top honor for sci-fi and fantasy writers. But in May of 2020, Pinsker's debut novel reads more like a nonfiction account of how COVID-19 has disrupted life as we knew it, rather than an allegory about human connection.
"I was kind of looking forward to getting the story out of my head, and now we're living in it," Pinsker laments to Marie Claire with a weary laugh. Her pages detail eerily accurate isolation booths in restaurants, contactless delivery, virtual gatherings, and WFH bedroom-offices. Still, Pinsker doesn't think of herself as a prophet. "Everything that's in there is stuff that could logically happen," she says while sheltering-in-place in her hometown of Baltimore. "I just accept it as the risk of writing about the near-future: You can sometimes get lapped by the actual future."
In Pinsker's book, a fictional disease known simply as "the Pox" doesn't lead to some apocalyptic sci-fi scenario. Pinsker masterfully avoids clichés of medical thrillers and movies like Contagion, instead opting to present a gradual eating away of society's sense of stability. One unnerving passage has the central character, rock musician Luce Cannon, trying to convince her sick bandmate to go to the hospital, before anyone has fully grasped the gravity of the disease. When, days later, she finds out her bandmate has died, a baffled friend remarks, "Who dies of the flu? I thought that was old people and babies." As lockdowns and social-distancing are enacted, Luce and her roommates create a list on their kitchen dry-erase board titled, "Don't Forget Normal." They catalog things like "pride parades, school assemblies, outdoor movies, outdoor concerts, baseball games, crowded trains, roller derby bouts." The list takes over the whole wall, creating a mural that one roommate turns into an interactive online exhibit.

Luce's life is upended by "congregation laws" that ban large public events—stopping her tour, and her career, dead in its tracks. It's fitting that Pinsker, a musician herself, was inspired to write Song for a New Day by her anxiety around making a living. She imagined how a pandemic would cancel the live events that artists rely on, especially because music streaming has put a dent in musicians' traditional revenue sources. If you're among the millions of ticket-holders who got alerts for concerts or music festivals being "postponed indefinitely" this summer, Pinsker feels your pain. "We have to keep supporting the artists," she stresses. "We have to find a way to keep the venues viable so that they're there when we come back, and support the indie stores that also are part of that ecosystem."
If Pinsker was only interested in capturing our cultural malaise, Song for a New Day would have little insight to offer readers right now. Instead, the novel jumps ahead to 12 years after the outbreak started, showing us a pandemic-altered world through the eyes of a sheltered 24-year-old named Rosemary Laws. Public gatherings are still banned, and those who can afford VR-enabled "hoodies" are content to socialize in virtual-reality spaces—much in the same way we're currently connecting via Zoom calls and Houseparty get-togethers. The vivid rendering of Rosemary's quiet life, devoid of social contact, road trips, even birthday parties (she has vague memories of them from childhood) will induce goose-bumps. By imagining a generation growing up in a "new normal," the novel becomes a thought-provoking eulogy for the simple pleasures that we've been living without for the past two months. Presenting readers with a commercialized world bereft of small businesses and regional arts, Pinsker challenges us to consider what we risk losing as a culture in the long run.
"I'm a big believer in remembering what normal is, in order to both see it and improve upon it," Pinsker says. This reckoning of the old and new plays out as Rosemary finds her way to Luce Cannon. After taking a job as a fledgling talent scout for a company that produces holographic concerts, Rosemary attends her first IRL concert in the basement of Luce's Baltimore brownstone. Pinsker indelibly describes Rosemary's reaction to a live band: "She thought she knew what music sounded like in a fair number of forms... This was another thing altogether. Loud, for one... The kick drum rose up through her bones." Having never been in a crowded space before, Rosemary suffers a panic attack and has to leave mid-show, but she makes a point of returning night after night until police eventually raid the venue.
The last chapters of Song for a New Day chart how Luce and other underground musicians rebel against the congregation laws. When asked about the actual protests over regulations happening now, the author is quick to note key differences between the world of her novel and our real-world situation: "I think the radical act right now is actually to follow social-distancing guidelines, to protect people, and to find new ways of connection." Pinsker has found it heartening to see virtual tools that bring museum tours and live music into living rooms gaining popularity. And she's hoping that, in many ways, America doesn't just return to business as usual. With raised awareness about the daily sacrifices of "essential workers," Pinsker sees the possibility of change. "Minimum wage really is way too low and maybe we're valuing the wrong things," she worries, adding that, "the people who help us every day need to be treated better."
As the title suggests, Song for a New Day ultimately expresses Pinsker's optimism, making it a cathartic read. She resists painting the future as a doomed dystopia. Although her fictional America has succumbed to some of its current problems, like domestic terrorism and corporate conglomeration, there are also references to societal advances: Universal Basic Income, wide acceptance of gender diversity, and affordable city housing (in the wake of wealthy people fleeing to the suburbs). "When people say to me, 'I read your book and it gave me hope,' that is the highest compliment," Pinsker says.

Still, she's had more than one friend ask her, "What are you writing next...so I know what to run away from?" Her newest novel, which she finished under quarantine, could be seen as a cautionary tale about medical implants and the way humans are merging with technology. Given her powers of perception, we'll be pre-ordering our copies of We Are Satellites (Penguin Random House), due out May 2021.
For more stories like this, including celebrity news, beauty and fashion advice, savvy political commentary, and fascinating features, sign up for the Marie Claire newsletter.
RELATED STORIES
Celebrity news, beauty, fashion advice, and fascinating features, delivered straight to your inbox!
Carl Kelsch is the Managing Editor of Harper's Bazaar. He's also a screenwriter whose short films of varying quaility can be found smattered among the interwebs.