Vida and In The Heights Star Melissa Barrera Isn't Here for Stereotypes
The Vida actress (the cult-favorite show is wrapping this month) and star of Lin-Manuel Miranda's highly anticipated feature film In The Heights talks being picky (with her roles) and taking chances.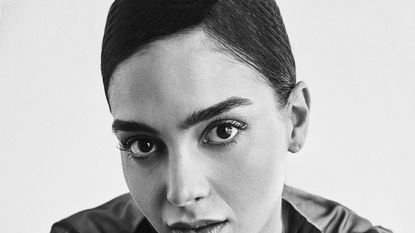 (Image credit: Anais & Dax / AUGUST)
Watch out for Melissa Barrera. The actress and singer started her career in telenovelas before landing a main role in Starz's Vida (the series finale airs May 31). Next, she'll sing and dance as Vanessa, a Washington Heights hairstylist with dreams of becoming a downtown fashion designer, in Lin-Manuel Miranda's much-anticipated film version of In The Heights. Between binging Goop Lab and reading novels by Latinx authors (she wants to adapt one for the screen), Barrera spoke with Marie Claire about smashing on-screen stereotypes and learning to love where you call home.
Marie Claire: Both Vanessa and your character in Vida aspire to leave their homes to pursue a dream. Can you relate?
Melissa Barrera: Definitely. I left my hometown, Monterrey, Mexico, right after I graduated from high school to study musical theater at New York University. I was set on leaving and never coming back. That was honestly my mindset at 18. But I can also relate to missing home. Sometimes I feel like I just need to go back and recharge my batteries. My hometown, people, and family all made me who I am. When you're in your late teens, you feel like you know everything. But as you grow up, you realize that every part of your life is important. Even though you felt like you wanted to escape, it was really that you wanted to expand your horizons, meet new people, and have new experiences. Once you do that, you realize very quickly that you cherish where you grew up and the people there.
There's magic about growing up in a small place, in a tight-knit community. In In the Heights, that's true. All of the characters are chosen family, and they are there for each other in ways that like maybe blood can't be. The beauty in being part of a community that's so tight-knit is that support happens, even though [it's not] blood family.
MC: You studied musical theater in college, and you dance and sing in the film. Was it similar?
MB: No, it just feels a little bit less daunting when I'm doing it live. I just feel like a lot more comfortable on stage than in front of a camera.
I don't consider myself a particularly talented dancer. I did take dance lessons when I was young, and I took dance lessons in college, so I know how to learn the choreography, and I'm coordinated enough to learn steps. I'm really good at faking it! Out of maybe 10 weeks of rehearsal, it took seven or eight weeks to learn that salsa number choreography—it was the hardest thing I've ever had to do in my life. I've had people ask me if it's even me. It was definitely me, but it was daunting!
MC: The movie is set in New York City's Washington Heights. What was it like filming there?
MB: The filming process was magic. It was amazing from beginning to end. We actually took over a real bodega for the movie. We would be filming and neighborhood customers would come in to shop. We'd tell them we were shooting, and they'd be like, 'Oh, can I just get [something] real quick?' Once they'd gotten used to us being there, they would bring out lawn chairs and sit on the sidewalk to watch us. A lot of extras were people from the community. It was a beautiful thing.
We had people coming out with their own food that they made, offering it to us. Lin still lives there with his family, he's never left Washington Heights, so it was very important to him to support the community. Every lunch plate would be from a local restaurant. This is [their] movie too. We're trying to tell [their] story, and we wanted to be as respectful as possible. I think that was accomplished.
MC: Your roles often shatter Latinx stereotypes. Do you look for that?
MB: I try to steer clear of stereotypes. I don't want to feed stereotypes. I'm very fortunate that I have the option to choose, because I know a lot of people who just need the work. I don't want to play the daughter of a cartel lord. Those shows are good, but they glorify groups that are harmful toward the community. The Latin community is so much more than that.
I've been fortunate that both of the big projects that I've been in, In the Heights and Vida, are shows that celebrate the community and also expand on the types of people that you see on-screen. That's what people need right now. It's very refreshing to see actual human beings that are not stereotypes and that have real stories, issues, ambition, heartbreaks, and aches. I feel like for the longest time, the Latinx community has been told something like "Oh, well they are Latin and that's all that they are." That's why in society, minorities are still seen as [their race or ethnicity first]. It's like, "Oh, they're Mexican." [We want to change that to be] "Oh, that's a doctor, that's a lawyer." Our lives matter, and our stories matter. Our journeys matter. And are more similar than you would think.
MC: How do you feel about Vida ending?

MB: It's sad because the show means a lot to a lot of people. It started a movement in brown and Latino content, queer representation, and the representation of women of color. It was groundbreaking and still is. I posted that it was the final season [on social media] and someone commented, "The best kept secret on the internet." I was so heartbroken by that comment, because I wish that it wasn't a secret. I wish that the world knew about our show and were watching it. Hopefully our show ending doesn't mean that other shows like ours will go.
A version of this article originally appears in the Summer 2020 issue of Marie Claire. This interview was conducted before the Covid-19 pandemic; due to the pandemic, the release of In The Heights has been postponed to 2021.
RELATED STORY
Megan DiTrolio is the editor of features and special projects at Marie Claire, where she oversees all career coverage and writes and edits stories on women's issues, politics, cultural trends, and more. In addition to editing feature stories, she programs Marie Claire's annual Power Trip conference and Marie Claire's Getting Down To Business Instagram Live franchise.