'All Adults Here' Is an Ideal Quarantine Read
Though it will probably make you miss your family.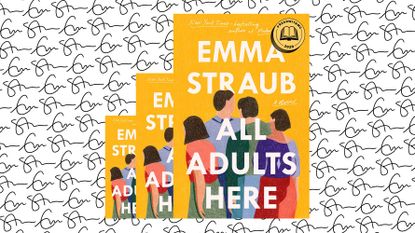 (Image credit: Design By Morgan McMullen)
Marie Claire Newsletter
Celebrity news, beauty, fashion advice, and fascinating features, delivered straight to your inbox!
Thank you for signing up to Marie Claire. You will receive a verification email shortly.
There was a problem. Please refresh the page and try again.
Emma Straub's latest novel, All Adults Here, has been a popular book club pick lately—perhaps because it brilliantly illustrates a dysfunctional family many of us can relate to, or have related to at some point in our lives. The story begins with a reflection on a bus crash witnessed by the matriarch of the family, Astrid Strick, one that killed an acquaintance of hers who she didn't particularly like, prompting her to look back on her own life, and the family she's raised.
As the #ReadWithMC community notes, the book doesn't necessarily have a single plot to focus on throughout the novel, but rather individual stories to help readers understand the complex family dynamics that have developed, and how each member's unique experiences shape their role in the family. This isn't a flaw—Straub executed the storylines well, and crafted characters readers could easily connect with.
Overall, readers thoroughly enjoyed the book, especially while in quarantine—it's both light and thought-provoking—though it did make some of us miss our families during this time of separation. As one #ReadWithMC reviewer perfectly put it, "This story left me with a warm heart and missing my siblings and parents even more. Can't wait to hug them all, but in the meantime there are books."
Read the rest of the #ReadWithMC reviews on Straub's All Adults Here, below.
---
"All Adults Here was one of the books I was most anticipating this summer. It had been getting tons of buzz and great reviews. It's the type of family story I love: a little bit of drama, a little bit of humor, and a lot of heart.
In All Adults Here, Astrid Strick, a widowed mother of three adult children, witnesses a bus crash that causes her to reexamine her own life. She's been harboring a pretty major secret from her children and she decides it's prime time to tell them. Elliot, her oldest, is struggling with his twin boys, his construction business, and a long-time grudge against his parents. Porter is pregnant, but can't seem to give up seeing her high school ex-boyfriend. And Nicky, who lives in Brooklyn, sends his teenage daughter Cecelia to live with Astrid after an incident at school.
I really liked this one! It's definitely a quieter and more introspective novel, so I don't think it's for everyone, but if you're into character-driven novels, then you'll probably really enjoy this one. Chapter POVs alternate between the different family members and their stories were all distinct enough that it was easy to keep the large cast of characters and events straight in my head. Of all of the characters, I loved reading Cecelia's perspective the most and her friendship with Robin was one of the highlights of the book for me!
Straub writes families so well. Everything in here felt so realistic and plausible, from grudges quietly held for decades to the urge to blurt out your huge secret even though you know it has the potential to fracture your family. Her observations of day-to-day life are so on-point as she writes this sweeping story of a few months in the life of the Strick family. This novel is one that's a light and funny read, but still has the perfect amount of depth and substance, making it a great summer pick. I gave All Adults Here a 4/5. A funny and engrossing story of family with excellent writing!" —@whatmaddieread
---
"This is a sweet, optimistic book about family. Think Parenthood/Gilmore Girls vibes with Brooklyn politics, some nice pop culture references, and a Lifetime movie ending." —@booktherapyphilly
---
"This was a popular pick for book clubs! It was the @marieclairemag #readwithmc pick for May and it was the @readwithjenna pick as well! Now I can totally see why! I am always down for some family drama and the Strick family delivered. The book begins with a big accident and many revelations are divulged through the experiences of the Strick family. They live in a small town and the small town vibes were really well-represented in the book. The main town square and the small main street were vivid and picturesque. The book follows a multi-generational family, and the adult-sibling relationships were so on point and realistic.
The characters are flawed and messy, but I think that's the beauty of the book. I only wish the three sibling characters were flushed out a little more. I feel like I understood them about 75 percent, but wanted a bit more, especially with the two brothers. It reminded me a bit of The Most Fun We Ever Had, which is a high compliment because that was one of my favorite books of 2019!" —@readtotheend
---
"This book is about the Strick family and how they come together during transitional times in their lives. We peek into the lives of Astrid Strick, her three adult children, and their children. I grew attached to these characters even though they need to tune up their decision-making skills. I felt as if I was watching someone come out of general anesthesia and try to ride a bike. There was definitely an audible 'Noooo, don't do that please...'
I needed to do a family and friends tree diagram in order to keep everyone straight. I would show you all, but seeing it is spoiler-esque. Small towns, complicated families. It's like that.
While this book was heartwarming and wholesome, I did have a couple hang-ups with it:
1) The narrative sometimes jumps too much while the reader is learning all of the characters.
2) Instead of tip-toeing into many issues, I wish it would've focused on more with fewer themes. I do think it's important to talk about many of the issues, but I would've rather dived into just two or three to start a dialogue. " —@fictionornaw
---
"'Adulting is Hard.' That's a catch phrase that has been tossed about blithely in conversations, on sitcoms, and even emblazoned on mugs and t-shirts. Here's the thing: they're not wrong. There isn't a definitive 'how to' manual for growing up to be a successful adult, and FYI, we are all improvising as we go along.
Cue the Stricks. Astrid is the widowed matriarch of the family. The novel opens with her witnessing an empty school bus ruthlessly run down Barbara Baker, an acquaintance for the past 40 years. This abrupt tragedy forces Astrid to re-examine her own mortality and the choices she has made as a wife and a mother. Her children are adults and she regrets their lack of closeness. This is something she strives to remedy at this late hour, even as she decides her children need to finally know a secret of her own.
Her oldest son Elliot wears all of the outer armor of success; he is married to Wendy, a lawyer, has two healthy-albeit hyperactive-twin boys, a huge home, and runs a successful business. However, Elliot still longs for his mother's approval and his siblings' acceptance.
Her daughter, Porter, at 38 years old has decided to become a mom on her own via sperm donor. It's a brave choice, but if she is going to be a good mother she has to finally grow up and stop indulging her adolescent fantasies with her married high school boyfriend, Jeremy Fogelman.
And last but not least, Nicky, the beloved, bohemian youngest sibling, is too busy rolling a joint to actively parent his only child, Cecelia. At 13, Cecelia had the courage to speak up when a friend at school found herself in a dangerous situation. However, in the aftermath, she somehow gets exiled to Astrid's.
Straub taps into the intricate dynamics of family with grace and ease. She delves into the struggles to parent, which can result in different parenting experience with different children, sibling rivalries, regrets, and the power of forgiving our parents as well as ourselves. Straub allows us to be bystanders in the worlds these characters orbit and for this we should feel fortunate for the view." —@suzylew_bookreview
---
"I started reading All Adults Here on my flight home from New York City, temporarily fleeing the city due to the virus, and the timing couldn't have felt more fitting. Working from my childhood bedroom makes me feel like a kid, teen, and adult all at once, so I easily related to all the members of the Strick family. All Adults Here isn't the most riveting, action-packed novel ever, but it's reflective, poignant truths about family and life are perhaps the lessons we need most in a time of pause and self-reflection.
While writing a novel from various character's perspectives is no easy feat, Emma Straub nails it. Rather than becoming confusing, this alternating structure keeps the plot engaging and richer in what it reveals. From their unique opinions and impressions, Straub demonstrates one of her most brilliant points—small actions and words between kids and parents impact their relationships forever.
The book didn't make me cry, and I probably laughed out loud a few times. But what I truly walked away with was hope. All the siblings get a new start, but mainly it is the mother, Astrid, who comes out with her lesbian lover and picks up a new way to live and love. If Astrid can begin an entirely different life after 68 years, so can we after this pandemic." —@emilycieslak
---
"All Adults Here is domestic fiction, homing in on different members of a family. It's also compulsively readable—I didn't want to put it down when it was time for work or sleep.
I really enjoyed this book. I disagree with those who think the author included too much—it felt realistic to what being in a family can often mean. Even if I'm only dealing with one or two big things, it's plausible that my family members each have their own 'big things' to take on and, of course, each has the potential to cause ripples throughout the family. (Some things that our family members do or go through have profound influences on us, while others may not—and what affects my sibling may not affect me.)
And yet... I think All Adults Here missed the mark just a little bit—a few of the author's choices left me with a niggling feeling of discomfort. But those are minor criticisms, and this was a 4-star, good read for me that could easily rise to 5 stars for others. It also makes me look forward to reading Straub's backlist!" —@christine_queenofbooks
---
"Started All Adults Here by @emmastraub—a triple book club pick this month by @readwithjenna, @barnesandnoble, and #readwithmc—with high expectations. I haven't read her previous books, but I know many—MANY!—who love her to the moon and back so I'm looking forward to settling in with this story of a dysfunctional (but aren't they all?) family. I'm already feeling more excited about summer just staring at that cheery sunflower yellow cover." —@crazywellread
---
"I loved this book! I love a good family drama! I've never read a book by Straub, but I think I will be picking her others up soon! I've seen some reviews that harp on the fact that this book is more character-driven than plot-driven and I think that's true to an extent, but I think it's supposed to be that way, and who cares when the characters are so great? Almost every current hot-button topic is touched on in the story, and I think it's very well-done without coming off like 'see how progressive and woke I am?' If you're a fan of family drama and character-driven books, read this! You will not regret it!" —@readwiththegoads
---
"A perfect multi-generational drama about The Stricks that appears completely normal, but when you look closer they have flaws. The mother, Astrid, who is in her 60s and has been alone for many years, is coming out in a relationship with her hairdresser, Birdie. Astrid has three kids, all adults, and we get to read about the dynamics between them and how the birth order affects them—and their parenthood. It's a warm, caring, and loving family, but they have their secrets. The book is well-written and easily introduces and deals with lesbianism and transgenderism. It has zero kind of plot, but I felt really entertained and wanted to move in next door to the family. Perfect weekend or holiday read." —@2900cph
---
"As someone who identifies and sees their mother in Astrid and Cecelia and Porter it makes me feel slightly terrified and equally liberated in a strange way." —@sterlingsidebottom
---
"I loved this book.⁠ I really, really did.⁠ Sure, you can find fault with it. The plot is low-stakes, the relationships aren't highly strained, there's a lot of timely political drama, but there are fault lines to every story.⁠ This one was immersive and sweet and so, so very thoughtful. After I closed it, I sat with it for a minute, unable to immediately extricate myself from Straub's thoughtfully crafted world.⁠
The omniscient 3rd person POV is a departure from the literary style I usually lean towards, but it was both bracing and witty, and it provided an element of subtle distinction to each character I don't think could have been achieved in any other way.⁠ I'll spare you a long, drawn-out plot overview—it's all over the internet, anyway—but know that the cast of characters is uniquely and brilliantly flawed. The story is driven by the humans within it, an entire piece set into motion after the sudden death of a woman hardly anyone knows at all.⁠ If that isn't a testament to the subtle nuance of our own lives, I don't know what is.⁠
Honest, quiet, and beautiful, this is perhaps my favorite book I've read of Straub's. Scout's honor.⁠" —@tobethewild
---
"Emma Straub's All Adults Here is her best novel yet. I thoroughly enjoyed it. Emma has perfected the storytelling of family dynamics; she had me reliving my childhood and thinking about my own family throughout this entire book. This story left me with a warm heart and missing my siblings and parents even more. Can't wait to hug them all, but in the meantime there are books." —@pennyreadsthings
---
"If I could only read one type of book for the rest of my life, it would be books about complicated families. Emma Straub's All Adults Here is both the most recent complicated family book I've read and a new favorite. The complicated family in this book are the Stricks: Astrid, the matriarch questioning her long ago parenting choices; Porter, her grown daughter who's decided to become a mother on her own; Cecilia, Astrid's 13-year-old granddaughter who's been bullied for trying to do the right thing; and Elliot and Nicky and so many other wonderful characters. I could go on and on about this one but what it boils down to is how much I appreciate the way Straub handles each of the Stricks so lovingly without letting them off the hook for their choices.
This novel is also incredibly easy to read, but feels literary because of the depth in which it explores human behavior and emotion. I loved it so very much, and I recommend that anyone who loves a family story add this to their list immediately." —@fictionmatters
---
"All Adults Here by @emmastraub was a great family drama. The premise of this book is that not everyone is perfect, not any family, adult or child. As I struggle through this quarantine, working from home, being a mom and teacher, there was a line Straub wrote that I absolutely loved! 'This was the job of a parent: to 🤬up, over and over again. This was the job of a child: to grow up anyway.' How true this quoute is in my life right now! I seriously laughed out loud! No matter what, I think everything will be okay." —@2.ps.in.a.bookstagram
---
Missed out on our May book club pick? In June, we'll be reading Naoise Dolan's debut novel, Exciting Times.
For more stories like this, including celebrity news, beauty and fashion advice, savvy political commentary, and fascinating features, sign up for the Marie Claire newsletter.
RELATED STORY
Celebrity news, beauty, fashion advice, and fascinating features, delivered straight to your inbox!
Rachel Epstein is a writer, editor, and content strategist based in New York City. Most recently, she was the Managing Editor at Coveteur, where she oversaw the site's day-to-day editorial operations. Previously, she was an editor at Marie Claire, where she wrote and edited culture, politics, and lifestyle stories ranging from op-eds to profiles to ambitious packages. She also launched and managed the site's virtual book club, #ReadWithMC. Offline, she's likely watching a Heat game or finding a new coffee shop.