'I'm Thinking of Ending Things' Is a Horrifying Roadmap to Navigating 2020
The Charlie Kaufman Netflix film is a surrealist mirror reflecting the year's barrage of anxieties.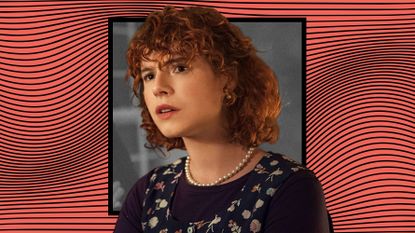 (Image credit: Netflix)
Marie Claire Newsletter
Celebrity news, beauty, fashion advice, and fascinating features, delivered straight to your inbox!
Thank you for signing up to Marie Claire. You will receive a verification email shortly.
There was a problem. Please refresh the page and try again.
I'm Thinking of Ending Things isn't a horror film explicitly about the emotional state of 2020, but the intense Netflix drama—available today—benefits from some very eerie timing. In it, Jessie Buckley (Chernobyl, Fargo) plays an unnamed young woman on the verge of breaking up with her significant other. Her boyfriend Jake (Jesse Plemons), the only character with a name, seems nice enough. But after exchanging barely-veiled intellectual insults on a road trip to meet his parents, it's clear neither value their partnership—even though the main character insists it's both unusual and deep. After an awkward dinner with Mother (a scene-stealing Toni Collette) and Father (David Thewlis), the narrative unexpectedly shifts. Suddenly her relationship is the only thing she can remember. What she's studying, her hobbies, and even her real name have all disappeared.
The twisty, difficult-to-summarize narrative is the work of director Charlie Kaufman, loosely adapted from Iain Reid's novel of the same name. In Kaufman's previous films, including Eternal Sunshine of the Spotless Mind and Being John Malkovich, the writer/director explored how relationships are shaped by surreal scenarios. He's claimed that messing with viewers' minds isn't his goal, telling Variety, "I'm more interested in having some sort of emotional resonance and giving people something to respond to." But with I'm Thinking of Ending Things it's difficult to suss out how much the director genuinely means that statement. Because, yes, the film gives viewers plenty to respond to, but it also absolutely alters our sense of up and down through frightening storytelling tactics. (It's arguably the creator's first foray into the horror genre.)
While haunted houses and slasher films can act as a form of therapy, giving viewers a safe place to work out our anxieties (who hasn't watched a scary movie and oddly felt calmer—because your life might be bad, but it's not face-eating bad?), Kaufman doesn't follow the stereotypical horror model. (In Kaufman's highly detailed world, watching zombies stagger across the screen would feel like a cheap reward.) Sure, the film includes the presence of an ominous basement, jarring camera angles, and Toni Collette ready to chew any and all pieces of scenery, but I'm Thinking of Ending Things lacks the release of traditional scary films. Instead, the filmmaker forces you to live in a heightened state of anxiety, not unlike watching a cinematic version of 2020's constant barrage of bad news.

The Netflix film's nonlinear storytelling also feels relatable in a year when working from home and event cancelations have stripped many of us of our sense of time. As the evening slides by and reality is completely dismantled on a never-ending car ride home, the main character is left desperately trying to pin down her identity while also protecting her physical safety. (It's unclear if "I'm thinking of ending things" is an invasive thought aimed at her relationship or suicidal ideation.)
If this emotional downward spiral sounds familiar, it's because we're living it. After a pandemic, economic crash, civil unrest, and several natural disasters, plus the dread of an upcoming election, 2020 continues to unfold like a stab at surrealist storytelling. The messaging that comes with unprecedented times is intense. We're expected to wear masks, wash our hands, donate to the causes we believe in, protest on behalf of Black Lives Matter, vote, stay productive in our day jobs, stay home, care for our families, reinvest our time in learning new skills, and find connection through our screens—all without any promise of a happy ending. It's no wonder our mental health is precarious and normalcy feels like a loose concept. Our surge capacity has been depleted, and we're operating in a state of emotional burnout that can cause insomnia, depression, and, yes, even memory loss.
The movie's exaggerated sprint through common life experiences feels equally uncertain, because, like the main character, we no longer can find safety in familiarity. Kaufman has intentionally left a multitude of narrative blanks, but current events have trained viewers to expect the worst. While 2020 has been a banner year for memes boiling down difficult ideas about the world into clickable jokes, I'm Thinking of Ending Things offers no similar comedic release. Even the appearance of a macabre cartoon character and swoony dance number only drive the story into darker territory.

Ultimately, I'm Thinking of Ending Things' strength is that it was never designed to be a complete story. Its quiet, unsettling ending offers no answers. In turn, the film does something scarier than showing us our fears: It asks us to sit with them. Kaufman might not have intended to build a roadmap to understanding 2020, but his film has given viewers an unexpected gift. Maybe, if we can find compassion for the main character's convoluted journey toward the unknown, we can also find it for ourselves.

RELATED STORIES
Celebrity news, beauty, fashion advice, and fascinating features, delivered straight to your inbox!