Netflix's 'American Murder: The Family Next Door': What We Know
Meet your newest true crime obsession.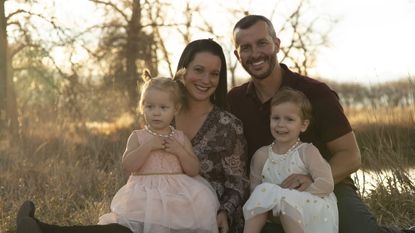 (Image credit: Shanann Watts/Netflix/2020)
There's been no shortage of true crime podcasts, documentaries and dramatizations in 2020—because when the world is going up in flames, there's something oddly comforting about distracting ourselves with the trials and tribulations of total strangers. Fortunately for armchair investigators looking for a new case to sink their teeth into, your next true crime obsession will soon arrive on Netflix in the form of American Murder: The Family Next Door, a documentary film about the 2018 Watts family murders.
American Murder will start streaming on Sept. 30, using home videos, social media posts, text messages and police footage to piece together the investigation into the August 2018 murders of Shan'ann Watts and her daughters Bella and Celeste. Though this isn't an unsolved crime—Watts' husband Chris eventually confessed to the murders and is currently serving five life sentences in a maximum-security prison in Wisconsin—the documentary promises to give viewers a 360-degree look into practically every single detail, from the ups and downs of the Watts' relationship to the failed polygraph test that ultimately led to Chris' arrest. Here's everything we know so far about American Murder: The Family Next Door.
Is there a trailer for American Murder?
Netflix dropped the official trailer for the documentary on Sept. 18—and it's jam-packed with sneak peeks of the archival footage we can expect from the full doc. In less than two minutes, we see what appears to be a security tape of Shan'ann arriving home from a business trip just a few hours she was killed, text messages Chris sent to his wife's phone after she disappeared to allay suspicion, a recording of a concerned friend's call to the police and videos of Shan'ann describing how meeting Chris had brought her out of "one of the darkest times of [her] life." It only gets more intense from there: We're shown actual footage of police searching the Watts home, questioning Chris and administering the incriminating polygraph test, all interwoven with seemingly idyllic Watts family home videos.
What's the story behind the Watts murders?
On Aug. 13, 2018, when Shan'ann Watts, who was 34 years old and 15 weeks pregnant, missed an OB-GYN appointment and didn't show up to work, her friend Nickole Atkinson visited the Watts home in Frederick, Colorado. Upon being unable to locate Shan'ann and her children, Nickole reported them missing to local police. Though Shan'ann's husband Chris, then 33, initially maintained his innocence and cooperated with the investigation, he was arrested on Aug. 15 after failing a lie detector test and subsequently confessing to murdering his wife and two daughters and hiding their bodies at the oil storage facility where he worked.
In his Nov. 2018 trial, Chris pleaded guilty to the murders and was sentenced to five life sentences without the possibility of parole, plus an extra 48-year sentence for the unlawful termination of Shan'ann's pregnancy and a total of 36 more years for tampering with the three bodies. He is now imprisoned in a maximum-security facility in Waupun, Wisconsin.
The following year, in a civil case brought by Shan'ann's family, Chris was ordered to pay $6 million in damages to the family.
Before the Netflix adaptation, the case was explored in a pair of Lifetime films earlier this year: a documentary called Beyond the Headlines: The Watts Family Tragedy and a dramatized TV movie titled Chris Watts: Confessions of a Killer. Shan'ann's family criticized the latter film, claiming they had not participated in its production and were concerned that inaccuracies in the dramatization might lead to a surge in online harassment regarding the case.
Who's involved in American Murder: The Family Next Door?
Key names to know from the investigation include Chris Watts, Shan'ann Watts and their daughters Bella, 4, and Celeste, 3. Additionally, Shan'ann was 15 weeks pregnant at the time of her death, and the couple had been planning to name their third child Nico. Shan'ann and her children were first reported missing by her friend and colleague Nickole Atkinson. And while she's not mentioned in the trailer, it might be helpful to know that Chris had a mistress, Nichol Kessinger, who testified to the Colorado Bureau of Investigation that Chris' behavior had changed in the days leading up to the murders.
Beyond the subjects of the investigation, the documentary boasts some pretty big names in the non-fiction film world behind the scenes. American Murder was directed by Jenny Popplewell, director and executive producer of several episodes of the TLC phenomenon that is My Big Fat Gypsy Wedding, among several other fascinating documentaries and docuseries. It was executive produced by James Marsh, who won an Oscar as director of the 2008 documentary Man on Wire and also served as director of 2014's The Theory of Everything.
Marie Claire email subscribers get intel on fashion and beauty trends, hot-off-the-press celebrity news, and more. Sign up here.
Andrea Park is a Chicago-based writer and reporter with a near-encyclopedic knowledge of the extended Kardashian-Jenner kingdom, early 2000s rom-coms and celebrity book club selections. She graduated from the Columbia School of Journalism in 2017 and has also written for W, Brides, Glamour, Women's Health, People and more.