10 Good(ish) Things That Happened in 2020
Bid farewell to this dumpster fire of a year by focusing on these small moments of joy.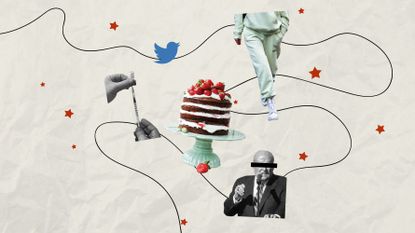 (Image credit: Getty / Morgan McMullen)
Marie Claire Newsletter
Celebrity news, beauty, fashion advice, and fascinating features, delivered straight to your inbox!
Thank you for signing up to Marie Claire. You will receive a verification email shortly.
There was a problem. Please refresh the page and try again.
Unless you're Joe Biden or Taylor Swift, 2020 was a terrible year. Unfortunately for my mental health, I'm a comedy writer, and the only way I know how to process fear and grief and trauma is to write jokes about it. (And watch The Great British Baking Show.) Plus writing jokes pays the bills! So, in this time of uncertainty and upheaval, I assembled a group of likeminded insane people (Karen Chee, Akilah Green, Franchesca Ramsey, and Jocelyn Richard) to write a comedy special about 2020, in which an all-female lineup of comedians lay to rest everything we lost this year—from casual sex to pants to TV cops. It's called "Yearly Departed," it's hosted by Phoebe Robinson, and you can watch it on Amazon Prime on December 30. In the meantime, I put together a list of the things that made me laugh, or smile, this year. So, in the spirit of trying to find the light in these dark times, I present the 10 good things that happened in 2020.

1. Rudy Giuliani's accidental press conference at Four Seasons Total Landscaping.
An infinite number of comedians could write jokes for eternity and nobody would come up with anything as funny as a flustered, deeply confused Rudy Giuliani trying to overthrow an election in the wrong parking lot.
2. The vaccine.
I can't wait to get vaccinated for COVID-19 so I can continue scrolling through my phone while never leaving my house.

3. Despite incalculable odds and great risk to their own safety and lives, the cast and crew of Succession started shooting the next season.
It's just nice to have something to look forward to, and I, personally, am looking forward to Shiv's blunt bob/turtleneck/trouser combos in 2021.
4. My one-year-old baby kissed his reflection in the mirror and said, "Cuuuuuute bee-bee!"
He is having a great pandemic. He gets to hang out with his parents all day and eat snacks and stack various blocks. We went into lockdown when he was 7 months old and now he's an adult man who parts his hair to the side and has a small, profitable accounting firm. The greatest marker that time has passed is that in March he was an infant who existed on breastmilk and now he and I will split a Pad Thai while we both shout "BAD!" at the cat scratching the sofa.
5. No uncomfortable, high-anxiety office holiday parties.
I used to get very drunk at those because I was nervous around my co-workers' spouses. I got so drunk I once made plans to do karaoke in Burbank with a woman I had met 20 minutes prior.

6. There are more people baking elaborate cakes on TikTok than ever before.
It is very soothing to watch people spin cakes around on little rotating trays while applying even coats of icing with some sort of brick-layer's tool. I watch probably 10 minutes of Cake TikTok a day and it enables me to carry on living.
7. Britney Spears seems to be in good spirits.
She's thriving on Instagram in a way that seems almost frantic! Remember: We did this to her. Our collective obsession with her trapped her at age 16, and now she's a female Peter Pan who wears crop tops from the mall and thinks the height of luxury is a butterfly painted on a teacup. But she seems healthy and in love with a bodybuilder and is relentlessly positive, and that's the most any of us can hope for!
8. It became socially acceptable to walk the streets in sweatpants with no bra.
Yes, I have given up completely. Somehow every time I look the most like a woman who just wandered out of an asylum, I run into an incredibly chic friend who's like, "BESS!!!! IS THAT YOU!!!?? HOW ARE YOU??" And I vow to make an effort the next day, which I never do.
9. Someone hacked Trump's Twitter by guessing his password, "Maga2020!"
It's breathtakingly stupid and dangerous in equal measure: Classic Trump.
10. And then, he lost.
We had gone several steps down the process to move to Canada just in case, and now we get to stay in our house, where our cat can destroy our couch in peace.

Bess Kalb is the head writer and executive producer of "Yearly Departed." Stream it on Amazon Prime Video on December 30.
RELATED STORIES
Celebrity news, beauty, fashion advice, and fascinating features, delivered straight to your inbox!
Bess Kalb is an Emmy-nominated comedy writer and the bestselling author of "Nobody Will Tell You This But Me," a New York Times Editor's Choice. She wrote for eight years on ABC's Jimmy Kimmel Live. She received a WGA Award in 2016. She has written for the Emmy Awards, the Academy Awards, and the 2020 DNC. She is the head writer and executive producer of "Yearly Departed," a forthcoming comedy special from Amazon.