Who is Abigail Heringer From 'The Bachelor' and 'Bachelor in Paradise'?
The 25-year-old, who first appeared on Matt James' season, is a financial analyst with an inspiring backstory.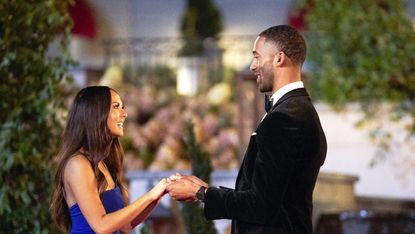 (Image credit: Craig Sjodin)
Abigail Heringer may not have won Matt James' heart on season 25 of The Bachelor—Heringer, who received James' first impression rose, was ultimately sent home before hometowns—but she did win the love of Bachelor Nation. Fans loved the contestant's sweet disposition, openness, and empathy. Heringer, who was the show's first Deaf contestant, has also been open about the lack of disability representation on TV. Here's what we know about the a 25-year-old financial manager, who is back for Bachelor in Paradise this season.
She's a lifelong Oregonian.
Heringer grew up in Salem, Oregon, graduated from South Salem High School, attended Linfield College in McMinnville, Oregon, and has since settled in Portland with her older sister Rachel, according to an October feature in the Salem Statesman Journal. As a student at South Salem, Heringer was an avid golfer and a studious high schooler, reportedly graduating with a near-perfect GPA. She studied finance at Linfield, and is now a client financial analyst at Beaverton, Oregon-based marketing firm Opus Agency.
According to her official ABC bio, Heringer spends much of her time exploring the gorgeous landscapes of the Pacific Northwest—including the local microbrewing scene. For photographic evidence of this love of the great outdoors, look no further than her Instagram account, which is filled with breathtaking shots of the region's lakes and mountains.
She battled adversity at a young age.
Heringer wears cochlear implants after she and her sister were both born with congenital hearing loss. She and Rachel each underwent successful cochlear implantation surgery at the age of two.
Heringer not only mentioned the experience in her application to be on The Bachelor, but also speaks openly about it on the show—a decision that came as a surprise to her own family. "I was surprised she was willing to share her story about her hearing loss. It's something she usually doesn't talk much about," her mother, Suzie Heringer, told the Statesman Journal. However, Suzie added, "With her disability, if that can impact one other person, it's worth sharing the story."
Her family was supportive of her Bachelor experience—up to a point.
Though Bachelor and Bachelorette contestants' behavior can range from cringeworthy to downright embarrassing—and all of it broadcast on national television, no less—Heringer's mother told the local newspaper that their family was not looking forward to watching her dalliances with James play out onscreen.
For one thing, Suzie noted to the Statesman Journal, with all of the precautions the production team has taken to ensure the entire experience is as safe as possible, "in the age of COVID, it's a safe way to date." For another, she added, "She's always made us proud, and she's got a really good head on her shoulders, so I'm not worried about anything. Hopefully, she'll have fun."
Still, that support only goes so far. Before Heringer set out for the Nemacolin Woodlands Resort, her mom offered her a valuable piece of advice to help her avoid any of the aforementioned humiliating behavior: "I jokingly told her to remember her grandparents will be watching. I know that will stick with her," Suzie said.
And, cringey or not, Heringer's mother admitted that she's not sure just how genuine of a connection can be made on a reality show, musing that, "To be honest, I don't think this is a great way to meet your forever person."
No word yet how they feel about her BIP appearance...
She was nervous to come on the show, but has been "blown away" but the support she's received.
On the Women Tell All special, Heringer opened up about her experiences coming on the show and sharing her story. Though she says she was initially nervous, she shares that the outpouring of support she has received has been incredible.
"It's been incredible. I was really scared when I decided to come on, just because I think people kind of view the hearing community and the Deaf community as black and white. I'm kind of that gray space in the middle that hasn't had a lot of light shone on. I was born profoundly deaf, so that means I have no hearing. So if I take my cochlear implant off, I can't hear anything," she said. She added: "But I'm also not a member of the Deaf community because I don't use sign language. I'm able to communicate vocally. So, I had no idea how people were going to receive me. But the response has been incredible. I've had so many people reach out and say, 'Thank you for sharing your story. I have a very similar one.' I've been blown away."
On Bachelor In Paradise, she's looking for a man with confidence.
Heringer shared that she found confidence during the COVID-19 lockdown and is looking for someone to share in that. She also wants someone with a good sense of humor. She also shared a lesson she learned on James' season: It's okay to be vulnerable.
No spoilers here, but you can see from the trailer that her journey on Paradise is off to a good start:
Here's wishing Heringer all the luck in finding her person!
Marie Claire email subscribers get intel on fashion and beauty trends, hot-off-the-press celebrity news, and more. Sign up here.
Andrea Park is a Chicago-based writer and reporter with a near-encyclopedic knowledge of the extended Kardashian-Jenner kingdom, early 2000s rom-coms and celebrity book club selections. She graduated from the Columbia School of Journalism in 2017 and has also written for W, Brides, Glamour, Women's Health, People and more.