'Bachelor In Paradise' 2021: Everything We Know
It's back, baby!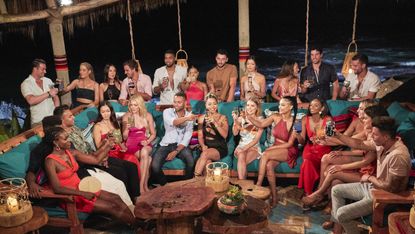 (Image credit: Getty Images - Craig Sjodin)
No matter what, we'll be able to spend the summer and fall of 2021 living vicariously through a group of very photogenic twentysomethings as they chug tropical drinks and attempt to fall in love with each other. That's right, folks: Bachelor in Paradise is back! The seventh season premiered on ABC on Monday, August 16, and is hosted by a range of celebrity comedians—David Spade, Tituss Burgess, Lance Bass, and Lil Jon—in lieu of Chris Harrison; bartender and Bachelor alum Wells Adams has been promoted to as "master of ceremonies." (If you want to find out exactly what goes down, check out our guide to Bachelor in Paradise 2021 spoilers.)
The series, which boasts A-list superfans like Jennifer Aniston and Daniel Radcliffe, was forced to take a year off in 2020 due to the COVID-19 pandemic, but the powers that be over at ABC scrambled to bring the no-holds-barred Bachelor spinoff back in time for the summer of 2021. The 2021 season is expected to have more contestants than any previous editions of the franchise, and you know what that means—more drama than ever before. "Of all the five seasons I've done in Paradise, the craziest stuff happens on this season," Wells Adams told the "Bachelor Happy Hour" podcast. "I think no one is going to expect what happens."
When does Bachelor in Paradise air in 2021?
Bachelor in Paradise began airing on ABC on August 16, 2021, between Katie Thurston and Michelle Young's back-to-back seasons of The Bachelorette. After that, Paradise airs Mondays and Tuesdays through to mid-September, then just Tuesdays starting September 13. The season culminates on October 5, 2021, two weeks prior to the beginning of Young's season.
Who's on the cast of Bachelor in Paradise?
Four seasons of The Bachelor and Bachelorette aired in the two years since the last group of Bachelor Nation alums flew to Mexico, meaning there were more than 100 (!) eliminated contestants to choose from for this season of BiP. The devil works hard, but Bachelor producers work harder!
Confirmed Bachelor in Paradise Contestants
Abigail Heringer
Brendan Morais
Becca Kufrin
Connor Brennan
Deandra Kanu
Demi Burnett
Ivan Hall
Jessenia Cruz
Joe Amabile
Joe Park
Karl Smith
Kelsey Weir
Kenny Braasch
Kendall Long
Mari Pepin-Solis
Maurissa Gunn
Natasha Parker
Noah Erb
Serena Chew
Serena Pitt
Tahzjuan Hawkins
Tammy Ly
Tia Booth
Victoria Larson
Victoria Paul
Unconfirmed (But Rumored) Contestants
We also have an unofficial list of people who, per Reality Steve, are rumored to join the above cast in Paradise. These former contestants include:
Kit Keenan
Chelsea Vaughn
Madison Prewett
Connor Saeli
Demar Jackson
Ed Waisbrot
Chris Randone
Clay Harbor
Where is Bachelor in Paradise filmed?
As with previous Paradise seasons, Bachelor in Paradise 2021 was filmed at the Playa Escondida resort in Sayulita, Mexico.
Who is hosting Bachelor in Paradise?
Confirmed Hosts
With Chris Harrison ejected as host, a range of celebrity guest hosts filled in: David Spade, Tituss Burgess, Lance Bass, and Lil Jon.
Lance Bass, for one, enjoyed it so much that he's down to come back for good. "They've not asked me [to be the permanent host], and of course that's going to depend on Bachelor Nation out there...I mean, yes, of course, it would be a dream come true to be able to host a show like that," he told ET.
Wells, too, has made clear he's down for the role of permanent host. "I'm not sure what the next step is, but whatever ABC and Bachelor Nation wants I'll go do it. If they want me to host the show, sure I'll go do that, if they want me to be the janitor next season, OK, I'll go do that too." Reality Steve notes of Wells: "I have not heard any names outside of Wells. So while I wouldn't be shocked if it ended up being him, I haven't heard anything else on it."
Unconfirmed Hosts
It's possible that we'll see on the beach some Bachelor Nation mainstays who fell in love in Paradise, too: Ashley Iaconetti and Jared Haibon, for example, who recently announced that Ashley is pregnant—technically they got together after two tumultuous Paradise seasons, but still—or Astrid Locht and Kevin Wendt, who announced the same. Or Raven Gates Gottschalk and Adam Gottschalk, newlyweds who are now expecting a "honeymoon baby." (So! Many! Paradise! Babies!)
What happens on Bachelor in Paradise this season?
The Final Couples
According to Reality Steve, the couples who get engaged at the end of Paradise are:
Joe Amabile and Serena Pitt
Kenny Braasch and Mari Pepin
Riley Christian and Maurissa Gunn
Which engaged couples are still together?
All of them! Joe and Serena were photographed out and about in Chicago, confirming that they're very much still together. (If you need any more evidence, Abigail from their season accidentally confirmed that Joe and Serena are still engaged.) Reality Steve reported that Kenny and Mari have also been photographed together—his intel that they're engaged is supported by the fact that a promo for Bachelor in Paradise shows someone holding out a ring with the same distinctive necklace and tattoo that Kenny has—and that Riley and Maurissa, two fan favorites, also remain engaged, though the latter couple have managed to stay out of the spotlight.
Did any other couples leave the beach together?
Becca Kufrin and Thomas Jacobs
Yes, as in beloved Bachelorette Becca and Thomas, the "villain" of Katie Thurston's season. The two hit it off in Paradise, but Becca ultimately broke up with him on the beach and they left separately. Per Reality Steve, Becca and Thomas got back together after filming, and remain together now.
Brendan Morais and Pieper James
Brendan and Pieper were unceremoniously kicked off the beach and broke up a couple months later. In September, after their episodes aired, Pieper told Us Weekly: "We're working through things. This obviously isn't something that's super healthy for a relationship either, so it kind of is what it is. Every day...taking it day by day." By October, the two had split.
Noah Erb and Abigail Heringer
Noah Erb and Abigail Heringer broke up before the end of the season and both of them left single, per Reality Steve. But they've been photographed together since, and eagle-eyed Bachelor fans noticed that in recent social media posts, Abigail is wearing a necklace that Noah has also been wearing recently. But then former Bachelorette Clare Crawley tagged Abigail in a post alluding to her breakup, and Bachelor Nation speculated that Abigail might be involved with Dale somehow. To add fuel to the fire, Noah posted to his Instagram Story, "A lot of interesting stuff swirling around..."
Ivan Hall and Alexa Caves
We never got to see Alexa, from Peter's season, on this season of Paradise—but Ivan Hall did. While the cast sheltered from the storm in a hotel, Ivan found out Alexa's room number and went to see her, leaving to an emotional exit from Paradise. It's not clear whether the two are still seeing each other: "[There's] a lot to talk about still," he said via Instagram. "A lot to be explained...[I] can't wait to have the opportunity to do that at some point in the near future because I think everything will make a lot of sense."
Jessenia Cruz, Alana Milne, and Chris Conran
Another source of drama on the beach was the love triangle that was Chris, Alana, and Jessenia, which culminated in Joe getting real mad on Jessenia's behalf and Chris and Alana being forced to leave. (Poor Alana had been there 24 hours, and, well, didn't really do anything.) It's not clear whether Alana and Chris are still together, since they'd only been on a single date before they left the beach, but Alana said on the Bachelor Happy Hour podcast that Chris had "taken [her] on a bunch of dates."
What has the cast of Bachelor in Paradise said about this season?
Well, first, there's been a lot of apologizing since the show began airing. Pieper James has apologized ("I'm not an extension of Brendan and his actions, and I don't condone dishonest behavior"), as did Brendan ("I understand that the damage is already done and all I can do going forward is acknowledge the error of my ways"). Natasha, for the record, told ET of their apologies: "I saw his apology on his page, and the numerous attempts that she has said for press...It's like, 'Guys, hi. Again, the person who you're disregarding. Call me, text me, DM me.' They don't care about me."
Chris also apologized: "I take complete accountability for my blatant disrespect towards Jessenia, and handling the situation poorly."
Others have blamed "bad edits" for their image on the show. Wrote Blake Monar, who got into an argument with Tia Booth over his not trying hard enough: "I was there to build a connection, not just plan gestures solely due to a request to do so for a favorable 'edit' so someone 'doesn't look like a fool'— 'this dude.'" This echoes Pieper, who wrote: "Gentle reminder that reality tv isn't real. "An edited, produced, and cut down show isn't going to show you every single thing said and done. An edited and produced show can't show you conversations that happened before filming between friends."
Some other contestants have spoken out about what to expect from the season in general. Speaking on the Click Bait podcast, Joe said: "A lot of people find love but don't necessarily get it reciprocated...I think there's a lot more heartbreak this time than when I was on it last time. It just seemed like a lot of people just weren't on the same page."
Tammy Ly told Entertainment Tonight: "I'm telling you right now this season is the most monumental season they ever released." Of Chris Harrison, she said: "Honestly I forgot he even existed."
Related Story
Marie Claire email subscribers get intel on fashion and beauty trends, hot-off-the-press celebrity news, and more. Sign up here.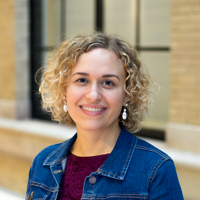 Katherine's a Boston-based contributor at Marie Claire who covers fashion, culture, and lifestyle—from "Clueless" to Everlane to news about Lizzo. She's been a freelancer for 11 years and has had roles with Cosmopolitan and Bustle, with bylines in Parents, Seventeen, and elsewhere. It's "I go to dinner," not "Her huge ego," but she responds to both.