The 'Firefly Lane' Book Ending Is Just as Devastating as the Netflix Series'
But—then there's a sequel...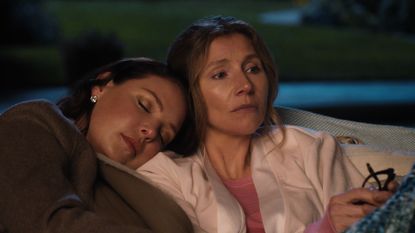 (Image credit: COURTESY OF NETFLIX)
Warning: Spoilers for the ending of Firefly Lane season 2, part 2. So you've binged the whole of Netflix's Firefly Lane, and you're equal parts heartbroken (why did Kate have to die?) and anguished (didn't they deserve to live happily ever after?). Now, you're wondering how Kristin Hannah's book Firefly Lane, which provides the source material for the series, ends—and whether the book ending provides a different end to Kate and Tully's story.
Well, I have good and bad news for you. Bad news first: The book version of Firefly Lane, while notably different from the series in several ways, does end the same way as the series (e.g. Kate dies from cancer). However: Hannah also wrote an entire second book, the Firefly Lane sequel Fly Away, which chronicles Tully, Marah, and Johnny's journeys following Kate's death. And another piece of good/bad news for you: While we know for sure that will be no Firefly Lane season 3, it's not impossible to imagine Fly Away being adapted as a standalone series (we can dream, right?).
In 'Firefly Lane' the book, Kate and Tully fall out for very different reasons.
In Hannah's book, Tully brings Kate and Marah onto The Girlfriend Hour until the pretense of fixing their relationship. To Kate's horror, however, the segment is actually about overprotective mothers and the damage they do to their kids. In other words, Tully is decrying Kate's parenting—on national TV, no less.
Furious, Kate storms off the show. Johnny, who also serves as Tully's producer and Kate's husband in the book, just as in the series, quits in solidarity. Smarting from the humiliation, Kate believes that her friendship with Tully is over for good. This is obviously quite different from the series, in which Kate and Tully fall out when Tully picks up Marah after she's been drinking and the two get into a car accident.
Then, Tully and Kate reconcile...before Kate dies.
In Hannah's book, as in the series, Kate is diagnosed with terminal breast cancer, and Tully rushes back home from a reporting trip to make amends with her. They reconcile, and Kate asks Tully to please take care of Johnny—who she remains married to; they never get divorced in the book—and Marah when she's gone. Then, Kate passes away. (Said Roan Curtis, who plays young Kate, to Oprah Mag: "I don't think I've ever cried so hard reading a book... It feels so unfair, the way that Kate's story ends.")
'Fly Away' follows the aftermath of Kate's death.
As for the sequel, Fly Away, it opens with Tully getting into a life-threatening car accident in the aftermath of Kate's death—I know; as if things weren't bleak enough—and ending up in a coma. The book flits between the perspectives of Johnny, Cloud (named Dorothy in the book), and Marah as they grapple with the death (or near-death) of both Firefly Lane girls.
Speaking to Book Reporter, Hannah said: "Because I lost my own mother when I was much too young, I know intimately that one person can sometimes hold an entire family together, and the loss of that person is devastating. It can take you years to get back on your feet. That's really the theme of Fly Away—how to let go of someone you love and go on." She added: "The loss of Kate upended Tully and really weakened her. She no longer had anyone to hold onto and no one to love her. Once Tully begins to feel her grief, it opens up the sense of abandonment and loss that has always been just below the surface. Despite her best efforts and her lioness strength, she can't find her way back to an even keel."
Marie Claire email subscribers get intel on fashion and beauty trends, hot-off-the-press celebrity news, and more. Sign up here.