Two Minute Date: Hugh Dancy
Hugh Dancy, not your ordinary It boy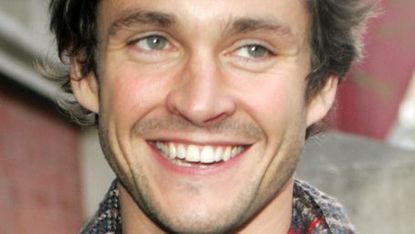 (Image credit: Ferdaus Samim)
Hugh Dancy is so well behaved that you can't help but wonder if he's hiding something juicier than his inner librarian. "You become quite nerdy sometimes," says Dancy, reflecting on his history-rich roles in Elizabeth I and King Arthur while sitting on a futon in his dressing room at Manhattan's Belasco Theatre, where he's performing in—more history!— the WWI classic, Journey's End. (The New York Times raved, saying that Dancy has "the cheekbones and brooding gaze of Olivier in his matinee idol era." Dreamy.) "I could bore you to tears about a lot of fairly arcane subjects, like the reign of Elizabeth I, or the history of Rwanda, or the day-to-day conditions of an officer in the First World War. But you have to be careful. Some­times you can overestimate how much people really care.
"But we do care, Hugh, we really do. Dancy, 31, who's on schedule to be the next big British It boy, has more than acting chops going for him: For starters, there's his relationship with the fetching Claire Danes, whom he met on the set of the upcoming melodrama Evening. There's also his exquisite boy-next-door looks. Today, his fresh-faced appeal is underscored by the neat jeans and gray turtleneck sweater he wears, to say nothing of the sparkling eyes and perfectly disheveled chestnut mop—recalling, perhaps, another iconic Brit It, his floppiness Hugh Grant.
As it happens, both went to Oxford. But whereas one can't picture Grant starring in, say, a film about genocide, that's exactly the kind of gravitas Dancy goes for. In his latest vehicle, Beyond the Gates, he plays a naive young teacher from the U.K. who, along with a Catholic priest played by John Hurt, protects Tutsis by sheltering them in their local school. The film ends with a devastating moral choice: Will Dancy's character flee back to Britain or stay in solidarity and face certain death at the hands of a machete-wielding mob?
"I think that most of us would be far more likely to save our own lives," he says, mercifully without stammering as Grant might. "I think that for an individual, that's a completely understandable reaction."
That willingness to engage in life's heaviest questions will almost cer­tainly keep Dancy from being reduced to It-ness, which suits him fine. "Of all the things that can happen to somebody in life, that's got to be one of the weirder things," he says of being so labeled by the media. "I realize that basically the only kind of control you have over your career as an actor is recognizability, so I want that. But I'm not willing to keep doing the same thing over and over and over again just to be recognizable. So you try to have your cake and eat it in that way."
So then, maybe by his reckoning, he's made it already? "I'm too super­stitious to commit something that hubris­tic to print. Ever," Dancy says, laughing. "But I will say this: I'm sitting here, and I've got these movies coming out, and I'm doing a play. Superstition aside, I can't think of a better place to be."