Exclusive Q&A with the White House Gate-Crasher
Michaele Salahi reveals what she's up to now—and how she broke into reality TV's Real Housewives of D.C.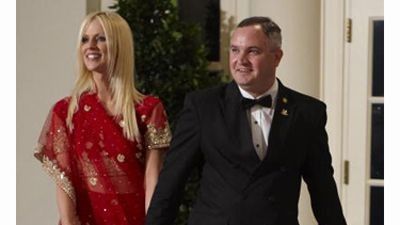 (Image credit: MANDEL NGAN/AFP/Getty Images)
Marie Claire Newsletter
Celebrity news, beauty, fashion advice, and fascinating features, delivered straight to your inbox!
Thank you for signing up to Marie Claire. You will receive a verification email shortly.
There was a problem. Please refresh the page and try again.
Accused of crashing a splashy White House party last November, Michaele Salahi and her husband were totally lambasted, along with social secretary Desirée Rogers, who was eased out a few months later. Now Mrs. Salahi is back in the spotlight, starring in Bravo's The Real Housewives of D.C. We met up with her to discuss the scandal and the fallout, with her husband, Tareq, by her side.
Marie Claire: Everyone knows about the scandal, but no one knows much about you.
Michaele Salahi: I am someone who loves people. I am a people pleaser. I just want to get along. I love to have a great time. I've often been called "the D.C. Barbie" and I think that's a compliment. I love Barbie! I also have a heart—I care about all kinds of causes. There's a long list of charitable organizations that I've been very involved with over the last 10 years.
MC: Where are you from?
MS: I grew up in Florida. Tareq grew up near D.C. His family's winery is in Hume, Virginia. We met through a mutual best friend, and in 2001 I moved to the winery. We were married in 2003.
MC: I'd read there were issues at the winery.
Tareq Salahi: I would describe the situation as a Falcon Crest war. We've had this ongoing family drama over control of the winery since my father became ill. My mother wants to liquidate and tear the winery apart. My dad's vision is to keep the family legacy going; I've been trying to honor that. We're planning a grand reopening, after being closed this summer for reorganization.
MS: Arguments with family members and things like that happen. Unfortunately, this had to play out in the press. It is what it is, but I told him, "Don't be hurt, every family has its pain—it's just that yours is more visible."
MC: Michaele, what did you do before you met Tareq?
MS: I started as an Absolut Vodka model in the '90s. I was attending college at the time. Then I was a makeup artist for Trish McEvoy in D.C.
MC: How did you get labeled a socialite?
MS: I got the social butterfly label because I was active on the social scene and doing it in a way that had style, or so I was told. I would wear different outfits that people liked. And that's why the Housewives show reached out to me.
MC: You were filming the show before the White House incident in November?
MS: Yes, the filming first started last September.
MC: What really happened at the White House? Were you invited guests or not?
MS: Michele Jones, the Pentagon-based liaison to the White House, had extended the invitation with an e-mail requesting our Social Security numbers and dates of birth, to be cleared for the event. We'd met her through our attorney when she spoke on the D.C. mall in September. There are so many events you've probably attended where you don't go with the actual printed invitation—I didn't go thinking I was chancing it. No one goes with a film grew to be turned away. How embarrassing would that have been? And we were announced!
MC: Jones denies officially inviting you.
MS: We believed in our hearts we were 100 percent invited. All the details about what happened that day, including phone calls, e-mails, and witnesses will be in a book we're writing, called Wine, War & Roses. And when the Bravo show airs this fall, the truth will prevail.
MC: What about reports that you parked the car around the corner and snuck in?
TS: No! All those stories are wrong. The only cars allowed to enter the White House premises were for top officials, like the Indian Prime Minister, the U.S. ambassador, the Vice President. All the other guests, like us, had to park in the street, unload, and walk to the Treasury side of the building.
MS: Michaele, where did you get the red sari you wore to the event?
MS: An Indian girlfriend gave it to me. But I was so concerned about being appropriate for the event that I called the White House to make sure that a Western woman wearing a sari would be considered respectful. They told me the Indian delegation would be honored by it.
MC: I hear the bloggers are calling for it to be donated to the Smithsonian.
MS: That's a great idea. Actually it's going to be auctioned off for charity. But maybe the new owner will donate it to the museum.
MC: Do you feel badly that Desirée Rogers left her post after the scandal?
MS: I don't know about how they staff the White House or their employee policies. I heard that she resigned of her own accord to go back to the corporate world, and that was something she'd always planned. From what I've seen, Desirée is a woman of great style and seems very smart. I wish her the best.
MC: Was she made a scapegoat?
MS: I hope not. From what I understand through the media, D.C. was already watching her every move.
MC: What was the most hurtful thing anyone said during the fallout?
MS: Oh gosh, it was series of very hurtful things. TS: Terrible things, bad things. A lot of ugly nasty threats. In writing. It's all been turned over to local authorities.
MC: Michaele, how did you deal with the personal barbs?
MS: I know who I am, and that's what carried me through. My mom says rise above it. It's not worth addressing each thing back. Let people spin it any way they will. If you hate me and I hate you back, you win, because you want me to hate you. My mom always taught me when someone is throwing out a lot of hurtful things, not to hate back. Just walk away and don't get into it, so that's what I keep doing.
MC: The most popular criticism against you was that you were chasing fame.
MS: This wasn't about fame. I don't think anybody would want this kind of fame or to deal with these kinds of heavy hits. I think what helped put me at ease recently was the Vice President and President making jokes about us. If they are laughing about it, then they realize it's just like the president said, a screw-up or a misunderstanding. And we need to laugh at ourselves. We need to move forward. Lighthearted comments by the President was his way of saying let's move on—there's so much more going on that's important.
MC: You never really defended yourself at the time of the incident—you pled the Fifth Amendment. Why?
MS: We were advised by our lawyer not to talk.
MC: Have you been invited to any more parties?
MS: We have, and we've often declined. It was reported that we were at the Correspondents Dinner, but we weren't there.
MC: Were you invited?
MS: Yes. And we were actually invited to the inaugural for Bob McDonnell, the new governor of Virginia. But we didn't go. We wanted to stay out of it. Enough. But it's funny, we are invited to a lot more things now. More than we ever were. Now we accept these invitations with great caution. And we entertain more ourselves now. We stay in and have friends over.
MC: Those "Real Housewives" are mean. Have they been nasty to you?
MS: Yes! There was all this anger and jealousy. They think I'm too thin, and that something is not right. You know, whether you are too skinny or too heavy, these labels hurt. And that's become a focus in America. Your size instead of what is in your heart and who you are as a person.
MC: Which Real Housewife do you identify with the most?
MS: Bethenny!
MC: She's got a tongue on her.
MS: I like her because she speaks her mind and sticks up for herself. But in a nice way. I am trying to be more like that.
Celebrity news, beauty, fashion advice, and fascinating features, delivered straight to your inbox!