Book Reviews: What To Read This Month
We peruse the stacks so you don't have to. The one to read . . .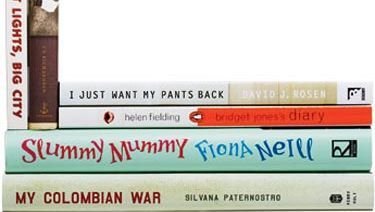 (Image credit: J. Muckle)
. . . to remind you there's a world outside the suburbs:
MY COLOMBIAN WAR: A JOURNEY THROUGH THE COUNTRY I LEFT BEHIND, a memoir by Silvana Paternostro (Henry Holt and Co.)

TO SUM UP: A Colombian-American journalist returns to the idealized country of her youth, now overrun by drugs and violence.

WHY YOU'LL LIKE IT: Paternostro's stunning, no-nonsense prose truly lets you into her mind and the country's history.

THE LINE THAT WILL STICK WITH YOU: "One Colombian is kidnapped every three minutes."
Click here to purchase My Colombian War by Silvana Paternostro.
. . . if Old School is your favorite movie of all time:
I JUST WANT MY PANTS BACK, a novel by David J. Rosen (Broadway)

TO SUM UP: A crude, 20-something Manhattanite slacker has a one-night stand and loses his favorite pants. Attempting to get them back-and get his life together-is no small task.

WHY YOU SHOULD READ IT: For a belly laugh at the boys' expense.

DON'T MISS: The riotous sex scene on p. 204, where our hero accidentally deflowers a deeply religious lass.
Click here to purchase I Just Want My Pants Back by David Rosen.
. . . if you have an hour and nine minutes to spare:
THE END OF THE ALPHABET, a short novel by CS Richardson (Doubleday)

TO SUM UP: When a man discovers on his 50th birthday that he has less than a month to live, he and his wife begin traveling to cities from A to Z.

WHY YOU SHOULD READ IT: It's a mini masterpiece. Richardson's nontraditional love story succinctly captures the sweetly mundane moments of life.

POSSIBLE SIDE EFFECT: Have the Kleenex ready. About 97 pages in: waterworks.
Click here to purchase The End of the Alphabet by Cs S. Richardson.
. . . concealed inside your copy of the Wall Street Journal:

SLUMMY MUMMY, a novel by Fiona Neill (Riverhead)

TO SUM UP: A British stay-at-home mom juggles three young boys, a straitlaced husband, and a 3-foot-high laundry pile-unskillfully at best. Picture Bridget Jones getting drunk during a playdate.

WHY YOU'LL LOVE IT: It's funny. And if you're considering procreation, it'll cure you of that.

BEST ADVICE FOR GETTING OUT OF A THREESOME THAT YOUR BOYFRIEND HAS PLANNED: "Tell him you had a Brazilian and it's given you a rash."

Click here to purchase Slummy Mummy by Fiona Neill.