The Today Show Weighs In on Our "Accidental Sex Offender" Story
In a new poll, 94 percent of people said Frank shouldn't be considered a sex offender.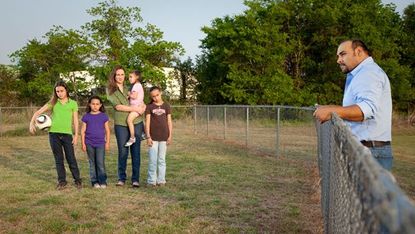 (Image credit: Archives)
Nikki and Frank Rodriguez met in high school, fell in love, and had sex. And for that, Frank has been on the sex-offender registry in Texas, alongside pedophiles and child pornographers, for the past 15 years. That's because Nikki was not yet of legal age when she and Frank first had sex. Frank got arrested, and wound up on the registry. Nevermind that Nikki and Frank are married to each other now, with four young daughters. He is still labeled a sex offender. Marie Claire editor-at-large Abigail Pesta reports on Nikki and Frank's story in the August issue of Marie Claire.
And this week, the Today show interviewed the couple as well (see the video here). Today also is conducting an online poll on whether Frank should be considered a sex offender. Of the 55,000 votes so far, 94 percent of people have said no.
Nikki and Frank are not alone. Across the country, Pesta reports, young lovers are increasingly getting caught in the nation's complicated web of sex-offender laws. Now a growing grassroots movement is trying to save them. Each of the 50 states has at least one grassroots group dedicated to the cause. The movement is led, in large part, by women — mothers who are shocked to find their sons on the sex-offender registry for having consensual sex with a high-school sweetheart. These mothers are trying to protect their families from the very laws designed to protect families.
Celebrity news, beauty, fashion advice, and fascinating features, delivered straight to your inbox!