The Emotional Stages of Watching Orange is the New Black
All of the feelings.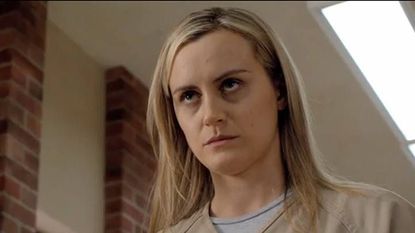 (Image credit: Netflix)
Marie Claire Newsletter
Celebrity news, beauty, fashion advice, and fascinating features, delivered straight to your inbox!
Thank you for signing up to Marie Claire. You will receive a verification email shortly.
There was a problem. Please refresh the page and try again.
Excitement

YES. I've waited a LONG time for this. It's time. It all comes down to this moment.
Panic
Wait... Can I still use my ex's Netflix account even though we broke up? What if he changed the password? Okay, cool, he didn't. We're good to go.
Joy
The animals, the animals. Trapped, trapped, trapped 'till the cage is full... I love this song. Should I go back and listen again? I like to guess which characters are which by their facial features.
Thrill
Nope, I can't go back now that the scene started and it's a flashback. I love the back stories. They should really give Sophia's past a spin-off.
Anger
Um, WHAT? You can't just do that! These women have rights! This is so unfair. Stupid Pornstache.
Confusion
Hmm, who is that again? Did we meet her before? Are there new characters? I can barely keep up with the ones we already have.
Romantic
Daya and Bennett forever. The two of them, that's all I need in life. I might care about their relationship more than my own.
Humor
Oh, Crazy Eyes. You're the best. Chocolate and vanilla swiiiiiiirrrll. When are we going to learn about her past? I can't handle the mysteries any longer.
Anxiety
#TeamAlex. No, wait, #TeamLarry. I can't choose — I need a drink.
Love
There will never be a friendship as true as that of Poussey and Taystee. If I was in Litchfield I hope they'd accept me into their clique. I think they would.
Sadness
I hate seeing any of them miserable. I just love them all.
Shock
OMG. OMG. What a cliffhanger. I can't handle this. Are my friends as far as I am? Can I call someone about this? I need to know what happens next. At least the next episode is right here.
Insecurity
But should I watch it now or save it for later? Before I know it the season will be over and I'll have to wait a whole year to feast my eyes on unseen OITNB material.
Dedication
F*ck it. Next episode.
Related:

Orange Is the New Black Halloween Costume


The Women of Netflix Are Upending Business as Usual in Hollywood

Photo Credits: Giphy.com
Celebrity news, beauty, fashion advice, and fascinating features, delivered straight to your inbox!