Gifts for Book Lovers That Are Truly Chic
From eye-candy coffee table books to cozy accessories that subtly say "I'm an intellectual."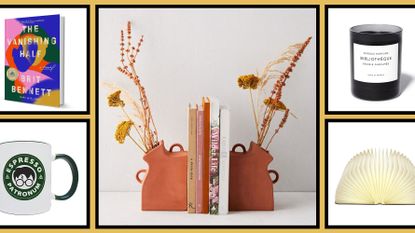 (Image credit: Susanna Hayward)
Marie Claire Newsletter
Celebrity news, beauty, fashion advice, and fascinating features, delivered straight to your inbox!
Thank you for signing up to Marie Claire. You will receive a verification email shortly.
There was a problem. Please refresh the page and try again.
What is it about the holiday time that makes curling up with a good book one of the most luxurious experiences ever? Maybe it's because reading takes us away from the hellscape we've been living in (even if what you're reading is a dystopian novel). Whatever the reason, buying someone a gift that celebrates the written word is a sure-fire way to warm their heart during the holidays. Ahead, an array of gifts for book lovers that are genuinely chic and cool—no cheesy sayings screen-printed on pillows...promise.
1/32
McNally Jackson McNally Jackson Tote
To add an intellectual touch to any outfit, sport a canvas tote from an independent bookstore. I'm partial to this blue option from McNally Jackson for its minimalist design.
2/32
Bookshop 'Something to Food About' By Questlove
If the book lover on your list happens to also be a foodie, look no further than this thought-provoking book from New York Times bestselling author and beloved DJ, Questlove. Through a series of conversations with 10 innovative chefs across the US, Something to Food About explores how food is culture, fuel, and history.
3/32
Strand Books Strand Subscription: Mystery & Suspense
Surprise the reader who loves thrillers with a fun subscription box from The Strand that includes a signed copy of a first release, plus spotlight goodies from The Strand's partners. Because the NYC fixture is simply the best, one-time subscription boxes are available.
4/32
Bookshop 'Supreme Glamour' By Mary Wilson With Mark Bego
Anyone who loves The Supremes or retro glamour will swoon over this new coffee table book, which chronicles the fashion history of the beloved 1960s Motown group. Founding member Mary Wilson tells her friend and co-author, Mark Begu, the whole story of the band.
5/32
McNally Jackson 'My Own Words' By Ruth Bader Ginsburg
If you're after an autobiography that's certain to move the recipient, this is it. In My Own Words, the honorable late Supreme Court Justice Ruth Bader Ginsburg discusses gender equality, being Jewish, the workings of the Supreme Court, and much more.
6/32
Strand Books 'Color Collections' By Books By The Foot
Another innovative gift for book lovers from The Strand, particularly those who love design, is its Books By The Foot offering. If you're shopping for an aesthete who needs help filling up their shelves, this $135 set includes a foot's length of books in a variety of colors.
7/32
Words Bookstore 'Ex Libris: 100+ Books to Read and Reread' By Michiko Kakutani
I stumbled upon this book from Pulitzer Prize-winning literary critic Michiko Kakutani in Maplewood, New Jersey's Words Bookstore and have since gifted it twice. Full of moving recommendations and gorgeous illustrations, it's a celebration of literature befitting any book lover.
8/32
Books Are Magic Merch
Books Are Magic, $40
Show some love to your favorite local bookstore by gifting a loved one some merch. Here, a fuzzy-feeling crew neck logo sweater from the iconic Cobble Hill, Brooklyn bookstore, Books Are Magic.
9/32
Urban Outfitters Vase Bookend Set
There are so many chic bookends out there, but few are as cool as this vintage-feeling vase set that you can also put flowers in.
10/32
'Wow, No Thank You' by Samantha Irby
Samantha Irby's latest book is a gift in itself. Even during the dark times we're in through right now, Wow, No Thank You will bring you joy. Sharply written, the book is composed as a collection of irreverent essays about everything from the stress of making friends in adulthood to getting your period for the first time.
We highly recommend perusing through Semicolon Bookstore for this and more picks. It's Chicago's only Black woman-owned bookstore and art space, and their curation is absolutely fabulous.
11/32
'How to Be an Antiracist' by Ibram X Kendi
The latest New York Times bestseller from race and discriminatory policy scholar Ibram X. Kendi is a thought-provoking and essential read for people who want to live in an antiracist society. It brilliantly examines why we're still not there yet, and the active role we can play to achieve this society.
12/32
BYREDO Bibliotheque Candle
Byredo's best-selling Bibliotheque candle evokes the velvety aroma of turning pages in old books. It'll bring a luxe touch to your bookshelf too.
13/32
Book Lover I Know Things Co. Everyday T-Shirt
Whether they're a Game of Thrones super fan or a philosophy major, this short-sleeved number is the rare graphic T-shirt that will actually provide a laugh.
14/32
'The Vanishing Half' by Brit Bennett
In case you missed Marie Claire's July book club pick, we're putting Brit Bennett's New York Times-bestselling The Vanishing Half back on your radar. The novel grapples with sisterhood, race, and identity, and is certain to be a book readers remember long after they've read it cover to cover. (It's currently being turned into an HBO series as well!)
15/32
Kingsley Leather Handmade Leather Bookmark
Kingsley Leather makes gorgeous leather accessories, including this handmade bookmark, which reads a Mason Cooley quote that especially resonates right now: "Reading gives us someplace to go when we have to stay where we are."
16/32
StampByMeStudio Custom Book Stamp
For the avid reader in your life with the most extensive library, this customizable book stamp from an Etsy shop boasting over 44k sales is a sentimental choice. It'll also be the chicest passive aggressive reminder for the people reading your book lover's precious copies that they need to return them.
17/32
UGG UGG Scuffette Ii Slipper
Ugg slippers reign supreme when it comes to divine fluffiness. Here, a classic pair for indoors that'll keep your book lover's toes cozy and warm when they're curled up reading this winter.
18/32
Random House 'The Truth Will Set You Free, But First It Will Piss You Off!'
The extent to which Gloria Steinem has inspired generations of women goes far beyond anything a small quip could ever capture. Here, a collection of the feminist icon's writings on topics such as relationships, activism, and the patriarchy. Natalie Portman put it best in her review: "When the path is dark, Gloria's words light the way forward."
19/32
Flatiron Books 'Do You Mind If I Cancel?'
Do You Mind If I Cancel, the debut novel of Gary Janetti (as in, the man behind best account on Instagram), is a memoir packed with wit. Janetti chronicles his 20s through a series of essays that are sharp, hilarious, and vulnerable.
20/32
East Dane Gifts Scrabble Vintage Bookshelf Edition
Gifting something that you're also able to enjoy is always a win—especially when the recipient is just as competitive as you. Here, a fabric-wrapped remake of the 1948 edition of Scrabble folds into an easily-stored book complete with a vintage-inspired board, letter tiles, scorecards, and all.
21/32
'Colorstrology: What Your Birthday Color Says about You'
If she has a preferred Tarot deck or has ever asked a Hinge match for their birth chart before committing to drinks, this coffee table fixture from astrologer Michele Bernhardt will be a success. It'll be worn with love at all of the book club meetings and dinner parties she hosts in 2020.
22/32
TBD Stars Inc. Espresso Patronum Ceramic Mug
Bonus points if you gift this punny mug with hot chocolate or tea for an extra cozy reading sesh.
23/32
HELLO LUMIO Lumio Book Lamp
MOST UNIQUE
This hardcover book unfolds into a glowing, warm lamp that any literary feen (or design buff) will appreciate. It's wireless and easily transportable, so they can show it off at their next book club meeting.
24/32
Amazon Kindle Paperwhite
For the speed reader who checks books off her list at a break-neck stride, the Kindle Paperwhite is the perfect gift. The newest version includes twice the storage and it's waterproof, which will come in handy when she's ploughing through her TBR pile poolside.
25/32
Gestalten 'House of Glam'
Featuring fabulous interiors from all over the world where one room is more enviable than the next, this new release from Gestalten should come with a drool warning for home decor lovers.
26/32
Sofia Zakia Customizable Handbound Necklace
Immortalize her favorite book by customizing a 14K pendant with a handbound book charm. Engravings are done in a serif font and are able to include the following information: author name, book title, city of publication, and date.
27/32
Ellis Brooklyn Chronicle Fragrance Discovery Set
Ellis Brooklyn is an Indie fragrance brand that takes its inspo from literature. Their chronicle fragrance discovery set will be a lovely way to foray your literary lover to their new favorite indie perfume brand.
28/32
Chronicle Books 'Nevertheless, She Wore It' by Ann Shen
This new release from Chronicle Books covers 50 iconic fashion moments in history where women around the world made daring statements through style. From Serena Williams' tennis catsuit to AOC's red lipstick, this coffee table pleaser is sure to inspire. The illustrations are also delightful.
29/32
Workman Publishing Company 'Atlas Obscura: An Explorer's Guide to the World's Hidden Wonders'
If sending the travel bug in your life on an exotic trip to Fiji or Buenos Aires skews outside your budget, gift them the next best thing—the second edition of Atlas Obscura: An Explorer's Guide to the World's Hidden Wonders. Beholding hundreds of off-the-beaten-path gems, this book is a treasure chest of wanderlust where readers are transported to places they're certain to have never encountered: A lake in the Palau archipelago where one can swim with harmless cnidarian jellyfish, a village of dolls in Tokushima, the world's quietest room in Minnesota (where aural hallucinations kick after only a few minutes)...
30/32
Book of the Month A Book of the Month Subscription
Each month, Book of the Month subscribers can pick from a selection of well-curated books for significantly less than what they'd pay in a bookstore or even on Amazon. With a monthly subscription, they'll never want to leave their couch.
31/32
UncommonGoods Writer Playing Cards
You'll probably still lose at Blackjack, but you'll do so while enjoying illustrations of Maya Angelou and J.K. Rowling. Each card in this deck features a cheeky illustration of a famous author.
32/32
ArtfulLibrary Personalized Quote Books
To quote Toni Morrison or Drake? Gift the book lover in your life this best-selling handmade collection of books with the ability to create a personalized statement on the spines.
Celebrity news, beauty, fashion advice, and fascinating features, delivered straight to your inbox!
Jaimie Potters is the Commerce Content Manager at Hearst Magazines Digital Media, where she covers fashion, beauty, tech and more.