Editors handpick every product that we feature. We may earn commission from the links on this page.
12 Best Documentaries of 2018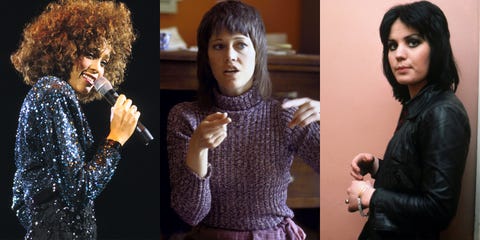 The year isn't even over and already the best documentaries of 2018 have shown a pattern: A whole slew of them feature strong, complicated women in ways we've never seen them before. From Jane Fonda to Whitney Houston, Ruth Bader Ginsburg to Gloria Allred, Gilda Radner to Joan Jett, these films emphasize the experiences of real women, showing the good, the bad, and the not-always-pretty sides of their incredible lives.
Of course, that's not all we've had documentary-wise this year. Elsewhere, there was a haunting portrait of Alexander McQueen's life and legacy, a life-affirming look at the career of Mr. Rogers, plus the kind of suspenseful, strange, and downright surreal stories that can only come from real-life.
Here are 12 of the best documentaries of 2018 and where you can track them down. Seriously: Watch these immediately.
This content is created and maintained by a third party, and imported onto this page to help users provide their email addresses. You may be able to find more information about this and similar content at piano.io