12 Best Documentaries of 2018
(So far.)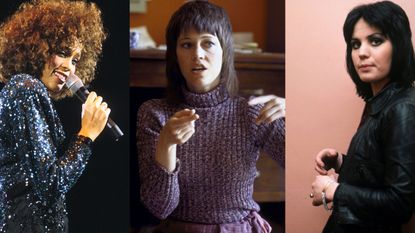 (Image credit: Getty/Bridget Burns)
The year isn't even over and already the best documentaries of 2018 have shown a pattern: A whole slew of them feature strong, complicated women in ways we've never seen them before. From Jane Fonda to Whitney Houston, Ruth Bader Ginsburg to Gloria Allred, Gilda Radner to Joan Jett, these films emphasize the experiences of real women, showing the good, the bad, and the not-always-pretty sides of their incredible lives.
Of course, that's not all we've had documentary-wise this year. Elsewhere, there was a haunting portrait of Alexander McQueen's life and legacy, a life-affirming look at the career of Mr. Rogers, plus the kind of suspenseful, strange, and downright surreal stories that can only come from real-life.
Here are 12 of the best documentaries of 2018 and where you can track them down. Seriously: Watch these immediately.
Jane Fonda in Five Acts
Twenty-eighteen has been an incredible year for documentaries about badass women. The latest: an HBO doc that has the 80-year-old (and still-fly-as-ever) Fonda narrating her own story from the strikingly self-aware perspective that she's on the last act of her life. She walks us through her life as the child of Hollywood royalty, to her early acting career as a bombshell, to her controversial activism, and back again, delivered with wit, grace, and a pretty astonishing level of self-reflection. Come for the glorious vintage footage of Fonda, stay for the cameos from her impressive movie star friends and admirers.
How to See It: On HBO September 24.
Love, Gilda
Gilda Radner was one of the most beloved actresses, writers, and comedians of her generation, and the first-ever cast member chosen for Saturday Night Live. This heartwarming and hyper-personal documentary revisits her life through old footage, snippets from her incredibly detailed journal-cum-book manuscript, and the recollections of those who knew and/or adored her, including SNL cast-members of the modern era, like Amy Poehler, Maya Rudolph, Bill Hader, to name a few. Radner (who passed away in 1989 of ovarian cancer) was as hilarious and self-reflective as she was tormented by personal struggles, and it all shows up in this beautiful, often funny, sometimes tragic portrait of a comedian who broke down barriers and was gone too soon.
How to See It: In theaters September 21.
Dirty Money
Alex Gibney documentaries are political scandal porn. There was his look at the Enron imbroglio, his deep dive into the conspiracy behind Eliot Spitzer's fall from grace, and who could forget his riveting exploration of the Church of Scientology? His latest is no different. The six-part docuseries on Netflix, Dirty Money, is a deeply unsettling foray into the twisted world of financial predators on Wall Street, in government, and beyond. You'll finish it outraged and armed with information.
How to See It: Watch it now on Netflix.
Seeing Allred
This documentary came out in January, when the #MeToo movement was still at its zenith and Gloria Allred was representing Summer Zervos in a suit against Donald Trump, as well as several Cosby accusers, putting the famed women's rights attorney at the center of the issue. The film traces Allred's career and then follows her as she pursues landmark cases, while demanding that not only her clients but all women are taken seriously. It'll piss you off and then make you cheer.
How to See It: Watch it now on Netflix.
Wild Wild Country
The Netflix documentary series that everyone was talking about, Wild Wild Country tells the strange tale of the Rajneeshee community, which built a compound in the Oregon desert as a place for free love and radical acceptance—until it super wasn't. It's the kind of documentary that reminds you just how strange America can really get, and how much we tend to forget our history.
How to See It: Watch it now on Netflix.
The Rachel Divide
A few years ago, the U.S. was mesmerized and baffled by the strange case of Rachel Dolezal, a white woman who had, for years, posed as a black woman in the town of Spokane, Washington. When an ambush local news interview with her went viral, the conversations around Dolezal forced a lot of Americans to take a hard look at who really gets the power to choose their identity. This documentary about her life in the aftermath is not exactly a humanizing portrait—nor should it be—but, thanks to some distance, it contextualizes the whole Dolezal affair. Hopefully this is the last we have to talk about her.
How to See It: Watch it now on Netflix.
McQueen
Fittingly creepy and surprisingly riveting, McQueen walks viewers through the career, art, and untimely death of fashion designer Alexander McQueen. You get the sense watching this film that the visual motifs of darkness and decay would have really resonated with McQueen himself, but at its heart this is a gentler message about how genius can come from anywhere.
How to See It: Now playing in select theaters.
Three Identical Strangers
Based on a story that became a tabloid fixture in the '80s, Three Identical Strangers follows the bizarre tale of triplets adopted by three different families at birth who, by complete coincidence, end up discovering each other as adults. And yet, somehow, that's not even the wildest twist in this tale of brothers, family, and the lies that bind.
How to See It: October 2 on Amazon and iTunes.
RBG
A fitting tribute to the incredible hurdles our queen, Supreme Court Justice Ruth Bader Ginsburg, has overcome in her 62-year-long career as an attorney. From early challenges she faced as a woman in an exceedingly male-dominated field to the cases that make up her legacy to her extremely beautiful relationship with her husband, this flick proves Notorious RGB is as much of a powerhouse now as she's ever been. Long may she reign.
How to See It: Available on Amazon, or on CNN September 3 and September 9.
Won't You Be My Neighbor?
This Morgan Neville-directed tribute follows the life of Fred Rogers, better known as Mr. Rogers, childhood TV staple and beacon of extreme kindness. It's at times funny (especially when confronting the stranger aspects of Rogers' personality), heartbreaking, and ultimately a poignant reminder of how we're each responsible for bringing more good into the world. Bring tissues, you will cry.
How to See It: Available on Amazon.
Bad Reputation
How is Joan Jett so freakin' cool? It's honestly not fair, she's been an utter badass for decades, and this documentary just puts a fine point on it. Bad Reputation enlists Jett and her famous friends—Iggy Pop, Billie Joe Armstrong, Kathleen Hanna, among others—to tell the story of how Joan Jett blazed a trail for women in rock music, from her days as a little punk in 1970s LA to her days with the Runaways all the way to now. She's the ultimate rock icon and this is the tribute she deserves.
How to See It: September 28 in theaters and on-demand via Amazon and iTunes.
Whitney
If you want to see a heartwarming documentary about an American cultural icon...watch something else. But in some ways Whitney is the portrait we were missing of Whitney Houston. It showcases her innate talent and the ways in which it was used, mismanaged, and exploited by those around her, to her great detriment. It's a hard watch (definitely not a feel-good movie) but it makes you appreciate just how unlikely her talent and perseverance were in the face of so much tragedy.
How to See It: October 2 on iTunes.
Celebrity news, beauty, fashion advice, and fascinating features, delivered straight to your inbox!
Cady Drell is a writer, editor, researcher and pet enthusiast from Brooklyn.