A Definitive Ranking of Drew Barrymore's Rom-Coms
Sorry, Poison Ivy didn't make the list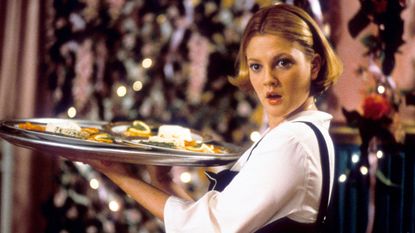 (Image credit: Getty - Archive Photos)
Drew Barrymore is a national treasure. She can do drama (Boys on the Side), she can do action (Charlie's Angels), she can do horror (Scream, obvi)—but most of all, she's rom-com royalty. Whether she's working with Adam Sandler or E from Entourage, Drew always knows just how to tug at the heart strings and endear you to her in her current plight.
But like all icons, some of her rom-com roles are better than others. Here's my ranking of Barrymore's romantic comedies—from worst to best.
Blended (2014)
Oh, Drew, why?! The third Barrymore/Sandler collab, about two families forced to endure an African vacation together, had about as much to laugh at as Drew's dramatic roles typically do. Wendi McLendon-Covey as Drew's best friend was pretty much the film's only bright spot and that's only because she can do no wrong.
Home Fries (1998)
The tone on this one was just...off. Luke Wilson and Drew would be awesome together in a different movie, but this comedic drama about a fast food worker and an affair and some helicopters (it's weird) isn't funny or dramatic enough to be worth their combined star power. There's got to be a script out there to satisfy us Druke shippers who want to see these two together again.
He's Just Not That Into You (2009)
This movie had a massive, star-studded cast, but offered some of the worst relationship advice possible. It was also made in 2009 and already felt totally dated at the time, so imagine how it feels now. The dating world has been through a lot of changes in the last decade!
Drew's character, Mary, is down on her luck when it comes to love, despite using all available technology to put herself out there. Mary is one of the few really likable characters, but she's also one of the least developed. She ultimately finds her happiness with Conor (Kevin Connolly), a man who was in her life all along but had been flying under the radar. That's the dream, isn't it?
Fever Pitch (2005)
This is one of those guilty pleasure rom-coms that's far from your favorite movie but that you've watched a dozen times anyway. Drew's love interest (played by Jimmy Fallon) is a die-hard Boston Red Sox fan and she's the loyal girlfriend who has to deal with playing second fiddle to baseball for half the year. Drew and Jimmy's chemistry makes this movie work, but in any other hands, the vaguely misogynistic premise would be way less charming. Just to add an extra later of cuteness, it's worth mentioning that Fallon met his real-life wife (Nancy Juvonen) working on this film.
Going the Distance (2010)
Drew co-starred with then-boyfriend Justin Long in this comedy about trying to make an LDR work. Sometimes acting couples can make magic together on-screen (Kurt Russell and Goldie Hawn in Overboard) and sometimes it's a disaster (Jennifer Lopez and Ben Affleck in Gigli). Going the Distance falls somewhere in the middle. There are a few cute moments and, best of all, Drew's character doesn't give up her career for a man: He changes his for her. Major bonus points for that!
50 First Dates (2004)
Drew's turn as Lucy, a woman living with anterograde amnesia, broke our hearts as much as she made us laugh. Watching Sandler's character repeatedly romance her made us seriously wonder how these two never got together in real life. There are definitely some jokes in there that (by today's standards) will make you cringe, but it's mostly an adorable movie with plenty of sweet moments.
Music and Lyrics (2007)
The queen and king of rom-coms finally joined forces for this 2007 flick. Drew plays an aspiring lyricist recruited by a washed-up musician (Hugh Grant) to help write a song for a young female pop star. They collaborate and copulate and fall head-over-heels for each other. Sometimes a romantic comedy is only as good as its supporting cast, and Kristen Johnston is a scene-stealer playing the sister of Drew's character. You know you're totally singing "Pop! Goes My Heart" in your head right now.
The Wedding Singer (1998)
Julia and Robbie forever! From the '80s soundtrack and fashion to every line of "Grow Old With You," this movie is practically perfect. In fact, it was even adapted into a Broadway musical in 2007. Maybe we could get a sequel now that '90s nostalgia is in full swing?
Never Been Kissed (1999)
It was a tough call to make, but Josie Geller is our queen and this movie made us hot for teacher. Plus, we got early performances from Jessica Alba and James Franco!
Mostly though, this movie takes the top spot because of how universal it is. We've all felt like Josie Grossy at some point in our lives, which made it impossible not to love Drew in this movie. Also, can someone start a petition or something to get Leelee Sobieski more roles? The people demand more Leelee!
Celebrity news, beauty, fashion advice, and fascinating features, delivered straight to your inbox!
Adam is a writer based out of New York City who loves video games, horror movies, and cats (the musical and the animal.)