Editors handpick every product that we feature. We may earn commission from the links on this page.
The 24 Best Gifts for Weed Lovers That Aren't Corny
No corny pot leaves or dumb puns—promise.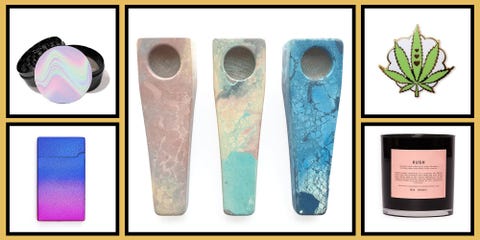 Just a few years ago, most marijuana-themed accessories featured massive images of pot leaves and truly terrible puns. Today, with weed being fully legal in 16 states and decriminalized in many more, pot-adjacent products have experienced something of a glow-up in recent months. For example: truly artisanal pieces crafted from gorgeous materials abound, ultra-luxe beauty products that are jam-packed with soothing CBD, sativa and cannabis oils, and cookbooks to help you upgrade your evening routine, to name just some. To be honest, we're not mad about it. With that in mind, we rounded up 25 of the best gifts for weed lovers to buy right now—that aren't overly cheesy or bro-y—for the people in your life who enjoy legal Mary Jane, but refuse to sacrifice their personal style to do so.
This content is created and maintained by a third party, and imported onto this page to help users provide their email addresses. You may be able to find more information about this and similar content at piano.io