The 24 Best Gifts for Weed Lovers That Aren't Corny
No corny pot leaves or dumb puns—promise.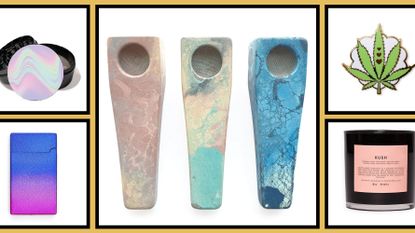 (Image credit: Shop Tetra ¦ Etsy ¦ Nordstrom)
Just a few years ago, most marijuana-themed accessories featured massive images of pot leaves and truly terrible puns. Today, with weed being fully legal in 16 states and decriminalized in many more, pot-adjacent products have experienced something of a glow-up in recent months. For example: truly artisanal pieces crafted from gorgeous materials abound, ultra-luxe beauty products that are jam-packed with soothing CBD, sativa and cannabis oils, and cookbooks to help you upgrade your evening routine, to name just some. To be honest, we're not mad about it. With that in mind, we rounded up 25 of the best gifts for weed lovers to buy right now—that aren't overly cheesy or bro-y—for the people in your life who enjoy legal Mary Jane, but refuse to sacrifice their personal style to do so.
1/24
Concrete Cat Oracle Pipe
These gorgeous concrete pipes look more like modern art than marijuana accessories. Of course, why not use them as both?
2/24
Jonathan Adler Druggist Weed Square Tray
This square tray can be used to place joints, keys, rolling papers, bobby pins, or whatever else your loved one see fit. Just know the results will still look oh so classy.
3/24
Towne9 Weed Themed Pins
These! Are! So! Cute! Gift all three weed-themed pins, or save one or two for yourself. We won't judge.
4/24
Melt Cosmetics Smoke Sessions Eyeshadow Palette
This palette, inspired by everyone's favorite green leaf, is made of eight eyeshadows with a mix of matte and metallic textures. Plus, it looks great on all skin tones.
5/24
Jenna Rast Cannabis Soup Poster
Pass on the trippy neon prints made for fraternity bedrooms and gift this super cool print from artist Jenna Rast instead. Andy Warhol, who?
6/24
Tetra Ombre Arc Lighter
There's really no point in having an ugly lighter. This ombré glittery one from Tetra is an instant upgrade to their year-round staple.
7/24
Penguin Random House A Weed Cookbook
From the creators of Vice's food website, Munchies, comes the adorable Bong Appétit: Mastering the Art of Cooking with Weed, which features a slew of marijuana-centric recipes.
8/24
Prima Bath Gem
This 25mg CBD bath bomb from Prima will make you, er, I mean your friend, never want to leave their bathtub. But if you do decide to emerge from warm waters, the softest skin of your dreams awaits.
9/24
Pax 3
A Sleek Vaporizer
The cult favorite Pax 3 vaporizer comes in a bunch of cute colors, but this stoner-stereotype-defying rose gold one is pretty undeniable.
10/24
Other Kingdom Chroma Rolling Tray
These rolling trays could also be used as serving trays—they're that gorgeous.
11/24
MolecularMotifs THC Molecule Earrings
A Sneaky Pair of Earrings
These earrings might look cute, but they're scientific, too. They're designed after the actual THC molecule—consider this the sneakiest way to show off what you're into.
12/24
CustomizeLaserWorks 4 Piece Grinder Herb With Catcher Set
A Pretty Grinder
If they use a grinder a lot, it should probably match their aesthetic.
13/24
Frasier Sterling Mary Jane Necklace
This dainty chain will blend in with the rest of the pieces that they wear, so they'll think of you on the daily.
14/24
PsychedelicDrip Pastel Cloud Resin Moon Dish
This moon dish isn't technically an ash tray, but it can totally be used as one. Honestly, who wouldn't want this on their table?
15/24
420Everything Bong Weed Accessory Pouch
A Handy Pouch
Keep all your things together in this adorable pink pouch. You'll never be without your papers again.
16/24
SewLovingMelanin Wake and Bake Ceramic Coffee Mug
This mug is sure to add a little *spice* to your morning coffee routine.
17/24
Boy Smells Kush Scented Candle
A Relaxing Candle
Kush, but elevated! This best-selling candle has notes of white suede, tulip and, of course, cannabis.
18/24
Sugarhigh Lovestoned Highly Educated Crew Sweatshirt
Swap out your usual black hoodie for this rosy-toned crewneck. You'll wear it for the rest of the year under your biggest jacket to stay warm.
19/24
Prospect Farms Dream Topical—Nighttime Relief
This cream is designed to help reduce inflammation, provide pain relief, and soothe sore muscles to help you get a full eight of rest hours in at night. This specific blend is made with full spectrum CBD and natural terpenes.
20/24
Josie Maran Skin Dope Argan Oil + 100 mg CBD
This face oil is perfect for those with redness, inflammation, or dullness in the wintertime. The cannabis sativa hemp extract inside helps bring out skin's natural glow while keeping it nourished.
21/24
Urban Outfitters GanjaLand Board Game
Don't put on another episode of Rick and Morty post-smoke sesh. Instead, pull out this game, which plays like the adult version of everyone's favorite childhood board game, Candyland.
22/24
Tracy Wright, RN CBD Soothing Peppermint Rub
This balm is created by a registered nurse and is jam-packed with 1,000 milligrams of CBD to help calm sore muscles, stiffness, and cramps after a long day. The fresh peppermint scent is honestly an added bonus.