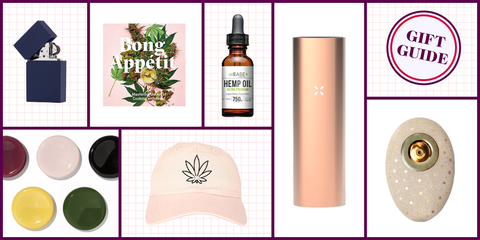 Even just a few years ago, the majority of marijuana accessories used to be all pot leaves and terrible puns. But with the legalization of weed in 11 states and counting (plus decriminalization in plenty more), pot-adjacent products have experienced something of a glow-up in recent months, and truly artisanal pieces crafted from gorgeous materials abound.
With that in mind, here are 15 of the best gifts for weed lovers that aren't cheesy and bro-ish—for the people in your life who enjoy legal mary jane but refuse to sacrifice style to do so.
There's no reason the most utility-focused marijuana accessories shouldn't also be sparkly and beautiful, right?
Malin + Goetz
malinandgoetz.com
$55.00
The "spicy, herbaceous" scent of this best-selling candle from ultrachic beauty brand Malin + Goetz is a cool, universally legal way to spark something up.
CBD Living
cbdliving.com
$14.00
A yummy, naturally-scented bath bomb housing 60 mg of soothing CB means bath time just got even more relaxing.
Penguin Random House
amazon.com
$15.99
From the creators of Vice's food website, Munchies, comes the adorable Bong Appétit: Mastering the Art of Cooking with Weed, which features a slew of marijuana-centric recipes.

5
"Aurelia" Stoneware Pipe
Made from nature but with some added flare (22-karat gold accents), this ceramic smokable pipe is chic and unique.
This hat is a cute and cheeky way for your loved one to show his or her enthusiasm for herbal refreshments.
7
24K Gold Rolling Papers
A 12-pack of 24-karat gold rolling papers, to make joints very chic.
Could these Ouija board pipes be any more on-trend? You have the occult, the stoner-y, and the pastel in one product. I mean, come on.
Aside from just looking cool, the hemp oil in this tincture is legal in all 50 states and may provide anti-inflammatory benefits while helping your loved one feel less stressed.
Love + Destroy
shop-tetra.com
$45.00
These ceramic bowls are technically ashtrays, but they're so cute that you could give them to your friends who never touch weed and they'd still be stoked to receive them.
The cult favorite Pax 3 vaporizer comes in a bunch of cute colors, but this stoner-stereotype-defying rose gold one is pretty undeniable.
12
A Collection of Edible Recipes
Chronicle Books
amazon.com
$8.40
Edibles: Small Bites for the Modern Cannabis Kitchen by Stephanie Hua takes its cannabis-focused recipes seriously, even though the end results are tiny, adorable bites that would be amazing even sans weed.
Tsubota Pearl
shop-tetra.com
$30.00
These minimalist, hardy lighters come in a bunch of cute colors and will last way longer than some cheapo lighter from the bodega. Hey, maybe your friend won't lose this one as easily either!
Concrete Cat
shop-tetra.com
$65.00
These gorgeous concrete pipes look more like modern art than marijuana accessories. Of course, why not use them as both?
Other Kingdom
shop-tetra.com
$56.00
These rollings trays could also be used as serving trays—they're that gorgeous.