Editors handpick every product that we feature. We may earn commission from the links on this page.
The Best Sex Podcasts of 2021
Some are funny, some are informative, all are NSFW.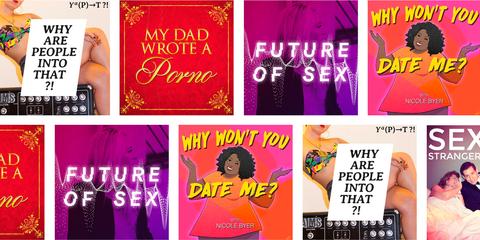 Though it's easy to compare our sex lives and relationships to the movies or TV shows we watch, it's important to remember what the great Dr. Ruth likes to say: "There's no such thing as normal." Of course, this is something that podcasters figured out a long time ago. Whether you want straightforward (but thoughtful) sex advice, erotica to listen to, deep dives on the most specific kinks you can think of, or just want to learn more about other people's sex lives, the sex podcasts can simultaneously make us laugh, cry, and feel a lot less weird for whatever our thing might be. (For more of our podcast picks, try these lists of our favorite true crime podcasts, comedy podcasts, and new 2020 podcasts.)
Podcasts are a great resource and no matter what you're looking for, there's a podcast for that. Want in-depth reporting that will educate you and pique your curiosity? There are podcasts for that. Want candid conversations and interviews with fascinating people whose personal stories will expand your world view? There are podcasts for that. Want to shut your brain off and be entertained? There are lots of podcasts for that. Here, we've rounded up some of the best series the sex podcasting community has to offer, from advice-y shows with frank discussions and interviews to totally fictional (but totally sexy) audio porn.
This content is created and maintained by a third party, and imported onto this page to help users provide their email addresses. You may be able to find more information about this and similar content at piano.io