The Best Comedy Podcasts to Listen To
Like going to a comedy show...on your commute.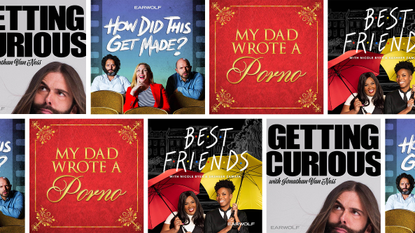 (Image credit: Future)
Marie Claire Newsletter
Celebrity news, beauty, fashion advice, and fascinating features, delivered straight to your inbox!
Thank you for signing up to Marie Claire. You will receive a verification email shortly.
There was a problem. Please refresh the page and try again.
Listen—a funny podcast is great under the best of circumstances. But when I'm feeling anxious or depressed, there's nothing that can make me feel better. Considering how long this year's been, a comedy podcast can be like a supportive friend that I turn on and off as I please. Think of this list as the exact opposite of podcasts you use to dive into serious subjects like politics and true crime (although true crime podcasts can be funny—see below). These binge-able shows are light, fluffy, and so sweet that they're the perfect relief from whatever you're dealing with.
Anna Faris Is Unqualified
Anna Faris is not qualified to give anyone advice about important things like life and love—at least, she doesn't think she is. In spite of that disclosure, Anna does give life advice (mixed in with a lot of comedy, of course) in her podcast, and plenty of it is actually pretty darn good.
My Brother, My Brother, and Me
Anna Faris isn't the only podcaster doling out comically bad advice. The McElroy brothers, Justin, Travis, and Griffin, have been at the questionable advice paired with hilarious tangents game since 2010 and they're still going strong. Bonus: With such a huge back catalog, this is one you can truly binge if the urge strikes (which it will).
A Very Fatal Murder
True crime is popular across all forms of media, but it reigns supreme in the podcast world. This made the genre a natural target for satire. Enter A Very Fatal Murder, a scripted true crime parody podcast from the people at The Onion.
Terrible, Thanks for Asking
Sometimes humor is the only way through heartache. Host Nora McInerny, who lost her father, husband, and unborn child in the span of a single month, is well-versed in tragedy. On the podcast, she talks to a range of guests about their own experiences of grief and loss. The raw, honest conversations aren't the makings of broad comedy, of course, but they do often find their way to a uniting, empathetic kind of humor that we can all connect with.
With Special Guest Lauren Lapkus
Comedian Lauren Lapkus (Orange Is the New Black, Crashing) turns the typical podcast format on its head by putting her weekly guests in the role of host and taking on interviewee duties herself—as a character chosen by her guest host.
How Did This Get Made?
This is the podcast that started it for me—and it's probably the most well-known on this list. "How Did This Get Made" is an infamous terrible-movie-review podcast; Jason, Paul, and June have perfect chemistry, and they tend to be funniest when they focus on "bonkers" crazy movies like Face/Off and Con Air. It's light, bubbly, and perfect.
Sooo Many White Guys
Phoebe Robinson is a delight, and her conversations aren't just funny, but honest and enlightening too. Her guests range from Reese Witherspoon to Trevor Noah to Adam Scott (their token white guy of the season!), and Phoebe's a terrific interviewer. If you like 2 Dope Queens—so, if you're a human person—you'll love this too, as it's a spinoff.
The Rewatchables
The Rewatchables is all about movies we love to binge-watch, with a fresh perspective. It's broken out into categories, from "Who won the movie?" to "Half-assed Internet research." The banter between Bill Simmons and his coworkers puts an entertaining new spin on classics like Mean Girls and Pretty Woman.
My Favorite Murder
You wouldn't think that a true crime podcast would actually be funny (and there are plenty of great true crime podcasts if you're into that sort of thing). But there's a funny, conversational vibe between Karen and Georgia, who are huuuuge true crime fans. They really embrace the interest between them and their "Murderinos." Just watch for triggers like murder and assault, if you need to.
Why Won't You Date Me? With Nicole Byer
God, I love Nicole Byer so much. In this podcast, she's super-frank about singlehood and sex, she brings on funny guests to talk about their relationships, and the subjects range from porn to polyamory. You think it's not possible to love her more and then she says something else.
Getting Curious with Jonathan Van Ness
If you've never watched Van Ness' "Gay of Thrones" series, stop reading this, go watch it, and come back. Now, take that level of hilarious energy and just apply it to cool topics like trans siblings, eating disorders, sunscreen, and even things like marginalization and climate change. Somehow, he makes every single thing enjoyable and totally relatable.
You Made It Weird with Pete Holmes
There are a ton of podcasts hosted by comedians, including popular ones like Marc Maron and Bill Burr. But Pete Holmes is so goofy, sweet, and innocent that he's a breath of fresh air. He cares deeply about his interviewees, and can and sometimes does talk for HOURS on end. The subjects can take a serious turn without getting too sappy or melodramatic.
My Dad Wrote a Porno
Listen, I know everyone knows about this one by now thanks to their HBO special, but going through each episode in sequence is an awkward, squeamish trip. I can BARELY listen to this with my husband. We have to keep pausing to giggle/pretend to vomit/shriek at the terrible writing. It's like no other podcast, but it's amazing.
The Baby-Sitters Club Mystery Club
Two grown men go through each book in The Baby-Sitters Club series in sequence. That's it, that's the whole podcast. But it's even funnier than it sounds. It's satirical, sure, but they end up having so much enthusiastic fun that it's clear they're as obsessed with the series as I was as a dorky tween.
Conan O'Brien Needs a Friend
This isn't your talk-show-host Conan charming guests and making G-rated jokes. He goes FULL SNARK on this podcast, and it's so refreshing for both him and us. He has a number of comedians on, too, and their back-and-forth is instantly entertaining.
Comedy Bang Bang
It's a little like the classic NPR "Wait, Wait...Don't Tell Me!" (which is also hilarious) but with a looser, more modern feel. The show's a combination of interviews, sketches, games, and randomness. The show's been on for 10 YEARS including its time on the radio. My favorite episodes are based on the most talented guests—check out the eps with Paul F. Tompkins and Jason Mantzoukas.
Best Friends With Nicole Byer & Sasheer Zamata
It's the second time Nicole shows up on this list! The two have the best chemistry, and they bring on lovely (often female) guests. It's like having coffee with two incredible girlfriends who also happen to be the funniest people you've ever met at the same time.
Bitch Sesh: A Real Housewives Breakdown
I kind of held out on listening to this one because I don't watch any of the Real Housewives shows, but learn from my mistake. Casey and Danielle are hilarious, and you don't need to have any context on the shows to still laugh along with their commentary and ridiculous non-sequiturs.
No Such Thing as a Fish
The British researchers behind the BBC game show QI come together to talk about the most interesting, weird, quirky facts that they discovered this week in their research. I'm somewhat on a news blackout so that I can preserve my sanity, but this kind of weird, quirky information is perfectly safe and enjoyable for me.
Ask Me Another
It's like a light night interview, a musical variety show, and Jeopardy all in one, with a little randomness thrown in there just to keep things fun. This podcast sets itself apart with particularly smart guests and mature topics, without being too heavy.
---
For more stories like this, including celebrity news, beauty and fashion advice, savvy political commentary, and fascinating features, sign up for the Marie Claire newsletter.
Celebrity news, beauty, fashion advice, and fascinating features, delivered straight to your inbox!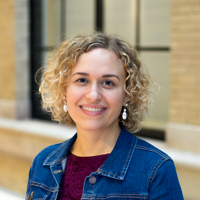 Katherine's a Boston-based contributor at Marie Claire who covers fashion, culture, and lifestyle—from "Clueless" to Everlane to news about Lizzo. She's been a freelancer for 11 years and has had roles with Cosmopolitan and Bustle, with bylines in Parents, Seventeen, and elsewhere. It's "I go to dinner," not "Her huge ego," but she responds to both.