The Future of Women-Friendly Erotica Is Audio Porn, According to This App
Dipsea is a new women-founded audio porn app where female-friendly erotica fantasies can be streamed through your headphones.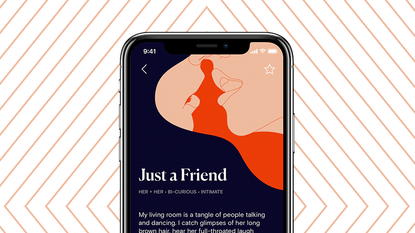 (Image credit: Courtesy/Morgan McMullen)
Though it's not as well-known as more visual forms of erotica, there's a surprisingly large appetite for audio porn—sexy stories told in vivid detail by voice performers with considerable acting chops. For evidence, see the thousands of options on Amazon's Audible, which sells works by heavy-hitters in the community like Zane and Rachel Kramer Bussel, or the DIY audio erotica craze on YouTube. Or look to the handful of active Reddit communities, among them r/GoneWildAudio and r/PillowtalkAudio.
But even though there's clearly a market for audio porn, there hasn't yet been a central place where this growing format can really bloom. And with the news that formerly porn-friendly Tumblr is banning adult content—a move that, some argue, destroys one of the few popular spaces where unabashed sex-positivity was celebrated—the need for an outlet dedicated to sex content made with women and non-binary people in mind just got much more pressing.
It's a void that Dipsea hopes to fill. The female-founded tech company and story studio launched this month as an iOS app (and will soon be a web application), and functions much like Headspace and similar subscription meditation apps. But there's one major difference: The app isn't so much about chilling out as it is about getting turned on. The Dipsea library is an erotica-lover's dream, categorized by moods and scenarios and tastefully curated according to common fantasies. For instance, there's Hot & Heavy, which offers steamy narratives like "Salty," about two women who engage in an impromptu friend-hookup, and Rainy Day Stories, which evoke emotion and nostalgia ("Timing" follows friends on a double-date with their respective partners who slip out for a quickie in an alley).
There are partner-oriented stories, queer stories, and even just non-narrative talks and meditations, like "Mapping Pleasure," led by sex and dating coach Myisha Battle, who offers guided meditation that could help with clearing the mind for self-pleasure. There's even an option for filtering narrators by gender.

"We want our stories to include sex that feels safe, that feels consensual, and that feels positive," says Dipsea co-founder and CEO Gina Gutierrez. "How can enthusiastic consent feel smooth and not kill the vibe? How can it be sexy?"
You'll notice that mission at the forefront of Dipsea stories, in which consent and sex-positivity are written into the DNA. It's surprisingly refreshing to hear characters vocalize that they're reaching for a condom, even in the heat of the moment. And it's done smoothly: For example, in "Up the Coast," a story about two strangers whose flight to San Francisco gets cancelled so they rent a car and drive along the beach, the listener gets a clear audible cue that both parties are on board to have sex.
Friends Gutierrez and Faye Keegan, both 28, came up with Dipsea last year out of what they felt was a necessity. "We're part of a community of friends that are comfortable talking about sex, and it was interesting how many of us have had the experience of, There isn't more content that's sexually exciting or feels made for us," Gutierrez says. "It'd be like a black market version of that one chapter in a book that you have tucked in your bedside table, and that wasn't enough."

At the time, she and Keegan, who are based out of San Francisco, were working various jobs in Silicon Valley, Gutierrez as a brand strategist for startups and Keegan as a software engineer. But they were both inspired by the book A Billion Wicked Thoughts: What The Internet Tells Us About Sexual Relationships, written by two cognitive neuroscientists who looked at AOL search data to decipher what actually turns different people on. "There's a huge divide," says Gutierrez. "Men prefer images and women prefer stories. In the conversations we have with women, it's not like women universally say porn isn't for them. But there are a lot of reasons why porn can be more challenging for women."
And a lot visual porn can be distracting. Like, why are those two people apparently hooking up in a padded cell? Why do these actors have so little body hair? Sometimes it can even be jarring or worse, in the Whoa-I-didn't-realize-there-was-S&M-in-this; sense.
Gutierrez says plenty of recent innovations in the sex industry have focused on the body—toys, lube, robots—but little has focused on the brain and its power as an imaginative engine. And that's a real missed opportunity, because research shows that women's arousal relies heavily on fantasy and imagination. One study conducted by OMGYes, a sex education website focused on women's pleasure, in partnership with world-renowned sex research group The Kinsey Institute, reported that 90 percent of women use mental framing, or scenario-conjuring, to get turned on or to reach climax. Gutierrez was already an avid audio consumer, devouring podcasts and meditation apps, and with this research in mind she and Keegan made the connection that "audio could really be this imaginative, immersive, medium" in erotic content for women.

"'Why doesn't this exist?' is a question that drove us to take on this challenge together," Keegan says. A year ago, she and Gutierrez left their jobs to pursue Dipsea full-time. They recorded the first six episodes in Keegan's kitchen. Now they use a network of freelance writers and voice actors across the country to craft their content—men, women, and non-binary people all contribute—stitching the stories together out of the company's studio in San Francisco.

Dipsea focuses on a mind-first approach to sexuality. Their high-quality and immersive soundscapes transport you to beaches and rooftops and bedrooms, like in the Fourth of July–inspired "Fireworks," where sounds like the couple's footsteps up to their roof, beer bottles opening, and fireworks hissing build the scene as they get it on. The language in every story is mood-setting and evocative from the start.
Most importantly to its founders (and, likely, their audience), Dipsea's characters reflect the spectrum of modern gender identity and sexuality: There are queer couples and bi-curious storylines, open relationships, kink, phone sex, role play, masturbation, infidelity, hetero couples, non-binary voices, threesomes—basically every flavor of sex you could think of. There's a function that lets users search by the type of characters and vibe they want, for example "Her + Him + Couple + Passionate" and "Her + Her + Open Relationship + Bi-Curious." The app's interface is visually pleasing, too, with colorful and provocative illustrations accompanying each track.
I'll admit: When I tried the app, I thought there'd be nothing more awkward than hearing racy lines like, "I feel myself getting hard" through headphones in a crowded coffee shop, but these stories are so smooth that I didn't even flinch. I felt like a solo voyeur along for the ride.
"A woman said to us in a focus group, 'I was sitting on the bus listening to a Dispea story and the man sitting across from me became the character,'" says Gutierrez. "That is the power of audio."
Gutierrez and Keegan hope women use Dipsea to nurture their sexuality whenever and wherever they want—especially those "in-between" life moments, like after a long day at work, before bed, or even before going out, just to rev up the sexual energy. Dipsea can be viewed as a more thoughtful, less triggering stand-in for porn, but its founders want it to become more than that: "A lot of women could be impacted by this sort of experience, and that means more to us than the end-goal of arousal," says Gutierrez. "It's a way to unlock feelings of aliveness. It's a way to heighten intimacy with a partner, to open up confidence."

If the app is the hit its founders hope it will be, it could signal a pivot in the porn landscape to more inclusive, consent-forward, women-centric erotica across the board—and that's worth getting excited for.
For more celebrity news, beauty and fashion advice, savvy political commentary, and fascinating features, sign up for the Marie Claire newsletter.
RELATED STORY
Celebrity news, beauty, fashion advice, and fascinating features, delivered straight to your inbox!