The 20 Best Political Podcasts to Prepare You for the 2020 Election
These podcasts have our vote.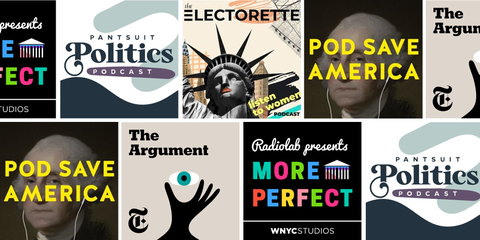 Design by Morgan McMullen
When it comes to choosing a podcast, most of us tend to gravitate toward darker territories. (Read: We get lost in true-crime stories too crazy to be real.) Or we'll find ourselves trying not to laugh in public about a topic that's definitely NSFW. But with the 2020 presidential election looming, there's never been a better time to expand your podcast horizons with a new topic of conversation: politics.
Even just a few months in, the 2020 election is shaping up to be another dumpster fire. Candidates for the Democratic nomination dropping like flies and Trump vying for reelection by playing up his worst xenophobic impulses; it's enough to give you whiplash. That's why we've rounded up the best politics podcasts out there.
The 2020 election may be hectic and intense already—and we're still more than six months out—but it's also incredibly crucial. So tune into these political podcasts to make sure you're well informed about what issues are at stake and are getting nuanced analyses of topics facing different communities today. These 20 podcasts, on everything from reproductive rights to healthcare to student debt forgiveness to the border crisis, will help you cut through the noise and focus on what's important. Listen up—and then get ready to vote.
This content is created and maintained by a third party, and imported onto this page to help users provide their email addresses. You may be able to find more information about this and similar content at piano.io