The 45 Best Gifts for Women on Amazon, According to Reviews
Whether she's a fashion girl or tech guru, this list has something special for everyone.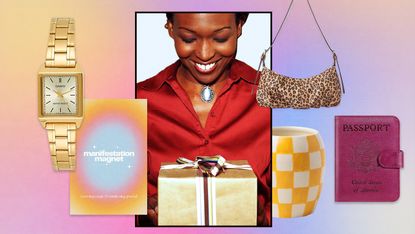 (Image credit: Future)
Raise your hand if you take gift-giving a tad too seriously. Same. Whenever the occasion comes up, whether it be for a friend's birthday, Mother's Day, or during the holidays, I'll spend countless hours scrolling through the internet for a meaningful gift that says "I care." From my time spent scouting for the perfect gift, I've come to realize that there's one place where you can cross off your list for every woman in your life, and that place would be Amazon.
But because there are truly an enormous number of gifts on Amazon to sift through, we did all the heavy lifting for you. We dug through the reviews and shuffled through countless Amazon categories in the lifestyle space to find the must-have kitchen gadgets, home decor, fashion and beauty products, and tech-y devices any woman in your life will love. We've arranged this guide by category so you can easily navigate to the products you're looking for, plus we included customer reviews to help with your buying decisions. So whoever you're shopping for (even if it's for your boss or Gen-Z cousin) and no matter your budget, consider Amazon your one-stop-shop for finding the perfect present for everyone on your gift-giving checklist.
Best Home Gifts on Amazon
Best Fashion Gifts on Amazon
Best Beauty Gifts on Amazon
Best Entertainment Gifts on Amazon
Best Tech Gifts on Amazon
Brooke Knappenberger is the Editorial Fellow at Marie Claire, where she writes across the board from fashion and beauty to books and celebrities. As a pop culture junkie, Brooke obsessively consumes and writes about the latest movie releases, streaming TV shows, and celebrity scandals. She has over three years of experience writing on fashion, beauty, and entertainment and her work has appeared on Looper, NickiSwift, The Sun US, and Vox Magazine of Columbia, Missouri. Brooke obtained her Bachelor's Degree in Journalism from the University of Missouri's School of Journalism with an emphasis on Magazine Editing and has a minor in Textile and Apparel Management.