The Best Memoirs of 2020 From 'Untamed' to 'The Meaning of Mariah Carey'
They may be based on reality, but they'll still help you escape for a little while.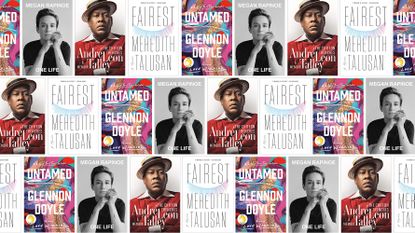 (Image credit: Bookshop.org ¦ Design By Morgan McMullen)
Yes, everything sucks right now and most of us are reading fiction to escape the current reality we're living in, but learning about someone else's reality technically counts as an escape too...right? The incredible new memoirs of 2020 range from life-changing (see: Glennon Doyle's Untamed) to juicy (yes, I'm talking about Jessica Simpson's Open Book), giving us an inside look into these authors' lives and sharing lessons that we can apply to our own. Take a deep breath, then dive into the best memoirs of the year, ahead.
1/37
'Children of the Land' By Marcelo Hernandez Castillo
Marcelo Hernandez Castillo gives readers an intimate look at what it's like to live as an undocumented immigrant in the United States, speaking truth to power about our country's broken system.
Available January 28, 2020
2/37
'Open Book' By Jessica Simpson
This isn't your typical celebrity memoir. Jessica Simpson's Open Book is truly an open book, where Simpson discusses everything from her relationship with ex John Mayer to her marriage and divorce from Nick Lachey.
Available February 4, 2020
3/37
'Here for It' By R. Eric Thomas
R. Eric Thomas is one of the most hilarious writers around, further proven in his collection of heartfelt memoir-in-essays, Here for It: Or, How to Save Your Soul in America, about growing up as an outsider and discovering what self-acceptance truly means.
Available February 18, 2020
4/37
'Recollections of My Nonexistence' By Rebecca Solnit
Rebecca Solnit, author of Men Explain Things to Me, shares her formation as a writer and feminist in 1980s San Francisco, where women were still far from being accepted into society.
Available March 10, 2020
5/37
'Untamed' By Glennon Doyle
Bestselling author Glennon Doyle's Untamed is a beautiful memoir from the activist and speaker that explores lessons of identity, motherhood, family, and divorce. Do yourself a favor and order this one immediately.
Available March 10, 2020
6/37
'More Myself: A Journey' By Alicia Keys
Experience Alicia Keys like you never have before in her memoir, More Myself, which takes readers on a journey from the artist's days growing up in Hell's Kitchen and Harlem all the way to stardom as she grapples with acknowledging her self worth and letting go of perfection.
Available March 31, 2020
7/37
'Hell and Other Destinations' By Madeleine Albright
Former Secretary of State Madeleine Albright, who was the first female to hold the position, knew she could do anything she wanted when she left the office in 2001. Now, she's reflecting on her decades-long career in her new memoir, Hell and Other Destinations.
Available April 14, 2020
8/37
'There I Am' By Ruthie Lindsey
After she was tragically hit by an ambulance at 17 years old, Ruthie Lindsey was given a five percent chance to live. She defied the odds and survived, but not without pain and heartache that has prompted her to eventually find joy again.
Available April 21, 2020
9/37
'Girl Decoded' By Rana el Kaliouby
Egyptian-American scientist Rana el Kaliouby was raised by one of the first female computer programmers in the Middle East and a father who valued tradition. Still, that didn't stop her from moving to America and pursuing her goal of bringing humanity—facial expressions, tone of voice, and body language—to technology. Girl Decoded chronicles Kaliouby's journey of founding a prominent software company, and learning about her own humanity along the way.
Available April 21, 2020
10/37
'Sigh, Gone' By Phuc Tran
Phuc Tran's memoir, Sigh, Gone: A Misfit's Memoir of Great Books, Punk Rock, and the Fight to Fit In, is a refreshingly honest depiction of growing up an immigrant in a small Pennsylvania town and trying to feel less alone in the world.
Available April 21, 2020
11/37
'The Rural Diaries' By Hilarie Burton Morgan
Hilarie Burton Morgan, best known as Peyton Sawyer in One Tree Hill, writes an honest depiction of how she transformed from actress to farmer in upstate New York, reconnecting to the land she grew up on while navigating motherhood.
Available May 5, 2020
12/37
'Incomparable' By Brie and Nikki Bella
The Bella twins are back! In Incomparable, Brie and Nikki Bella reflect on their journey from becoming WWE stars to founding companies like Birdiebee, Nicole + Brizee Beauty, and Bonita Bonita Wine.
Available May 5, 2020
13/37
'The Chiffon Trenches' By André Leon Talley
People in the fashion industry couldn't wait to get their hands on André Leon Talley's memoir, The Chiffon Trenches, which chronicles the iconic Vogue fashion editor's decades-long career and his relationship with prominent figures like Anna Wintour, Andy Warhol, and Karl Lagerfeld.
Available May 19, 2020
14/37
'Stray' By Stephanie Danler
Stephanie Danler's Stray shares the heartbreaking story of the Sweetbitter author's life that ends up taking a turn when she's forced to return to Southern California. There she confronts her past and her relationships with her mother, who struggled with alcoholism and suffered a brain aneurysm, and her father, who abandoned her family when she was three.
Available May 19, 2020
15/37
'This Is What America Looks Like' By Ilhan Omar
In This Is What America Looks Like, U.S. Representative Ilhan Omar documents her journey from fleeing Somalia to becoming one of the first Muslim women elected to congress in 2018.
Available May 26, 2020
16/37
'Fairest' By Meredith Talusan
Meredith Talusan takes us through their life growing up as a boy in a rural Philippine village and later immigrating to the United States, where they transitioned to become a woman. In Talusan's powerful memoir, they navigate race, class, sexuality, and how they fit into it all.
Available May 26, 2020
17/37
'Empty' By Susan Burton
In her fiercely honest memoir, Susan Burton explores her relationship with food and how both anorexia and binge-eating shaped her life.
Available June 23, 2020
18/37
'I Tried to Change So You Don't Have To' By Loni Love
As Marie Claire's Entertainment Director Maxwell Losgar perfectly puts it, Loni Love's writing is "written as someone who has long been wise beyond her years." Here, the actress/comedian/television host shares how she learned to embrace her flaws and take control of her destiny.
Available June 23, 2020
19/37
'The Beauty in Breaking' By Michele Harper
Michele Harper, a female African-American emergency room physician working in a profession predominantly filled with white males, reflects on her journey of self-healing often found through her patients.
Available July 7, 2020
20/37
'A Very Punchable Face' By Colin Jost
Honestly? The award for the best memoir title goes to Colin Jost's A Very Punchable Face, where Jost tells behind-the-scenes stories about his days on the set of SNL...and pretty much everything else.
Available July 14, 2020
21/37
'Memorial Drive' By Natasha Trethewey
Pulitzer Prize-winning poet Natasha Trethewey's Memorial Drive recounts her lived experience after her former stepfather shot and killed her mother when Trethewey was 19 years old, reflecting on how her loss led her to become the person she is today.
Available July 28, 2020
22/37
'Grand' By Sara Schaefer
Writer and comedian Sara Schaefer's memoir, Grand, centers on a trip to the Grand Canyon with her family, which forces her to reflect on her childhood and the scandal that forever changed their lives.
Available August 11, 2020
23/37
'Live in Love' By Lauren Akins
Fans of country star Thomas Rhett and his wife Lauren Akins will love Akins's Live in Love, which gives readers a behind-the-scenes look at the couple's seemingly perfect relationship and how Akins lives a life of purpose.
Available August 18, 2020
24/37
'I Have Something to Tell You' By Chasten Buttigieg
Chasten Buttigieg, husband to 2020 former Democratic presidential candidate Pete Buttigieg, opens up about his life growing up in rural Michigan and how he's healed after coming out to the world.
Available September 1, 2020
25/37
'Carry' By Toni Jensen
Toni Jensen's powerful memoir, Carry: A Memoir of Survival on Stolen Land, demonstrates what it's like to live as an Indigenous person in America, subjected to gun violence, racism, and a cultural landscape that has yet to correct its historical injustices.
Available September 8, 2020
26/37
'Everything Beautiful in Its Time' By Jenna Bush Hager
In Everything Beautiful in Its Time, Jenna Bush Hager shares personal stories and lessons she's learned from both her maternal and paternal grandparents—the latter Americans know as former First Lady Barbara Bush and President George H. W. Bush.
Available September 8, 2020
27/37
'What Can I Do?' By Jane Fonda
You may remember Jane Fonda, icon, getting arrested multiple times last year for hosting weekly climate change protests in front of the Capitol. Now, she's telling her story in her new memoir, What Can I Do? My Path from Climate Despair to Action, in hopes of inspiring all of us to pay attention to the most existential threat our planet faces.
Available September 8, 2020
28/37
'Once I Was You' By Maria Hinojosa
Award-winning journalist Maria Hinojosa chronicles the history of U.S. immigration policy while sharing her own experiences through her family and reporting over the years.
Available September 15, 2020
29/37
'Find the Helpers' By Fred Guttenberg
Anybody who has tragically lost a loved one will find comfort in Parkland dad Fred Guttenberg's Find the Helpers, where he shares how he's found purpose after losing his 14-year-old daughter to gun violence and his brother to 9/11-induced pancreatic cancer within a span of four months.
Available September 22, 2020
30/37
'The Meaning of Mariah Carey' By Mariah Carey
Introducing Mariah Carey's debut memoir, where the icon shares an unfiltered recollection of her life with the hopes that readers finally understand who she really is. Yes, it's as good as you think it will be.
Available September 29, 2020
31/37
'Nothing Like I Imagined' By Mindy Kaling
While not a traditional memoir, Mindy Kaling's hilarious collection of essays, Nothing Like I Imagined (Except for Sometimes), is an e-book slash audio collection where the actress reflects on motherhood, the pros of being single, how she deals with anxiety, and more.
Available October 6, 2020
32/37
'Let Love Rule' By Lenny Kravitz
It's Lenny Kravitz's new memoir. What else do you need to know?
Available October 6, 2020
33/37
'Greenlights' By Matthew McConaughey
Allow Matthew McConaughey to share the lessons he's learned throughout his life—the good, the bad, and the ugly—and teach us how we can all appreciate the little time we have on this Earth.
Available October 20, 2020
34/37
'One Life' By Megan Rapinoe
In addition to being a World Cup champion, Megan Rapinoe is a fierce champion of equal pay and LGBTQ rights. In her memoir, One Life, she documents her fight for social justice and the path she's taken to get to where she is today.
Available November 10, 2020
35/37
'A Promised Land' By Barack Obama
In the first of two volumes, POTUS 44 recounts the lows and highs during his years in office, both personally and professionally, all while emphasizing the importance of preserving our democracy amid the challenging times we're living in.
Available November 17, 2020
36/37
'No One Asked for This' By Cazzie David
Do yourself a favor and order Cazzie David's No One Asked for This—a collection of essays that chronicles the comedian and actress' most chaotic moments, which happen to be extremely relatable.

Available November 17, 2020
37/37
'Survival of the Thickest' By Michelle Buteau
Michelle Buteau, who frequently made appearances on Phoebe Robinson and Jessica Williams' 2 Dope Queens podcast, recently released Survival of the Thickest—a collection of essays where the comedian and actress reflects on her life growing up "Caribbean, Catholic, and thick" in New Jersey, and essentially every life decision she's made after that.
Available December 8, 2020
Rachel Epstein is a writer, editor, and content strategist based in New York City. Most recently, she was the Managing Editor at Coveteur, where she oversaw the site's day-to-day editorial operations. Previously, she was an editor at Marie Claire, where she wrote and edited culture, politics, and lifestyle stories ranging from op-eds to profiles to ambitious packages. She also launched and managed the site's virtual book club, #ReadWithMC. Offline, she's likely watching a Heat game or finding a new coffee shop.