Just a Bunch of Confusing Swimsuits From 'Too Hot to Handle'
Three weeks after the reality show premiered, I continue to be haunted and inspired by these choices.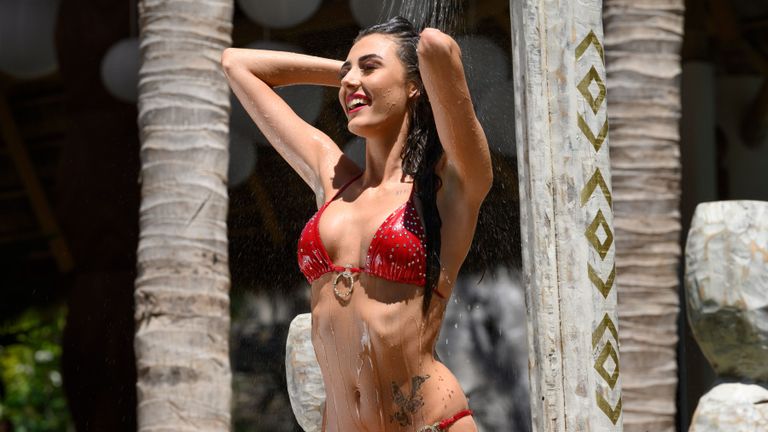 (Image credit: Aline Arruda/Netflix)
Too Hot to Handle premiered 21 days ago, which in reality-show-time may as well be 18 months ago. And in Netflix-time that may as well be three years ago. Which means in quarantine-time it's been approximately four decades since we were introduced to the dozen or so horny individuals who went celibate in the hopes of winning some cash and entertaining the masses. So, yes, the majority of the world has moved on. But I continue to be haunted by something from the show. No, it's not that Harry and Francesca are still together and, in fact, so happy that they are wedding ring shopping. No, it's not that people are offering to drink Chloe's bathwater. It's not even that Matthew (a.k.a. Jesus) actually played The Man From Galilee in a film. It's the bathing suits.
Too Hot to Handle's cast LIVED in swimwear. (Fair, considering they literally lived on a gorgeous, beach-front resort in Mexico during filming.) But each female cast member seemed to have packed no less than 30 bikinis for their four-week reality television stint (was there no laundry available?). And they didn't bring a smattering of mix-and-match tops and bottoms and one whimsical suit in case things went "theme." No, they whipped out a multitude of head-scratching, gravity-defying suits. (Don't get me wrong, there were plenty of cute neon bandeaus and colorful string bikinis as well.) I'm talking about the ones that displayed more emotional depth than Haley. More self awareness than Harry. More sass than A.I. bot Lana. Since I have all but accepted the reality of a #canceledsummer2020 I decided to live vicariously through the Too Hot to Handle cast's unique warm-weather sartorial choices—the kinds we have all at one time purchased, in the same checkout cart as Prosecco Pong and a giant inflatable unicorn—by rounding them up here. Here's praying the girls divulge their Missguided discount codes during the virtual reunion that airs Friday.
1/14
Bryce did not understand this shiny, pink one piece, which was proof he and Chloe were not meant to be.
2/14
This black, underboob-baring bikini top popped up on several of the girls throughout the series, but I still never managed to understand how everything stayed in place.
3/14
Honestly can't tell if these are lingerie, crop tops, or swimwear, but I'm okay with all of it.
4/14
The least confusing of the bunch.
5/14
This neon number reminds me of a spaceship.
6/14
7/14
A top or a swimsuit? IDK, but we stan multi-functional fashion.
8/14
Episode 5 was clearly the "underboob" episode.
9/14
Francesca borrowed this suit from Nicole (or vice versa), proof the women had each other's backs when it came to their fashion needs.
10/14
11/14
You definitely can't get this wet, but I'm here for some vacation sparkle.
12/14
Confusing yet surprisingly demure?
13/14
I'm sensing a trend with Rhonda's swimwear silhouettes...
14/14
Honorable mention for Francesca's sheer pants, the only thing I want to pair with my quarantine hoodie.
As Marie Claire's senior news and culture editor, Neha oversees all things entertainment, pop culture, and current events from TV shows and movies we can't stop bingeing to celebrities we can't stop 'shipping. She loves a hot-take, has an extensive knowledge of award shows, and knows the astrological signs of everyone in the royal family and the 'Friends' cast. Before joining Marie Claire, she held positions at Glamour, Brides, Condé Nast, and Mashable, and is a graduate of the Columbia School of Journalism.