The Cast of 'Sweet Magnolias' Includes Some Familiar Faces
Jamie Lynn Spears! Chris Klein!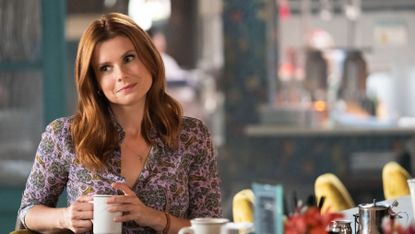 (Image credit: ELIZA MORSE/NETFLIX)
If you're looking for a fluffy romance drama to ease the strain of, oh, the whole global pandemic thing, do I have the pick for you: Sweet Magnolias, which dropped on Netflix May 19. Based on the Sweet Magnolias book series, this fluffy small-town drama is created in the vein of Hart of Dixie and Gilmore Girls, with ingredients including: a small, tight-knit town; frequent cocktail nights; love triangles; and a sense of earnestness that doesn't generally feel forced or fake. JoAnna Garcia plays Maddie Townsend, the lovable protagonist who's forced to start over when her husband (Chris Klein) runs off with his pregnant mistress (a very apologetic-looking Jamie Lynn Spears). We have bro-y friendships and curious teenagers, Sunday church services and a beloved local restaurant, not to mention plenty of heavy Southern accents (the show is set in Serenity, South Carolina). The inversion of edgy small-town drama Big Little Lies, this fluffy romance series will do your tired heart some good; it's as soothing as the spa that the three best friends who helm the series found together. Here's your guide to who plays who.
For more stories like this, including celebrity news, beauty and fashion advice, savvy political commentary, and fascinating features, sign up for the Marie Claire newsletter (subscribe here).
1/16
Jamie Lynn Spears as Noreen Fitzgibbons
Perhaps the most recognizable face in this series is Zoey 101's Jamie Lynn Spears, who has been posting up a storm on Instagram about how excited she is to play Noreen, the pregnant former mistress to Chris Klein's Bill Townsend.
2/16
JoAnna Garcia as Maddie Townsend
Garcia, who you'll recognize from a plethora of TV shows and movies like Gossip Girl and American Pie 2, plays the main character of Maddie, whose two best friends have to hold her up when her husband leaves her for Noreen.
3/16
Brooke Elliott as Dana Sue Sullivan
Elliot, the former Broadway star you'll recognize from Drop Dead Diva, plays Dana Sue Sullivan, the head chef at a top restaurant who faces struggles raising her daughter alone—but is always bolstered by her two best friends.
4/16
Heather Headley as Helen Decatur
Like Elliott, Headley is a musical veteran who broke into acting (Chicago Med). She plays Helen, a warm, socially conscious lawyer who adores her little town of Serenity and her friends.
5/16
Chris Klein as Bill Townsend
Klein, who will always occupy a special place in our hearts thanks to American Pie, is a small-town bad guy (ish) who leaves his family for his pregnant mistress (Spears).
6/16
Justin Bruening as Cal Maddox
Bruening, who Grey's Anatomy fans will remember as jilted-groom Matthew, plays the hot coach to Maddie's (Garcia) son. Spoiler: Sparks fly.
7/16
Anneliese Judge as Annie Sullivan
Acting newbie Judge steals the show as Annie Sullivan, rebellious and razor-sharp daughter of Dana Sue (Elliott). She's also part of the "younger" cohort in this series, and is tight with the Townsend brothers.
8/16
Carson Rowland as Tyler "Ty" Townsend
Rowland plays Ty, a high schooler caught in the crossfire of his parents' divorce. Formerly a baseball star, Ty's place on the team is thrown in jeopardy when his grades start to slip.
9/16
Logan Allen as Kyle Townsend
Former Nickelodeon star Allen plays Kyle, Ty's adorable, hilarious younger brother. Warning: The sweet rapport between the two siblings might make you tear up.
10/16
Dion Johnstone as Erik Whitley
Johnstone plays pastry-chef-turned-sous-chef Erik, the loyal number two to Dana Sue (Elliott). He's always got her back—and did I mention he happens to be very, very hot?
11/16
Caroline Lagerfelt as Paula Vreeland
Yes, that's CeCe Rhodes from Gossip Girl! Well, sort of: It's Carolina Lagerfelt, the beloved French-born actress, who plays Maddie's mom Paula.
12/16
Michael Shenefelt as Ryan Wingate
Hollywood newbie Shenefelt plays Ryan, the on-off love interest to Helen (Headley).
13/16
Bianca Berry Tarantino as Katie Townsend
The adorable Bianca Berry Tarantino plays little Katie, Maddie's youngest.
14/16
Tracey Bonner as Pastor June
Bonner plays Pastor June, because every small town has to have a kindly, welcoming, omnipresent pastor.
15/16
Chris Medlin as Isaac Downey
Medlin plays Isaac, a sweet young chef in Mary Sue's kitchen who later turns into a major character (I'll stop here because, spoilers!).
16/16
Harlan Drum as CeCe Matney
Newbie Drum plays CeCe, a member of the young 'uns cohort who's romantically interested in Ty (Rowland).