The 13 Best Books to Read in 2020
Escape reality with one of our favorite new novels.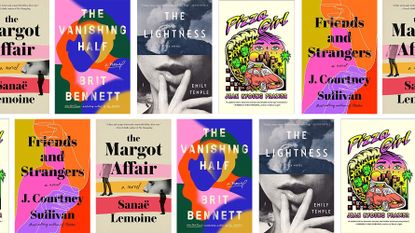 (Image credit: Courtesy)
Marie Claire Newsletter
Celebrity news, beauty, fashion advice, and fascinating features, delivered straight to your inbox!
Thank you for signing up to Marie Claire. You will receive a verification email shortly.
There was a problem. Please refresh the page and try again.
Even if you can't literally escape to a sun-drenched beach this summer, you can still take a vacation into the world of a really good book. We've rounded up the top summer reads that will make you want to spend a precious OOO day finishing them, cover to cover. From the eerily clairvoyant Death in Her Hands from lit-genius Ottessa Moshfegh to the zany prose of Jean Kyoung Frazier in her debut Pizza Girl, we have a pick for every bookworm. And once you get through these picks, join our virtual book club, #ReadWithMC, and dive into a great new pick every month with us.
1/13
The Margot Affair: A Novel
Margot has lived her whole life with a secret and as a secret: She's the illegitimate daughter of a French politician and a famous actress. When she decides to expose her family's truth to her lover, a journalist, she sets into motion a chain of events she could have never imagined. Drumming with tension, The Margot Affair grapples with the complexity of familial love.
Available June 16.
2/13
All Adults Here: A Novel
Marie Claire's latest book club pick is a heartwarming mosaic of a family throughout time. It begins when Astrid, the matriarch of the family, witnesses a car accident, which releases a repressed memory she's stored away for years.
Available now.
3/13
Friends and Strangers: A Novel
The lives of two women— one, a lonely mom adjusting to a new suburban life and the other, her babysitter— become intertwined. Akin to Kiley Reid's Such a Fun Age, J. Courtney Sullivan's Friend's and Strangers exposes fraught truths about power dynamics, class, and privilege.
Available June 30.
4/13
The Lightness: A Novel
A year after her father disappeared to a remote mediation center, 16-year-old Olivia runs away to find him, and encounters a strange group of girls who are determined to learn to levitate. It's a glistening, emotionally charged portrait of a girl growing up.
Available June 16.
5/13
Pizza Girl: A Novel
With equal parts wit and aching authenticity, Jean Kyoung Frazier's bold debut is an almost anti-coming-of-age portrait. In it, a pregnant teenage pizza girl becomes obsessed with a mom she delivers a pickle pizza to every week.
Available June 9.
6/13
The Vanishing Half: A Novel
A pair of twin sisters escape a small, unforgiving town and for the first time in their lives, they split up. One starts passing as white in L.A. (where her husband knows nothing of her past), and the other ends up back in the town she once tried to leave, though of course, their story as a pair isn't over just yet...
Available June 2.
7/13
Exciting Times: A Novel
Naoise Dolan's debut shows a love triangle like you've never seen it before when Ava, a Irish millennial who just moved to Hong Kong, gets involved with a male banker and a female lawyer. Wry and sardonic, Dolan relentlessly examines untold truths about love, classicism, and ambition.
Available now.
8/13
These Women: A Novel
Five very different women have one thing in common: They are all being watched by a vicious series killer. Inverting the classic cat-and-mouse style, Ivy Pochoda's masterful page-turner rocks with tension.
Available now.
9/13
Becoming Duchess Goldblatt
From the literary sensation behind the anonymous twitter account @DuchessGoldblatt comes a life-affirming memoir packed with hilarity and candid observations about life and love.
Available July 7.
10/13
Parakeet: A Novel
In this wonderfully weird read, a woman gets a visit from her late grandmother, in the form of a parakeet, one week before her wedding (and, duh, tells her not to go through with it). A singular, stunning novel from an author who is unafraid of sounding different.
Available June 2.
11/13
The Pull of the Stars: A Novel
Emma Donoghue's latest is getting an early release, and it's clear to understand why: In 1918 at the height of the Great Flu in Ireland, sick, pregnant women are quarantined together in a hospital while a group of overworked nurses tries to navigate their patients through the darkness.
Available July 21.
12/13
The Weekend: A Novel
Capture summer (even if you can't leave your house) with a tender read dripping in easy nostalgia. In Charlotte Wood's quiet novel, three women in their 70's reunite for a weekend at the beach after the death of a friend.
Available August 4.
13/13
Death in Her Hands: A Novel
In Ottessa Moshfegh's highly anticipated new novel, a woman becomes obsessed with solving a murder... that might never have happened in the first place. Profane and unnerving, Moshfegh wields her incomparable wit, solidifying her position as the literary voice of the year.
Available June 23.
For more celebrity news, beauty and fashion advice, savvy political commentary, and fascinating features, sign up for the Marie Claire newsletter (subscribe here).
Celebrity news, beauty, fashion advice, and fascinating features, delivered straight to your inbox!
Megan DiTrolio is the editor of features and special projects at Marie Claire, where she oversees all career coverage and writes and edits stories on women's issues, politics, cultural trends, and more. In addition to editing feature stories, she programs Marie Claire's annual Power Trip conference and Marie Claire's Getting Down To Business Instagram Live franchise.