The 'Dirty John' Cast vs. The Real People They Played
The second season of the hit podcast-turned-drama looks intense.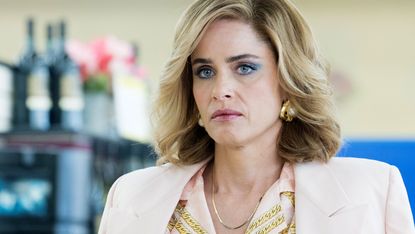 (Image credit: USA Network)
Marie Claire Newsletter
Celebrity news, beauty, fashion advice, and fascinating features, delivered straight to your inbox!
Thank you for signing up to Marie Claire. You will receive a verification email shortly.
There was a problem. Please refresh the page and try again.
The much-anticipated second season of Dirty John, titled Dirty John: The Betty Broderick Story, hits the USA Network on June 2 with an all-star cast that includes Amanda Peet and Christian Slater. If you're not familiar with the real story of Betty Broderick, she became infamous in the '80s and early '90s for shooting her ex-husband and his new wife in their home, kicking off one of the most riveting murder trials of its time. Both members of strict Catholic families, Betty and Daniel Broderick had married young (she was only 17 when they met); Betty helped support her husband as he went through medical school, then completed law school, then became one the best medical malpractice lawyers in San Diego. But after a long marriage and four kids, he left her to marry his young office assistant, Linda (Kolkena) Broderick. The season is expected to cover events from both perspectives: That of volatile, agitated Betty (played by Peet), as well as that of her powerful, confident husband/ex-husband (played by Slater), on top of everyone else who got caught up in their battles. Early stills from the show make it look like the characters will be just as compelling as real life—and most of the actors look eerily similar to their real-life counterparts.
1/13
Tiera Skovby as Young Betty Broderick
If Skovby looks familiar, it's because she recently played Polly on Riverdale. She also had roles in Once Upon a Time and Summer of 84.
2/13
Betty Broderick vs. Tiera Skovby
Of their early relationship, Betty said, "All I wanted to be was a mommy," adding, "[Dan] promised me the moon. The guy asked me to marry him every day for three years."
3/13
Chris Mason as Young Daniel Broderick
Mason—who, incidentally, looks and apparently sounds just like Slater in this, despite having a British accent IRL—previously acted in Broadchurch, Legend, and Pretty Little Liars: The Perfectionists.
4/13
Daniel Broderick vs. Chris Mason
Of the young Daniel, Betty said, "He was very ambitious, very intelligent and very funny. And I am those three things. We were from the same kind of background. We both wanted the same things in the future."
5/13
Betty Broderick
The Broderick vs. Broderick divorce was long and arduous, and Betty drove her car into the couple's front door, defaced their walls, and left threatening messages on their answering machine. But, during the trial, she maintained that the act wasn't premeditated and that she'd never intended to kill either of them.
6/13
Amanda Peet as Betty Broderick
Peet (2012, The Whole Nine Yards, Something's Gotta Give) plays '80s La Jolla socialite to perfection here, and—if the trailer is any indication—goes between charismatic, betrayed, and hysterical at the drop of a hat.
7/13
Betty Broderick vs. Amanda Peet
In interviews, Betty maintained that "[Daniel] stole my whole life...This was a desperate act of self-defense." She's still serving her prison sentence and will be eligible for parole in 2032.
8/13
Christian Slater as Daniel Broderick
An '80s and '90s heartthrob (Heathers, True Romance), Slater's been taking on complex roles like this and the titular Mr. Robot in his later years as an actor. Here, he's absolutely nailing the "'80s lawyer" look.
9/13
Daniel Broderick vs. Christian Slater
The show will take a look at the complex figure and his behavior before, during, and after the divorce. The show's done a great job with casting, but honestly, this one might be the best, IMO.
10/13
Rachel Keller as Linda (Kolkena) Broderick
Keller's had roles in Legion, Fargo season 2, and The Society. She's playing the young Kolkena, a former stewardess and paralegal who started working for Daniel when she was just 22.
11/13
Linda (Kolkena) Broderick vs. Rachel Keller
Apparently Linda became more and more anxious for her and her husband's welfare—saying to friends that Betty had even surprised them in their house late one night and that she was scared to death. She even urged Daniel to wear a bullet-proof vest at their wedding, although he refused (Betty didn't show up to the event).
12/13
Kim Broderick
Kim, Betty's oldest daughter, had to testify in the trial. At one point, she explained that her mother told her, "I wish you were never born" and "I hate your guts." She does still have contact with Betty from prison, but has rejected Betty's request to write a letter on her behalf advocating her release from prison. Kim went on to write a book about her life as Betty's daughter.
13/13
Kim Broderick vs. Lily Donoghue
Tracy, along with Betty and Daniel's other three children, gets caught in the crossfire between her parents' bitter divorce and custody battle. In real life, the two older children both had to testify about what happened in the lead-up to their father's death.
•••
For more stories like this, including celebrity news, beauty and fashion advice, savvy political commentary, and fascinating features, sign up for the Marie Claire newsletter.
Celebrity news, beauty, fashion advice, and fascinating features, delivered straight to your inbox!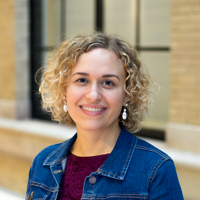 Katherine's a Boston-based contributor at Marie Claire who covers fashion, culture, and lifestyle—from "Clueless" to Everlane to news about Lizzo. She's been a freelancer for 11 years and has had roles with Cosmopolitan and Bustle, with bylines in Parents, Seventeen, and elsewhere. It's "I go to dinner," not "Her huge ego," but she responds to both.