10 Podcasts That Bring Me Happiness as a Black Listener
These black voices can help provide a sense of rest and comfort right now.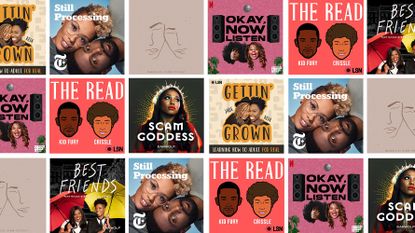 (Image credit: @wsslyy ¦ @jennydeluxe ¦ @crissle ¦ @kidfury ¦ @nicolebyer ¦ @thesheertruth ¦ @hellolaurenash ¦ @divalaci ¦ @scottiebeam ¦ @sylviaobell ¦@jadeofalljades ¦ @tykeianicole )
I've always used film and television as a pick-me-up (opens in new tab), something to escape to when I'm overwhelmed with what life and the world is throwing at me. Recently, though, I've needed more. I've needed connection and understanding and that isn't something I've been able to get from Netflix and chilling alone. So I've been turning to podcasts (opens in new tab), especially podcasts created by black people, to get the kinship I've been craving. I turn up my speakers to full volume when I'm cooking dinner so that their reassuring voices, carefree laughter, and insightful opinions fill my apartment. I listen to them while on my walks, smiling when they playfully poke fun at each other. I'll even have an episode on while I'm cleaning as background noise. It's not the same as getting a real-life hug from my mom, but it's support I can lean on right now.
If you too feel like you need some reassurance—or if you're an ally (opens in new tab) seeking to gain more understanding of and appreciation for black lives and voices—find it in the form of these black creators who will hold your hand through the bullshit. They'll make you feel better, they'll help you get a moment of peace, and they'll make some days feel lighter than others. Basically, they are the digital version of "Want me to come over?!" I'll tell you right now: There is nothing like a *Crissle laugh* to turn your day around.
1. "HOODxHOLISTIC"
I don't know what's in the water in Houston, but I love what pours out of that city. Ash (@word2mylocs) and Cort (@theceefooddiet) are the hosts of "HOODxHOLISTIC," a podcast in which they chat freely about life and love as a black married millennial lesbian couple. Their accents will envelop you as they answer the question: "How you feelin' mind, body, and spirit?"
LISTEN NOW (opens in new tab)
2. "Why Won't You Date Me? With Nicole Byer"
Nicole Byer (@nicolebyer) is unflinchingly honest and hilarious about how terrible and gross dating can be. She is friends with basically everyone so the episodes have the added bonus of getting insights into the dating lives of other famous people (like Michelle Buteau, Ira Madison III, and, of course, her bestie Sasheer Zamata). Also, if you're reading this, Nicole: Yes, I will date you.
LISTEN NOW (opens in new tab)
3. "Black Girl in Om"
I turn to this podcast when I need a moment of peacefulness and self-care as a black woman. The founder of BGIO, Lauren Ash (@hellolaurenash), teaches listeners how to create space for themselves, ways to find peace and stillness, and ways to seek affirmation. It has also introduced me to forms of holistic healing—like sound baths and deep meditation—while highlighting women of color in the beauty and wellness industries (opens in new tab).
LISTEN NOW (opens in new tab)
4. "The Friend Zone"
Assante (@heyassante), Dustin Ross (@lookatdustin), and Francheska Medina (also known as @HeyFranHey) are the play cousins of your dreams. In this weekly podcast, they chat about their lives, often focusing on mental health and providing important resources (opens in new tab) for their listeners. After you listen to this podcast you'll be doing airhorns all over your house, and no, I won't tell you why.
LISTEN NOW (opens in new tab)
5. "The Read"
Crissle West (@crissle) and Kid Fury (@kidfury) never miss a beat when it comes to making me laugh. They recap the week's pop culture foolishness and celebrate black accomplishments, all while answering some of the wildest reader questions I have ever heard. Remember when that one girl asked if she should keep hanging out with the stud who got her car repossessed?
LISTEN NOW (opens in new tab)
6. "Best Friends with Nicole Byer and Sasheer Zamata"
Black girl friendship is important. Enter Nicole (@nicolebyer) and Sasheer (@thesheertruth), best friends who let us listen in as they discuss their lives and platonic relationships. The homies also answer questions from listeners about all things friend-related—which is dope because shooting your friendship shot can be scarier than you think.
LISTEN NOW (opens in new tab)
7. "Scam Goddess"
I first fell in love with actress Laci Mosley (@divalaci) on Popv's Florida Girls, a show about four friends renewing (or accepting) their lives in our southernmost state. But my love for her grew exponentially when I found her podcast and learned that she enjoys a good scam as much as the rest of us. It's the only place where I can listen to someone unpack "Historical Hoodwinks" and also talk about the scams she (maybe) used to run herself.
LISTEN NOW (opens in new tab)
8. "Okay, Now Listen"
The newest addition to my podcast playlist! Scottie Beam (@scottiebeam) and Sylvia Obell (@sylviaobell) tackled the immense task of launching a podcast during lockdown. And they killed it. They talk about their day-to-days, what they are bingeing, and several more timely topics. If you ever feel like you want Twitter threads about the latest Netflix movies or surprise Beyoncé drops to go more in-depth, then this podcast is for you.
LISTEN NOW (opens in new tab)
9. "Gettin' Grown"
I hate adulthood sometimes. Unlearning childhood traumas, figuring out how to say things like "no" and "that's not okay" to your parents, and navigating your career are necessary but hard realities of getting older. Thankfully, Jade (@jadeofalljades) and Keia (@tykeianicole) are here to help you through those growing pains. In the podcast, they discuss all things adult, including the things I haven't even gotten to yet like motherhood and buying property.
LISTEN NOW (opens in new tab)
10. "Still Processing"
Two of the most soothing voices you'll ever hear belong to New York Times' writers Wesley Morris (@wsslyy) and Jenna Wortham (@jennydeluxe). I rely on their episodes to dissect trending news as well as niche culture topics that no one will fight with me about on Twitter. You know, like their episode about Hulu's High Fidelity (opens in new tab) when they discussed "The Smiths" and you finally felt understood.
LISTEN NOW (opens in new tab)
---
For more stories like this, including celebrity news, beauty and fashion advice, savvy political commentary, and fascinating features, sign up for the Marie Claire newsletter.
subscribe here (opens in new tab)
Shelli Nicole is a Detroit-raised, Chicago-based queer writer whose work on race, sexuality, and pop culture has appeared on Autostraddle, Bustle, TalkPoverty & HelloGiggles. Follow her on Twitter (@HiShelli) for fiery emotions & Instagram (@AyoShelli) for fire selfies.