The 52 Best Comedy TV Shows Ever
The shows that will make you laugh until your face hurts.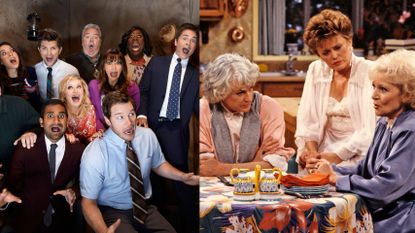 (Image credit: Getty Images)
When you need something that will make your heart feel good and your cheeks hurt from smiling, nothing compares to a great comedy series. Sure, funny movies are great, but there's something unique about a great television series. You really get to know the characters, you feel like you can escape into their world—and, most importantly, you can binge them for hours (or days) of continuous good vibes, thanks to the Netflix gods (and Hulu, Amazon Prime, Disney +, Peacock, and HBO Max—basically any streaming service we can get our hands on a log-in for). Comedy series are the emotional equivalent of comfort food: a soothing feast for your eyes that always lifts your mood.
From classic comedy sitcoms that will give you a chance to bask in nostalgia to theme-driven dramadies that tackle important social issues through humor to the iconic comedies we all love to binge over and over (and over) because watching them feels like visiting an old friend and helps us through the harsh realities of modern life, there's a little of everything on this list. Without further ado, the best comedy series of all time.
'Ted Lasso'
Original run: 2020-Present
Starring: Jason Sudeikis, Hannah Waddingham, Jeremy Swift, Phil Dunster, Brett Goldstein, Brendan Hunt, Nick Mohammed, and Juno Temple
Why it makes the list: Hello, have you seen these pics of Jason Sudeikis? Aside from that, Sudeikis masters his character as an American head coach of an English soccer team.
'Abbott Elementary'
Original run: 2021-Present
Starring: Quinta Brunson, Sheryl Lee Ralph, Tyler James Williams, Lisa Ann Walter, Chris Perfetti, William Stanford Davis, and Janelle James
Why it makes the list: The teachers at Abbott are so hilarious and dedicated that you'll love them like your own childhood teachers (or both love and hate them, in the case of James' incompetent Principal Ava).
'PEN15'
Original run: 2019-Present
Starring: Maya Erskine and Anna Konkle
Why it makes the list: Erskine and Konkle's characters hilariously depict what it was like to be a middle schooler in the 2000s, including all of the cringeworthy moments like first kisses and awkward crushes.
'New Girl'
Original run: 2011-2018
Starring: Zooey Deschanel, Jake Johnson, Max Greenfield, Damon Wayans Jr., Lamorne Morris, and Hannah Simone
Why it makes the list: One word: Schmidt. If you've never laughed out loud at a show before, New Girl will change that with its incredible one-liners from an array of lovable characters.
'The King of Queens'
Original run: 1998-2007
Starring: Kevin James, Leah Remini, Lisa Rieffel, Patton Oswalt, Larry Romano, Victor Williams, Jerry Stiller, Nicole Sullivan, and Gary Valentine
Why it makes the list: Raise your hand if you watched this with your dad when you were younger who cackled significantly every episode. *Raises hand.* The main character is a UPS dude and his wife has a short temper. That's really all you need to know!
'Crazy Ex-Girlfriend'
Original run: 2015-2019
Starring: Rachel Bloom, Vincent Rodriguez III, Santino Fontana, Donna Lynne Champlin, Pete Gardner, Vella Lovell, Gabrielle Ruiz, David Hull, Scott Michael Foster, and Skylar Astin.
Why it makes the list: This CW musical comedy used humor (and catchy AF songs) to bring attention to issues like mental health, addiction and recovery, bi-erasure, and more.
'You're the Worst'
Original run: 2014-2019
Starring: Chris Geere, Aya Cash, Desmin Borges, and Kether Donohue.
Why it makes the list: Sometimes being the worst can actually be kind of the best. This show, about two selfish, self-destructive humans trying to navigate a relationship is hilarious and wonderful in all the right ways.
'Dear White People'
Original run: 2017-present
Starring: Logan Browning, Brandon P. Bell, DeRon Horton, Antoinette Robertson, John Patrick Amedori, Ashley Blaine Featherson, Marque Richardson, DJ Blickenstaff, and Giancarlo Esposito.
Why it makes the list: This Netflix comedy tackles issues of race and privilege through the stories of college students studying at a fictional Ivy League university.
'Frasier'
Original run: 1993-2004
Starring: Kelsey Grammer, Jane Leeves, David Hyde Pierce, Peri Gilpin, and John Mahoney.
Why it makes the list: Like so many sitcoms from the '90s and early '00s, there's just something kind of comforting and simple about Frasier. Plus, Eddie the dog is one of the greatest actors of the 20th century—fact.
'Never Have I Ever'
Original run: 2020-present
Starring: Maitreyi Ramakrishnan, Poorna Jagannathan, Richa Moorjani, Jaren Lewison, Darren Barnet, and John McEnroe.
Why it makes the list: This coming-of-age comedy created by Mindy Kaling is hilarious and heartfelt and has been praised for challenging Asian stereotypes.
'Malcolm in the Middle'
Original run: 2000-2006
Starring: Frankie Muniz, Jane Kaczmarek, Bryan Cranston,Christopher Kennedy Masterson, Justin Berfield, Erik Per Sullivan, and Catherine Lloyd Burns.
Why it makes the list: This show defined the early-aughts family comedy and its fourth wall-breaking style was a welcome break from the usual mainstream comedies of the time.
'Extras'
Original run: 2005-2007
Starring: Ricky Gervais, Ashley Jensen, Stephen Merchant, Shaun Williamson, and Shaun Pye.
Why it makes the list: Ricky Gervais will definitely forever be remembered for The Office, but his brief series Extras deserves recognition too. The show follows an aspiring actor who's struggling as an extra as his career begins to take off. The real genius comedy comes courtesy of the guest stars though, as A-list stars like Kate Winslet, Orlando Bloom, and Patrick Stewart play bizarre fictional versions of themselves.
'Monty Python's Flying Circus'
Original run: 1969-1974
Starring: Graham Chapman, John Cleese, Eric Idle, Terry Jones, Michael Palin, and Terry Gilliam.
Why it makes the list: From the comedic minds that brought us movies like Monty Python and the Holy Grail, Life of Brian, and The Meaning of Life, this BBC sketch series shaped a generation of comedy. In fact, the comedy troupe's humor was so groundbreaking that fans and critics coined a new term—"Pythonesque"—to describe it and projects and comedians influenced by it.
'Just Shoot Me!'
Original run: 1997-2003
Starring: Laura San Giacomo, George Segal, Wendie Malick, Enrico Colantoni, David Spade, Chris Hogan, and Rena Sofer.
Why it makes the list: If you're of a certain age, Just Shoot Me! was one of those shows you watched in the afternoon on TBS when you were supposed to be doing your homework and it's now ingrained in your brain as a happy place. That happy place is now accessible via Hulu and this show holds up more than you would probably have expected.
'Happy Endings'
Original run: 2011-2013
Starring: Eliza Coupe, Elisha Cuthbert, Zachary Knighton, Adam Pally, Damon Wayans Jr., and Casey Wilson.
Why it makes the list: File this one away under the "gone too soon" category, for sure. This short-lived Chicago-set sitcom was the victim of a changing schedule that made it hard for it to find an audience, but we dare you not to binge the entire series in a week once you start streaming. The comedy is smart, character-driven, and genuinely laugh-out-loud hilarious.
'Community'
Original run: 2009-2015
Starring: Joel McHale, Gillian Jacobs, Danny Pudi, Yvette Nicole Brown, Alison Brie, Donald Glover, Ken Jeong, Chevy Chase, and Jim Rash.
Why it makes the list: Community developed a cult fanbase thanks to its smart, meta humor and creative event episodes. Fans have long called for six seasons and a movie, so we'll keep our fingers crossed for a feature-length reunion down the line.
'Fresh Off the Boat'
Original run: 2015-2020
Starring: Randall Park, Constance Wu, Hudson Yang, Forrest Wheeler, Ian Chen, Lucille Soong, Chelsey Crisp, and Ray Wise.
Why it makes the list: The show follows an Asian-American family and it's the first show to do so since 1994 (which is just bonkers on its own). Jessica Huang is amazing. She's the TV character we need, not the one we deserve.
'Sex and the City'
Original run: 1998-2001
Starring: Sarah Jessica Parker, Kim Cattrall, Kristin Davis, and Cynthia Nixon.
Why it makes the list: Saying which of the show's characters you identify with most is still shorthand for explaining what kind of a person you are.
'Brooklyn Nine-Nine'
Original run: 2013-present
Starring: Andy Samberg, Stephanie Beatriz, Terry Crews, Melissa Fumero, Joe Lo Truglio, Chelsea Peretti, Andre Braugher, Dirk Blocker, and Joel McKinnon Miller.
Why it makes the list: Brooklyn Nine-Nine is one of those shows that starts out funny and quickly escalates to hilarious as you get to know the characters and their quirks. Never has crime-solving been so fun.
'Curb Your Enthusiasm'
Original run: 2000-present
Starring: Larry David, Jeff Garlin, Cheryl Hines, Susie Essman, and J. B. Smoove.
Why it makes the list: The show's plots are outlined, but the actors improvise much of the dialogue. The result is a totally unique comedy series.
'South Park'
Original run: 1997-present
Starring:
Why it makes the list: When it comes to biting, razor-sharp social commentary satire, it's hard to find a team who does it better than South Park creators Trey Parker and Matt Stone.
'Broad City'
Original run: 2014-2019
Starring: Abbi Jacobson and Ilana Glazer
Why it makes the list: If anyone ever claims that women aren't funny in your presence, just show them a clip from Broad City and that will be the end of that nonsense.
'The Fresh Prince of Bel-Air'
Original run: 1990-1996
Starring: Will Smith, James Avery, Janet Hubert, Alfonso Ribeiro, Karyn Parsons, Tatyana M. Ali, Joseph Marcell, Daphne Maxwell Reid, and Ross Bagley.
Why it makes the list: Admit it: The Fresh Prince theme song and images of the Carlton dance are already playing on a loop in your head at the very mention of this show. That's how you know it's iconic.
'Don't Trust the B---- in Apartment 23'
Original run: 2012-2013
Starring: Krysten Ritter, Dreama Walker, Liza Lapira, Michael Blaiklock, Eric Andre, James Van Der Beek, and Ray Ford.
Why it makes the list: Krysten Ritter is at her comedic best as conniving It Girl/grifter Chloe and James Van Der Beek's performance as a fictional, self-obsessed version of himself deserved all the Emmy awards.
'Silicon Valley'
Original run: 2014-2019
Starring: Thomas Middleditch, T.J. Miller, Josh Brener, Martin Starr, Kumail Nanjiani, Christopher Evan Welch, Amanda Crew, Zach Woods, Matt Ross, Suzanne Cryer. Jimmy O. Yang, Stephen Tobolowsky, and Chris Diamantopoulos.
Why it makes the list: This comedy from Office Space scribe Mike Judge is the perfect skewering of tech culture in Silicon Valley—and it gets major bonus points for catapulting Kumail Nanjiani into the mainstream, of course.
'The IT Crowd'
Original run: 2006-2010 (plus a 2013 special)
Starring: Chris O'Dowd, Richard Ayoade, Katherine Parkinson, and Matt Berry.
Why it makes the list: While we're on the subject of TV's great, computer-loving nerds, we have to mention The IT Crowd. Yes, that's IT as in information technology. The British comedy, which aired originally on Channel 4, doesn't have a lot episodes (just 25 total, including the 2013 special that wrapped up the series), but each one is gold. The series focuses on the basement-bound, IT department at a big corporation, computer experts Roy and Moss, and their technologically-illiterate manager, Jen.
'Schitt's Creek'
Original run: 2015-2020
Starring: Eugene Levy, Catherine O'Hara, Dan Levy, Annie Murphy, Emily Hampshire, Jenn Robertson, Chris Elliott, Tim Rozon, Sarah Levy, Dustin Milligan, Noah Reid, Karen Robinson, and John Hemphill.
Why it makes the list: The show follows the formerly-wealthy Rose family as they try to start their lives over in the small town of Schitt's Creek—and executes some perfect commentary on wealth and privilege in America in the process.
'It's Always Sunny in Philadelphia'
Original run: 2005-present
Starring: Charlie Day, Glenn Howerton, Rob McElhenney, Kaitlin Olson, and Danny DeVito.
Why it makes the list: This underdog sitcom has proven its staying power as one of the longest-running series in TV history. And, if you like shows about terrible people being consistently terrible, you won't find a show that does that better than It's Always Sunny.
'Atlanta'
Original run: 2016-present
Starring: Donald Glover, Brian Tyree Henry, Lakeith Stanfield, and Zazie Beetz.
Why it makes the list: Yes, Atlanta mixes in more drama with its comedy than a lot of the entries on this list, but the show's heart is a lot of what makes it magic.
'Veep'
Original run: 2012-2019
Starring: Julia Louis-Dreyfus, Anna Chlumsky, Tony Hale, Reid Scott, Timothy Simons, Matt Walsh, Sufe Bradshaw, Kevin Dunn, Gary Cole, and Sam Richardson.
Why it makes the list: Because Julia Louis-Dreyfus is a comic genius and a national treasure.
'The Simpsons'
Original run: 1989-present
Starring: Dan Castellaneta, Julie Kavner, Nancy Cartwright, Yeardley Smith, Hank Azaria, and Harry Shearer.
Why it makes the list: This animated series is the longest-running in sitcom in history, which has to count for something. Recently, fans have started to challenge some of the more dated jokes and characters on the series, and how the producers respond will likely determine the series' ultimate place in TV history.
'The Golden Girls'
Original run: 1985-1992
Starring: Bea Arthur, Betty White, Rue McClanahan, and Estelle Getty.
Why it makes the list: These woman are still who we want to be when we grow up.
'Cheers'
Original run: 1982-1993
Starring: Ted Danson, Shelley Long, Nicholas Colasanto, Rhea Perlman, George Wendt, John Ratzenberger, Kelsey Grammer, Woody Harrelson, Bebe Neuwirth, and Kirstie Alley.
Why it makes the list: Who doesn't want to go where everybody knows your name? It's a classic.
'Black-ish'
Original run: 2014-present
Starring: Anthony Anderson, Tracee Ellis Ross, Yara Shahidi, Marcus Scribner, Miles Brown, Marsai Martin, Jeff Meacham, Jenifer Lewis, Deon Cole, and Peter Mackenzie.
Why it makes the list: The show features an incredible ensemble cast and manages to balance all-out hilarity with tackling important social and cultural issues.
'30 Rock'
Original run: 2006-2013
Starring: Tina Fey, Tracy Morgan, Jane Krakowski, Jack McBrayer, Scott Adsit, Judah Friedlander, and Alec Baldwin.
Why it makes the list: The cast is incredible. They made even the weirdest, most off-the-wall plots work, and pushed the envelope with jokes aimed at entertainment industry insiders.
'The Office'
Original run: 2005-2013
Starring: Steve Carell, Rainn Wilson, John Krasinski, Jenna Fischer, B. J. Novak, Ed Helms, James Spader, Melora Hardin, David Denman, Leslie David Baker, Brian Baumgartner, Kate Flannery, Angela Kinsey, Oscar Nunez, Phyllis Smith, Mindy Kaling, Paul Lieberstein, Creed Bratton, Craig Robinson, Ellie Kemper, Zach Woods, Amy Ryan, Catherine Tate, Clark Duke, and Jake Lacy.
Why it makes the list: Mostly for the pranks between Jim and Dwight. And the one-liners. And the funny-because-it's-true commentary on soul-sucking work.
'Modern Family'
Original run: 2009-2020
Starring: Ed O'Neill, Sofía Vergara, Julie Bowen, Ty Burrell, Jesse Tyler Ferguson, Eric Stonestreet, Sarah Hyland, Ariel Winter, Nolan Gould, Rico Rodriguez, Aubrey Anderson-Emmons, and Jeremy Maguire.
Why it makes the list: The ensemble is strong. The jokes are smart and laugh-out-loud funny. It's won a mountain of Emmys and it deserves them.
'Arrested Development'
Original run: 2003-2006
Revival run: 2013-present.
Starring: Jason Bateman, Portia de Rossi, Will Arnett, Michael Cera, Alia Shawkat, Tony Hale, David Cross, Jeffrey Tambor, and Jessica Walter.

Why it makes the list: The show redefined the idea of a dysfunctional family comedy and is, to this day, one of the best ensemble shows out there.
'Seinfeld'
Original run: 1989-1998
Starring: Jerry Seinfeld, Julia Louis-Dreyfus, Michael Richards, and Jason Alexander.
Why it makes the list: Seinfeld regularly places high on lists of the best TV shows of all time. The "show about nothing" changed the game for sitcoms and paved the way for character-driven (rather than premise-driven) series.
'Insecure'
Original run: 2015-2021
Starring: Issa Rae, Yvonne Orji, Jay Ellis, Lisa Joyce, Natasha Rothwell, Amanda Seales, Y'lan Noel, Alexander Hodge, and Kendrick Sampson
Why it makes the list: Issa Rae and Yvonne Orji's characters get real about all of the insecure moments their characters have as Black women in the best, funniest way.
'Friends'
Original run: 1994-2004
Starring: Jennifer Aniston, Courteney Cox, Lisa Kudrow, Matt LeBlanc, Matthew Perry, and David Schwimmer.
Why it makes the list: It shaped a generation of viewers and perfectly captured that weird time in your twenties when your friends are your family. It's also required viewing for millennials who want to understand weird references made by the rest of their generation.
'The Good Place'
Original run: 2016-2020
Starring: Kristen Bell, William Jackson Harper, Jameela Jamil, D'Arcy Carden, Manny Jacinto, and Ted Danson.
Why it makes the list: First of all, no show will make you think more about ethics, morality, and mortality. None. Watching it is like taking a college-level philosophy class that's actually fun. Second, the completely serialized show manages to blow up its own premise time and again and keep going (and, more impressively, getting better).
'Parks and Recreation'
Original run: 2009-2015
Starring: Amy Poehler, Rashida Jones, Paul Schneider, Aziz Ansari, Nick Offerman, Aubrey Plaza, Chris Pratt, Adam Scott, Rob Lowe, Jim O'Heir, Retta, and Billy Eichner.
Why it makes the list: It's smart. It's hilarious. It's satirical. It's ridiculous. It's heart-warming. It's everything you could want from a series and then some. Plus, Leslie Knope is a feminist icon in her own right.
'Saturday Night Live'
Original run: 1975-present
Starring: So. So. SO many people over the years.
Why it makes the list: SNL has good years and less good years. Sometimes the cast and the writers just click and the result is comedy gold. Over the years, SNL has produced some of the most biting political satire around and launched the careers of some of the biggest comedians in the world.
'I Love Lucy'
Original run: 1951-1957
Starring: Lucille Ball, Desi Arnaz, Vivian Vance, and William Frawley.
Why it makes the list: Without I Love Lucy, we wouldn't have the sitcom as we know it today. The show has also aged incredibly well—it is just as hilarious today as it was in the 1950s, which is really saying something.
'Bojack Horseman'
Original run: 2014-2020
Starring: Will Arnett, Amy Sedaris, Alison Brie, Aaron Paul, and Paul F. Tompkins
Why it makes the list: Bojack may be darker than most of these shows, but we could all use a dose of dark humor at some point. Plus the adorable background gags almost make up for it.
'Living Single'
Original run: 1993-1998
Starring: Queen Latifah, Kim Fields, Erika Alexander, Kim Coles, John Henton, and T.C. Carson
Why it makes the list: This classic sitcom that inspired Friends is a hilarious love letter to friendships in your 20s and Blackness as a whole.
'Better Things'
Original run: 2016-present
Starring: Pamela Adlon, Mikey Madison, Hannah Riley, Olivia Edward, and Celia Imrie
Why it makes the list: This sitcom is more in the vein of Atlanta than Modern Family, with each episode showing the deep bond between Sam and her three daughters.
'Superstore'
Original run: 2015-2021
Starring: America Ferrera, Ben Feldman, Nico Santos, Lauren Ash, Colton Dunn, Mark McKinney, Kaliko Kauahi, and Nichole Sakura
Why it makes the list: The workplace comedy about employees in a big-box store has a huge cast of characters you can't help but love.
'Bob's Burgers'
Original run: 2011-present
Starring: H. Jon Benjamin, Dan Mintz, Eugene Mirman, John Roberts, Kristen Schaal, and Larry Murphy
Why it makes the list: The Belcher family may be full of oddballs, but their our favorite oddballs, and we'd stop by Bob's Burgers any day.
'Catastrophe'
Original run: 2015-2019
Starring: Sharon Horgan, Rob Delaney, Mark Bonnar, Ashley Jensen, Daniel Lapaine, Jonathan Forbes, Sarah Niles, and Carrie Fisher
Why it makes the list: This show about a couple who gets pregnant after a one-weekend stand and decide to have the baby is full of both sweet and laugh-out-loud moments about the absurdity of the situation, and life itself.
'American Vandal'
Original run: 2017-2018
Starring: Tyler Alvarez, Griffin Gluck, Jimmy Tatro, Camille Hyde, Calum Worthy, Melvin Gregg, and Travis Tope
Why it makes the list: This true-crime sendup gave us two excellent seasons of high schoolers solving crimes about dick drawings and poop pranks (and we still want another season, Netflix!).
Celebrity news, beauty, fashion advice, and fascinating features, delivered straight to your inbox!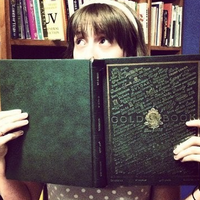 Kayleigh Roberts is a freelance writer and editor with more than 10 years of professional experience. Her byline has appeared in Marie Claire, Cosmopolitan, ELLE, Harper's Bazaar, The Atlantic, Allure, Entertainment Weekly, MTV, Bustle, Refinery29, Girls' Life Magazine, Just Jared, and Tiger Beat, among other publications. She's a graduate of the Medill School of Journalism at Northwestern University.