Editors handpick every product that we feature. We may earn commission from the links on this page.
The 44 Best Comedy Series of All Time
They'll make you laugh until your face hurts.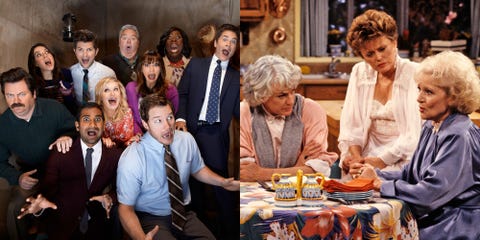 When you need something that will make your heart feel good and your cheeks hurt from smiling, nothing compares to a great comedy series. Sure, funny movies are great, but there's something unique about a television series. You really get to know the characters, you feel like you can escape into their world—and, most importantly, you can binge them for hours (or days) of continuous good vibes, thanks to the Netflix gods (and Hulu, Amazon Prime, Disney +, Peacock, and HBO Max—basically any streaming service we can get our hands on a log-in for). Comedy TV shows are the emotional equivalent of comfort food: a soothing feast for your eyes that always lifts your mood.
From classic comedy sitcoms that will give you a chance to bask in nostalgia to theme-driven dramadies that tackle important social issues through humor to the iconic comedies we all love to binge over and over (and over) because watching them feels like visiting an old friend and helps us through the harsh realities of modern life, there's a little of everything on this list. Without further ado, our countdown to the best comedy series of all time.
This content is created and maintained by a third party, and imported onto this page to help users provide their email addresses. You may be able to find more information about this and similar content at piano.io