16 Books by Latinx Authors You Need to Read, Like, Yesterday
Stories so good, you won't need a bookmark.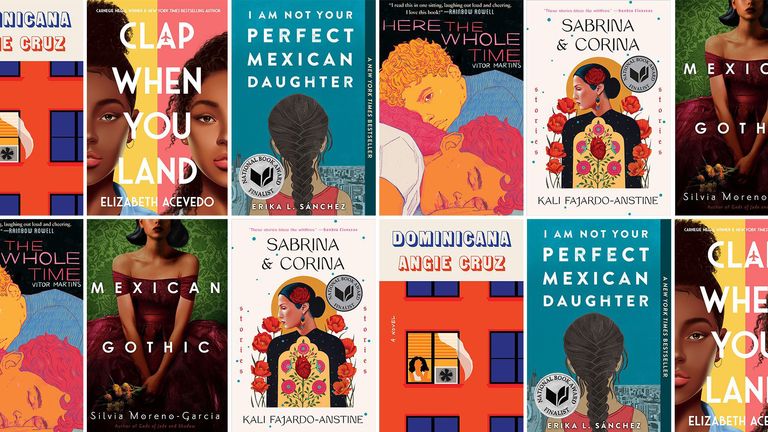 (Image credit: Courtesy)
Reading takes you places you never thought you could go—it's why most of us fall in love with books. Sometimes books lead us to a small village in Mexico (opens in new tab) or to New York City in 1965 or, perhaps, to the beaches of Miami (opens in new tab). (Who doesn't want a free trip to Miami?) Often, the stories are so enthralling the bookmark that rests on our side table rarely ever gets used. If you're looking for those kinds of books—ones you can't put down—you can find them here, courtesy of some seriously talented Latinx authors.
It's no secret the world of publishing can look a certain way, so here at Marie Claire, we want to shine a light on the best books by a multitude of authors from different backgrounds. Sure, we're already doing that through our monthly online book club, #ReadWithMC (opens in new tab), but why not go one step further? (Our extensive lists on books by Black (opens in new tab) and LGBTQ+ (opens in new tab) authors are also filled with page-turners.) As a Latinx woman myself, I'm so excited to share this list of books.
Ahead, dive into 16 of the best fiction books (opens in new tab) out there by Latinx authors. Whether it's a story of first love, a visit to a horror house gone wrong, or a collection of short stories about love in Puerto Rico (opens in new tab), there's a narrative for everyone on this list. Your reading palette deserves a little change, and there's no better place to start than here.
1/16
'The Last Train to Key West' by Chanel Cleeton
Cleeton is known for writing stories that read like love letters to Cuba, and The Last Train to Key West is her best yet. Set in 1935, it follows three women whose lives are forever altered when a powerful hurricane hits the Florida Keys. There's romance, adventure, suspense, and everything else you want in a novel within these pages.
2/16
'Love in the Time of Cholera' by Gabriel García Márquez
Young love is a beautiful thing, and Florentino Ariza and Fermina Daza are the epitome of it. All good things must come to an end, though, and when Fermina chooses to marry a wealthy doctor, Florentino is left crushed. Still, his love for her never falters, and when word of her rich husband's passing reaches his ears, he sets off to declare his love for Fermina once and for all.
3/16
'Afterlife' by Julia Alvarez
In her first adult novel in almost fifteen years, Alvarez tells the story of immigration writer Antonia Vega and the series of events that happen after she retires from teaching college-level English. It asks questions concerning family, parenthood, losing love ones, and believing in yourself. It's utterly poetic.
4/16
'You Had Me at Hola' by Alexis Daria
Two telenovela stars sign on to be love interests in the newest romantic comedy from one of the world's biggest streaming services. Wanting to make sure the movie's a hit, they agree to rehearse off-set to make sure their on-screen chemistry is steamy. Things get interesting between the two, and quick, if you know what I mean. *wink wink*
5/16
'Sabrina & Corina: Stories' by Kali Fajardo-Anstine
This collection of 11 short stories centers on the lives of different Latina women of Indigenous ancestry who live in Denver, Colorado. Each narrative focuses on different issues, from abandonment to death to love, family, and more. One story in, and you'll see why it was nominated for 2019's National Book Award in the fiction category.
6/16
'The Worst Best Man' by Mia Sosa
Carolina Santos is a wedding planner who was left at the altar. Ironic, yes, but she quickly puts the past behind her...until she gets the opportunity to expand her business and is forced to face that past again. She's tasked with working with her ex-fiancé's brother, Max. They both strive to have a professional relationship, but as the weeks go on, other feelings start to bubble to the surface.
7/16
'Clap When You Land' by Elizabeth Acevedo
Two sisters who never knew each other existed discover the truth about each other when their father dies in a plane crash. As they come to terms with their new reality, they establish a bond that will change their lives forever.
8/16
Puerto Rican girls are taught to want one thing growing up: true love. In this collection of short fictional stories, Rodriguez illustrates that this kind of love isn't always achieved, especially as these girls are raised by women who have witnessed the betrayal, grief, and violence that can come with relationships.
9/16
'Dominicana' by Angie Cruz
When Juan Ruiz proposes to 15-year-old Ana Cancion, she says yes. Sure, he's twice her age, but his proposal promises a new life in New York City. On New Year's Day 1965, they set out for their new lives and leave behind an old one. When there, Ana finds herself homesick, she struggles between following her heart or staying true to her family.
10/16
'Hurricane Season' by Fernanda Melchor
A woman known in the Mexican village of La Matosa as "The Witch" is found floating in a body of water. Throughout this book's chapters, eight characters are introduced and tell their stories, filling in the blanks as to why the town's most infamous woman is dead. It's gritty and filled with violence, but the story will stick with you long after its final page.
11/16
'Here the Whole Time' by Vitor Martins
Felipe's looking forward to school break and 15 days of uninterrupted alone time—until his mother informs him that Caio, the kid from apartment 57, will be spending the break with them while his parents are on vacation. The only problem? He has possibly the world's biggest crush on Caio.
12/16
'Cantoras' by Carolina De Robertis
Set in Uruguay in 1977, five women discover an uninhabited cape, Cabo Polonio, and claim it as their secret sanctuary to escape their current world—one where they can be punished for being gay. Over the next 35 years, the women move between their two worlds as they experience all things that make life so great: love, family, community, and more.
13/16
'I Am Not Your Perfect Mexican Daughter' by Erika L. Sánchez
Olga was always the perfect daughter, not Julia, but when a tragic accident takes her beloved sister's life, Julia is left to pick up the pieces. As she sorts through her older sister's past and tries to move forward, Julia soon realizes her sister wasn't as perfect as she thought and that there was more to her sister than just the image their mother made for her.
14/16
'Mexican Gothic' by Silvia Moreno-Garcia
When Noemí's father receives a suspicious letter from her recently married cousin, Catalina, he sends her out to visit her cousin. When she arrives at the house in the Mexican countryside, something feels off, and it's not just the family that lives there.
15/16
'Fiebre Tropical' by Juliana Delgado Lopera
Fifteen-year-old Francisca moves from Bogotá, Colombia, with her sister and mother to live with their grandmother in Miami. Her family soon seeks refuge in a Colombian immigrant fundamentalist church, but Francisca finds herself sticking out like a sore thumb. She forms an unlikely friendship with the pastor's daughter, but those friendly feelings quickly turn into something more.
16/16
'The House of the Spirits' by Isabel Allende
Find yourself falling into an epic tale of three generations of Chilean women: Clara, Blanca, and Alba Del Valle Trueba. One experiences forbidden love, another fights for a revolution, and one faces supernatural wonders. It's the ultimate family saga.
Bianca Rodriguez is the Fashion & Luxury Commerce Manager at Hearst Magazines, covering fashion, beauty, and more for Cosmopolitan, Elle, Esquire, Harper's BAZAAR, and Town & Country. She likes lounging about with a good book and thinks a closet without platform sneakers is a travesty.