The Cast of Netflix's 'Selena: The Series' Look Just Like Their Real-Life Counterparts
Netflix 'Selena: The Series' Cast vs. Real-Life Counterparts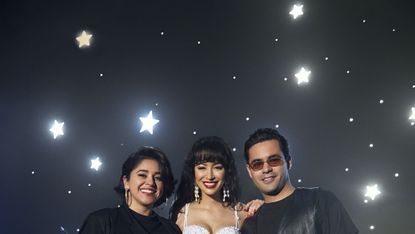 (Image credit: Michael Lavine)
It's been a quarter of a century since the tragic death of Tejano musician Selena Quintanilla, and almost as long since Jennifer Lopez introduced the late Grammy winner to an even broader audience with the release of the 1997 biopic Selena. Fortunately for Selena fans looking for an even deeper dive into the incredible life and ultra-successful career of the singer—and for anyone else looking for their next Netflix binge and musical obsession—the first part of Netflix's Selena: The Series arrives on the streamer on Dec. 4, with nine episodes dramatizing Selena's childhood and meteoric rise to fame. Unlike some other ventures with Selena's name attached, the series has the blessing of the "Bidi Bidi Bom Bom" singer's family, with her father and sister serving as executive producers. An added bonus of having the Quintanillas at the helm of the series is that they likely had a hand in casting Selena and their own onscreen doppelgängers, resulting in a shockingly spot-on resemblance between each character and their real-life inspiration. Click through to see how they all match up.
1/12
Christian Serratos
Serratos will take on the lead role in Selena: The Series. She made her onscreen debut as Suzie Crabgrass in Ned's Declassified School Survival Guide, had an award-winning role as Angela in the Twilight film series, and can most recently be seen playing Rosita Espinosa in The Walking Dead.
2/12
Selena Quintanilla
The "Queen of Tejano music" was known not only for her massive success as a singer and songwriter—she won the Grammy for Best Mexican/American Album in 1994 and was named the top-selling Latin artist of the '90s by Billboard—but also for her glitzy sense of style. Sadly, she was killed in 1995 at the age of 23 by her close friend Yolanda Saldívar.
3/12
Ricardo Chavira
Chavira, who plays Selena's father Abraham in the series, has had a prolific TV career. He's held recurring roles in Desperate Housewives, Scandal, Jane the Virgin, and Santa Clarita Diet.
4/12
Abraham Quintanilla Jr.
Quintanilla was not only Selena's very protective father, but also her manager and biggest supporter, and the creator of "Selena y Los Dinos," named after a band he used to perform with as a young man. Since his youngest daughter's death, he has made many public appearances to pay tribute to her and is a producer of both the 1997 Selena film and Selena: The Series.
5/12
Seidy López
López is no stranger to Selena biopics: She appeared alongside J.Lo in the 1997 film, playing Debra, Selena's friend who accompanies her to the mall to try on dresses for the Grammys. In the new series, her first onscreen role in a decade, she'll play Selena's mother, Marcella.
6/12
Marcella Quintanilla
Like her husband, Marcella was both super involved in her daughter's life and career, and has continued to commemorate Selena's successes through award ceremonies, tribute concerts, documentaries, and more since the singer's untimely death. Marcella and her family also run the Selena Foundation, which supports efforts to improve educational opportunities for children.
7/12
Gabriel Chavarria
The role of Selena's older brother A.B. in Selena: The Series is the latest for Chavarria, who made his film debut in Freedom Writers and, more recently, had a lead role in the first season of USA Network's The Purge TV series.
8/12
A.B. Quintanilla
A.B. (short for Abraham Quintanilla III) was a bass guitar player for Selena y Los Dinos, and also helped write and produce some of his younger sister's biggest hits, including "Como la Flor" and "Amor Prohibido." After Selena's death, he formed, performed with, and produced songs for multiple cumbia-pop groups, resulting in dozens of nominations and wins at the Latin Grammy Awards, Latin Billboard Music Awards, and more.
9/12
Noemi Gonzalez
Gonzalez has racked up long-running TV credits on The Young and the Restless and Hulu's East Los High. She'll play Selena's older sister Suzette in Selena: The Series.
10/12
Suzette Quintanilla
Suzette was another member of the family band, playing drums for Selena y Los Dinos, though she ended her musical career after her younger sister's death in 1995. Now, she is the manager of the Selena Museum in their hometown of Corpus Christi, Texas, and the Quintanillas' music production company Q-Productions. Suzette is also listed as an executive producer on the new Netflix series about her sister's life.
11/12
Jesse Posey
Posey will play Chris Pérez, Selena's bandmate and husband. This will be his first major role, but if he looks familiar, you might be thinking of his older brother, Teen Wolf actor Tyler Posey.
12/12
Chris Pérez
Pérez met his future wife when he started playing lead guitar for Selena y Los Dinos. Because Abraham Quintanilla disapproved of his daughter's relationship—even going so far as to kick Pérez out of the band—the lovebirds secretly eloped in 1992; Pérez's father-in-law ultimately came around and let him back into the group, and the family remained close to Pérez following the death of his wife. In the decades since, Pérez formed another Grammy-winning band and also collaborated on his brother-in-law A.B.'s cumbia-pop projects.
Celebrity news, beauty, fashion advice, and fascinating features, delivered straight to your inbox!
Andrea Park is a Chicago-based writer and reporter with a near-encyclopedic knowledge of the extended Kardashian-Jenner kingdom, early 2000s rom-coms and celebrity book club selections. She graduated from the Columbia School of Journalism in 2017 and has also written for W, Brides, Glamour, Women's Health, People and more.