12 Shows Like 'Virgin River' That You Can Watch Right Now
Because you can't spend all your free time obsessing over the end of season two.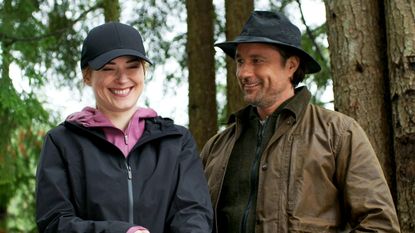 (Image credit: Netflix)
The biggest TV shows this year have been all about escapism and easy binging, and Virgin River, the latest series to dominate the Netflix charts, fits perfectly in both categories. The show, whose second season arrived on Netflix at the end of November, is a gentle drama set to a killer folk-pop soundtrack, with a soap-style ethos of "anything that can happen—and a few more things that never actually would—will happen," meaning that in just two seasons, viewers have already been treated to a whole host of forbidden romances, love triangles, secret twins, hidden identities, tragic backstories, cartoonish villains, and mysterious acts of violence.
Those who have already zoomed through the newest episodes know just how addicting Virgin River can be, but while we wait for news of a third season renewal, there's only so much time you can spend rewatching the first two seasons and mulling over that shocking season two finale. In that case, once you've gotten your fill, check out these 12 shows that capture the same combo of heartwarming small-town life and low- to mid-stakes drama that got you so invested in the lives of the residents of Virgin River, California, in the first place.
1. Hart of Dixie
Probably the most direct precursor of Virgin River, Hart of Dixie stars Rachel Bilson as Dr. Zoe Hart, who moves to Bluebell, Alabama, to pursue a career as the town physician after failing to accomplish her goal of becoming a heart surgeon in her native New York City. The CW show lasted four seasons, giving Zoe plenty of time to reveal her own dramatic backstory and get tangled up in a love triangle, while her small-town friends and neighbors do the same.
2. This Is Us
If you somehow avoided being swept up in the sprawling ensemble drama phenomenon that is This Is Us, now's the time. Like Virgin River, the NBC series follows a broad cast of characters as they make and break their connections with one another, learn to deal with the trauma of their pasts, and make big plans for the future. Season five, which showrunners have confirmed will be the second to last, is currently airing.
3. Sweet Magnolias
Netflix knows its small-town drama. Sweet Magnolias, which, like Virgin River, is based on an extensive book series, follows lifelong best friends Maddie, Helen, and Dana as they navigate a very public divorce, a desire to start a family, and the impact of long-lasting trust issues, respectively—all while opening a spa together. The first season ended with a very Virgin River-esque cliffhanger, but the show has already been renewed for a second season, expected out sometime in 2021.
4. Schitt's Creek
Though not quite as dramatic as Virgin River, Schitt's Creek nails the heartwarming vibes and fish-out-of-water trope of the Netflix series. In the Emmy-sweeping show's six seasons, the wealthy Rose family, living in a motel in the tiny town of Schitt's Creek after losing their fortune, slowly but surely learn to love and respect each other and their quirky neighbors. Come for Moira's wall of wigs, stay for the sneakily heartfelt family bonding moments.
5. Everwood
Everwood ran for four seasons on The WB in the early 2000s and revolved around yet another doctor uprooting his entire big-city life to move to a small town. This time, however, Dr. Andy Brown had two kids in tow, making his transition into a more involved father after the death of his wife a core plot point of the high-drama, low-stakes series. Keep your eyes peeled for a very young Chris Pratt in his first major TV role.
6. Gilmore Girls
Small town? Check. Quirky residents of said small town? Check. Ambitious women in the lead roles? Check. Gilmore Girls has everything you love about Virgin River, but with a mother-daughter relationship at its core and the dialogue turned up to hyperspeed. What more could you ask for?
7. Jane the Virgin
I'll see the ridiculously dramatic twists of Virgin River, and raise you the inadvertent artificial insemination, kidnapping schemes, faked deaths, amnesia storylines, and very meta fourth wall-breaking of Jane the Virgin. You might want to buckle up before you dive into the show's jam-packed five seasons.
8. Chesapeake Shores
A Hallmark series about a woman who moves from N.Y.C. to her Maryland hometown to help her sister save her inn from foreclosure and, once there, must deal with her familial rifts and the high school sweetheart she never really got over? You know this is going to be the perfect mix of cheesily over-the-top and absolutely thrilling. The show was renewed earlier this year for a fifth season, which will hopefully arrive sometime in 2021.
9. Riverdale
It's a little (OK, a lot) campier than Virgin River, and focused largely on high schoolers, but don't worry—Riverdale, based on the classic Archie comics, has no shortage of twists, turns, mind-boggling reveals, and confusing love triangles. Now's a good time to dive in, before the fifth season premieres in January.
10. Spinning Out
Though canceled after just one season, Spinning Out still offers 10 addicting episodes of ice skating drama—the best kind of drama, IMO. Kat Baker (Kaya Scodelario) has one last chance to pursue her dreams of being an Olympic-level skater after an almost career-ending injury, but finds plenty of obstacles in the form of a bad-boy skating partner, the physical and emotional toll of training, and a potentially devastating family secret.
11. Dawson's Creek
Another early 2000s ensemble drama, Dawson's Creek broke major ground throughout its six seasons, with its frank depictions of mental illness, addiction, relationship issues, and, of course, primetime TV's first "passionate" gay kiss. More than two decades after its premiere, the show is still worth a rewatch—just don't be surprised when you don't hear that iconic theme song.
12. Northern Rescue
You'd think watching people attempt to move on from the trauma of losing a spouse by moving from a big city to a small town would get old, but nope! Northern Rescue echoes Virgin River in its central plotline, in which Billy Baldwin plays a widower and search and rescue commander who moves his three children from Boston to his hometown of Turtle Bay, Ontario, where the whole family quickly becomes entangled in the local goings-on. The show has yet to be renewed for a second season after its first season premiered in 2019, but here's hoping the success of Virgin River convinces Netflix that there's plenty of interest in these types of small-town dramas.
Andrea Park is a Chicago-based writer and reporter with a near-encyclopedic knowledge of the extended Kardashian-Jenner kingdom, early 2000s rom-coms and celebrity book club selections. She graduated from the Columbia School of Journalism in 2017 and has also written for W, Brides, Glamour, Women's Health, People and more.