Editors handpick every product that we feature. We may earn commission from the links on this page.
12 Shows Like 'Virgin River' That You Can Watch Right Now
Because you can't spend all your free time obsessing over the end of season two.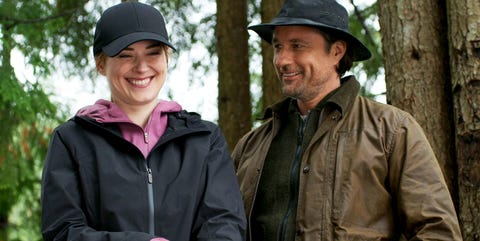 The biggest TV shows this year have been all about escapism and easy binging, and Virgin River, the latest series to dominate the Netflix charts, fits perfectly in both categories. The show, whose second season arrived on Netflix at the end of November, is a gentle drama set to a killer folk-pop soundtrack, with a soap-style ethos of "anything that can happen—and a few more things that never actually would—will happen," meaning that in just two seasons, viewers have already been treated to a whole host of forbidden romances, love triangles, secret twins, hidden identities, tragic backstories, cartoonish villains, and mysterious acts of violence.
Those who have already zoomed through the newest episodes know just how addicting Virgin River can be, but while we wait for news of a third season renewal, there's only so much time you can spend rewatching the first two seasons and mulling over that shocking season two finale. In that case, once you've gotten your fill, check out these 12 shows that capture the same combo of heartwarming small-town life and low- to mid-stakes drama that got you so invested in the lives of the residents of Virgin River, California, in the first place.
This content is created and maintained by a third party, and imported onto this page to help users provide their email addresses. You may be able to find more information about this and similar content at piano.io