Netflix's 'Virgin River' Season 3: Everything We Know
Because we must find out what happened to Jack!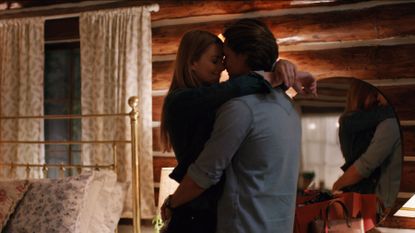 (Image credit: Netflix)
As avid bingers of the show already know, Netflix's Virgin River (opens in new tab) is exactly the type of low-key (yet highly soapy) romantic drama that will offer just enough gentle escapism to keep your mind occupied through the long winter ahead. The first season of the show saw Mel Monroe (Alexandra Breckenridge) (opens in new tab) running away from her painful past in Los Angeles to become a midwife and nurse practitioner in the tiny (and fictional) northern California town of Virgin River—only to discover that not only was she unable to escape her past, but also that small town living comes with more than its fair share of major drama.
Against all odds, the second season somehow outdid the first in terms of breakups, makeups, and unbelievable reveals, ultimately ending in a cliffhanger so shocking that it should be a federal crime to end a season that way. Obviously, a third season is crucial. Here's everything we know about the next installment of Virgin River, which finished filming in early 2021 and was released July 9, 2021.
What will happen in Virgin River season 3?
Season three had its work cut out for it, since season two ended with at least one cliffhanger for almost every character. The next batch of episodes will need to address whether Mel and Jack are back together for good, the medical news Doc Mullins was about to share with Hope before they were interrupted by a surprise re-engagement party, how Preacher decides between staying in Virgin River or taking that new chef job in San Francisco, and, most urgently, who shot Jack (opens in new tab) (and, of course, if he even survives).
If this seems like a tall order, fear not: Tenney, the showrunner, has all but guaranteed that every unanswered question will be addressed in a third season that will also, in true rom-dram fashion, open up many new cans of worms for the residents of Virgin River. In an interview (opens in new tab) with TVLine, she noted that the question of who shot Jack will be explored throughout season three, with the mystery potentially continuing into future seasons. Tenney also hinted that the next season won't pick up right where season two left off, immediately after Mel discovered Jack bleeding from a gunshot on the floor of the bar, and she warned viewers to expect "a larger time jump than we had between seasons one and two."
Here's the trailer:
So, is Jack dead?
Spoilers ahead. Going into season three, we do know one thing for sure: Jack survives, and recovers entirely from the shooting—physically, that is. Not only is he featured looking perfectly healthy in the trailer, but promotional photos from season three reveal that he is, in fact, alive and well. Behold:
But who shot Jack?
Which brings me to the question: Who shot him? Benjamin Hollingsworth, who played Brady, tells TV Line: "I'm pretty sure Brady is on everyone's suspect list." He also revealed on Instagram that the third season will have "bombshell" twists and unexpected turns, commenting on an Instagram post: (opens in new tab) "I'm wearing a safety helmet to protect myself from all the bombshell plot twists season 3 has. Hope y'all ready for it."
Speaking of Jack being only physically OK: Showrunner Sue Tenney shared with Netflix: "Jack has a talent for compartmentalizing his emotions. He will continue to put Mel's needs ahead of his own until the point he can no longer ignore the magnitude of what occurred...We certainly explore how this injury connects with Jack's psychological journey." She added: "I can't tell you how long he (or the viewers) will have to wait to find out the truth, but I can promise it will be well worth it."
And what about Jack and Mel?
In season three, we see Jack grappling with not only Charmaine trying to absolve him of his parenting responsibilities—judging by the trailer, Jack does not want to be absolved—but Mel wanting a baby of her own. "How would you feel about me having a baby?" she asks him in the trailer. Jack is also dealing with the fallout from the shooting, which we see reverberating through the season three trailer—so, in short, anticipate a lot of drama surrounding Jack.
Showrunner Tenney said of Mel and Jack to Us Weekly: (opens in new tab) "In season 3, at the end, they're going to face an obstacle that could possibly change everything for them."
What else should we expect?
Ricky and Lizzie
Season three won't be all about Mel and Jack—Tenney told (opens in new tab) TVLine that another couple will likely get plenty of screen time in the next installment of Virgin River: Ricky and Lizzie, who got very close in season two, much to the frustration of Lizzie's aunt Connie. "Ricky has a fantastic arc in the books that I plan to explore," Tenney said. "We get into a little bit of it in season two, but we'll definitely explore it more in further seasons."

Sarah Dugdale, who plays Lizzie, told TV Line of her role in season 3: "Connie is such a part of their relationship, not by Lizzie's choice. In Season 3, we'll hopefully get to explore her presence, even when she isn't there; the complications that brings up for [Ricky and Lizzie]; and their ability to stay present together when there's all this other stuff going on."
Doc and Hope
As for Doc, Tenney said he'll have to deal with "some stuff" that will challenge both himself and his relationship with Hope in the next season.
In the season three trailer, we get a hint of at least some of what he's dealing with: "You're going blind?" Mel asks, and Doc confirms that it's a real possibility.
Preacher and Christopher
Preacher, meanwhile, will have to make a decision between accepting a new opportunity outside of his small town or accepting Paige-slash-Michelle's son Christopher's plea for help, all while dealing with the ominous message of revenge he received from Wes' twin brother (surprise!). In the season three trailer, we see him doubt his caretaking abilities, saying, "Maybe [Christopher] should be with someone else" during a scary situation in which Christopher appears to be receiving medical care.
All Tenney would say about Preacher's very tangly situation was, "If you watch the show, you know how that character is going to respond to a call to duty."
Charmaine and the twins
In the trailer, Charmaine—who is still pregnant with Jack's twins—is shown moving on with someone called Todd. "I'm not alone, so you're free," she says of Jack's parenting responsibilities; Jack looks aghast. Could a custody battle over the twins be in Charmaine and Jack's future?
Hammersley opened up to TVLine (opens in new tab) about what it's like to play a character who is almost universally hated by viewers. "There are two sides to the story," she said, explaining, "What Charmaine wants is pretty simple. She wants love, she wants a family and she wants to be connected—not just to Jack, but also to Hope. She feels like she belongs at the salon, but she really wants to belong in Virgin River."
Brady and...someone?
Brady will finally have a storyline that isn't related to drugs or trauma or (attempted) murder: Tenney confirmed to Us Weekly that romance is on the cards for Brady this season. "[Brady] will get into a relationship this season with someone that will complicate things and will ripple through Jack's life," she said, and Us Weekly speculated that it might be with Jack's sister Brie—a new character, played by Grey's Anatomy alum Zibby Allen.
Said Hollingsworth to Us Weekly: (opens in new tab)"I think just the idea of him with Jack's sister is scary for Brady. Jack finding out about that would cause a lot of drama."
Will there be new characters?
If you thought Virgin River already had enough on its plate with the individual storylines of its many existing characters, you might want to buckle up. When Netflix announced the series' official season three renewal, the streaming service also confirmed that Zibby Allen and Stacey Farber would be joining the cast. Allen, who's appeared on The Flash and Grey's Anatomy, will have a main role as Jack's lawyer sister Brie, while Saving Hope alum Farber will have a recurring role as Lilly's daughter Tara.
The official Virgin River Instagram then confirmed in May that at least two new characters would be joining the show for season three—and confirmed the appearances of not just Tara, played by Farber, but also Denny, played by Kai Bradbury. Denny is a new character to the TV show, but readers of the books will already be familiar with him.
Since then, at least one more character has been added to the cast: According to What's on Netflix (opens in new tab), Jasmine Vega, who played Lizzie on the Chilling Adventures of Sabrina, will play a character named Stella in the new episodes of Virgin River.
Showrunner Tenney told Netflix: "I'm incredibly excited to share Season 3 with our viewers. It's filled with twists and turns, and the season finale is a stunner."
What are reviewers saying about the new season?
Paul Dailly at TV Fanatic wrote (opens in new tab) that the new season "throws viewers right into the thick of it with the show's signature heartwarming stories, but they're infused with some of the most shocking twists to date." But according to Daniel Hart (opens in new tab)of Ready Steady Cut: "While the second installment felt like a story in its own right, Virgin River season 3 feels like the supporting act for season 4...That's not to say season 3 is bad; it has all the charm and qualities of its predecessors, but it is certainly the weakest of them all."
Esme Mazzeo writes (opens in new tab) for Tell Tale TV: "Virgin River is still a beautiful place to behold, but we barely have time to take a breath and enjoy the simpler moments of the season before the next person experiences trauma. "
What happens in season 3 of Virgin River?
Spoilers for season 3 of Virgin River ahead. Whew, where to begin? Well, Mel and Jack start season three grappling with the aftermath of Jack being shot, but very much in love—that is, until Mel tells him she wants to have a baby. Jack, who is also dealing with the news that Charmaine's boyfriend Todd wants to adopt the twins and keep him away from them, tells her that he can't give her what she needs and breaks up with her. By the end of the season, they're back together, and Jack proposes to Mel—which is when she reveals that she's pregnant but doesn't know if the baby is his (which is how we learn that she underwent IVF with the frozen embryos that she and husband Mark had saved).
Hope is nowhere to be seen in season three, but don't worry—she'll be back for season four, (opens in new tab) but couldn't film with the rest of the cast in Vancouver due to COVID-19 restrictions. Her character is seen only in video chat, but even so, it's a rough season for Hope (opens in new tab)—first she's caught up in a hurricane while visiting her elderly aunt, and then she returns to Virgin River and gets into a car accident on the way. Season three ends with Hope in the hospital with a brain injury, and Doc, who is already suffering from an illness that could leave him blind, is devastated.
Ricky and Lizzie are together for much of the third season, but when Ricky decides to enlist and doesn't tell Lizzie about it, she decides to get back together with her ex-boyfriend. Preacher takes care of Christopher for the whole of season three while Paige is on the run, but is ultimately taken and drugged as part of a plot by Paige's ex-husband to kidnap Christopher. Lilly is diagnosed with pancreatic cancer and ultimately passes away, but not before making her friends promise that they'll take care of her daughters. And we never do find out who shot Jack, but Brady is ultimately arrested for it after a gun similar to the one used to shoot Jack is found in his car—and Brady is dragged away in handcuffs, telling his girlfriend (Brie, Jack's sister) that he's being set up.
watch Virgin River season 3 on Netflix (opens in new tab)
Andrea Park is a Chicago-based writer and reporter with a near-encyclopedic knowledge of the extended Kardashian-Jenner kingdom, early 2000s rom-coms and celebrity book club selections. She graduated from the Columbia School of Journalism in 2017 and has also written for W, Brides, Glamour, Women's Health, People and more.