'Fate: The Winx Saga': Who's Who in the Fairy-Filled Cast
You've seen the magical teens in Chilling Adventures of Sabrina, Normal People, and more.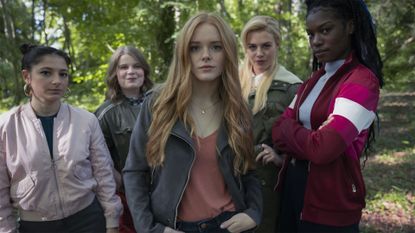 (Image credit: Netflix/Jonathan Hession)
Marie Claire Newsletter
Celebrity news, beauty, fashion advice, and fascinating features, delivered straight to your inbox!
Thank you for signing up to Marie Claire. You will receive a verification email shortly.
There was a problem. Please refresh the page and try again.
ICYMI, Hollywood's latest attempt to provide a bit of escapism to the world as we continue to hole up on our couches for the foreseeable future is Fate: The Winx Saga. The fantasy teen show is based on Nickelodeon's hit animated series The Winx Club—albeit with enough added gore and general teen angst to up the rating to TV-MA—and follows a group of teenage fairies as they learn to hone their powers at a magical boarding school called the Alfea College for Fairies.
In the same vein as illustrious forebears like Chilling Adventures of Sabrina, The Craft, and Buffy the Vampire Slayer, at its core, Fate is an exploration of young women coming into their power (mystical or otherwise). Obviously, that means the cast of this supernatural bildungsroman is packed with ultra-talented young actresses who perfectly embody the fairies' journey to empowerment—many of whom already have quite a bit of experience appearing in other hugely popular coming-of-age tales, from CAOS to Normal People. Get to know the whole fantastical cast here.
1/11
Abigail Cowen as Bloom
After 16 years of being raised as on Earth, aka the Firstworld, Bloom discovers that she's actually a fire fairy who was raised by adoptive human parents as a changeling. She travels to Alfea, located in the Otherworld, to learn to control her powers.
Cowen is no stranger to the world of mystical YA Netflix shows, having starred in Chilling Adventures of Sabrina as Dorcas and in a couple of episodes of Stranger Things as Vicki. The Florida native has also appeared in The Fosters, and can next be seen in the fantasy thriller Witch Hunt.
2/11
Hannah van der Westhuysen as Stella
Stella is a light fairy with a passion for fashion. She's a second-year student at Alfea and, NBD, is also the princess of Solaria, one of the realms of the magical Otherworld.
Van der Westhuysen began acting as a child, when she appeared in the 2004 Frankenstein miniseries and in several episodes of British children's show The Fugitives. Next up for the London native are roles in the upcoming films Sleeping Arrangements and the biopic Ferrari.
3/11
Precious Mustapha as Aisha
Aisha, Bloom's roommate, is a fellow first-year student and a water fairy. Though Aisha was a princess in the original Winx Club series, she doesn't carry that title in the live-action adaptation—unless the Fate showrunners are planning a surprise royal reveal for a future season.
Aisha is Mustapha's breakout role: The Londoner's first onscreen role came only recently, in a 2019 episode of ITV's Endeavour. This year, however, in addition to Fate, she'll also appear in several episodes of British detective comedy Code 404.
4/11
Eliot Salt as Terra
The aptly named Terra is an earth fairy, sister of Sam, and roommate of Musa. Her character has come under fire by fans of the original Nickelodeon show, as a new, white character replacing the Latina nature fairy Flora; in the Netflix series, Terra is said to be Flora's cousin, though Flora is never pictured.
You probably recognize Salt from her memorable role as Joanna, Marianne's college friend in Normal People. The British actor, comedian, and writer has also popped up in GameFace and Intelligence, alongside David Schwimmer.
5/11
Elisha Applebaum as Musa
Terra's roommate Musa is a mind fairy, with the ability to feel other people's emotions. Her character has also been criticized, since The Winx Club's Musa is not only originally a music fairy, but is also portrayed as being of East Asian descent (and said to be inspired by Lucy Liu), while Netflix's version is played by Applebaum, who some reports say may be part-Singaporean, but is nonetheless white-passing.
Like many of her costars, Applebaum hails from across the pond. Fate marks her biggest role to date; past onscreen gigs include appearances in horror films No Reasons and Carly & Paolo.
6/11
Danny Griffin as Sky
Sky is Stella's ex-boyfriend and a fellow second-year student at Alfea, where he trains as a Specialist warrior. He was raised by the school's fencing instructor, Saul Silva, after the death of his war hero father, Andreas of Eraklyon.
London-born Griffin's most recognizable role is likely that of Aslan in 2019's The Gentlemen, which also starred Matthew McConaughey and was directed by Guy Ritchie. He also recently appeared in several episodes of British teen thriller series Get Even, as Shane.
7/11
Sadie Soverall as Beatrix
Though she's not part of the core group of fairies at the center of Fate, troublemaker air fairy Beatrix is still hugely important to the show as she works to uncover the long-hidden secrets of Alfea's shady past.
This is only Soverall's second role: Her first was that of Eva in the 2019 drama film Rose Plays Julie. Like most of her castmates, the 19-year-old newcomer was born and raised in the U.K.
8/11
Freddie Thorp as Riven
Riven is Sky's best friend and fellow second-year Specialist student at Alfea. He has a rebellious streak similar to Beatrix's, and is something of a regular hook-up for the air fairy.
Thorp's last major role was as Chris in the hit Netflix mystery series Safe, and also recently appeared in an episode of fantasy-romance series A Discovery of Witches. Next up, he'll star in Summit Fever as an obsessive mountain climber.
9/11
Theo Graham as Dane
A first-year Specialist at Alfea, Dane quickly becomes close friends with Terra, Dane, and Beatrix—and develops crushes on both of the latter two.
Manchester native Graham got his start with bit roles in British TV shows All at Sea and Ordinary Lies before scoring recurring roles on soap operas Doctors and Hollyoaks, the latter of which earned him a British Soap Award nomination for Best Actor in 2018, and a win for Best Onscreen Partnership.
10/11
Jacob Dudman as Sam
Terra's brother Sam is an earth fairy, too, with the ability to phase through solid matter. He and Musa strike up a romance over the course of the series.
Dudman's last starring role was that of Thomas in 2020 Netflix mystery series The Stranger. Prior to that, the Brit appeared in Medici and The A List, and has also provided the voice of the Doctor in more than a dozen audio adaptations of Doctor Who stories.
11/11
Eve Best as Headmistress Dowling
As headmistress of Alfea, Dowling is an extremely powerful fairy, with both telekinesis and hydrokinesis abilities. Though she puts on a cold outward demeanor, she fought tooth and nail to protect the school and Otherworld from the Burned Ones in the battle at the end of Fate's first season—resulting in an unknown fate that will need to be addressed in a second season (which is hopefully arriving sooner than later!).
Best has racked up more than 25 years' worth of film, TV, and stage credits, including a long-running role on Nurse Jackie and an appearance as Wallis Simpson in The King's Speech. The London-born star has also earned plenty of awards and nominations throughout her career, including two Tony noms and the prestigious Olivier Award for Best Actress for her lead role in a 2005 production of the play Hedda Gabler, in which she starred opposite Benedict Cumberbatch.
Celebrity news, beauty, fashion advice, and fascinating features, delivered straight to your inbox!
Andrea Park is a Chicago-based writer and reporter with a near-encyclopedic knowledge of the extended Kardashian-Jenner kingdom, early 2000s rom-coms and celebrity book club selections. She graduated from the Columbia School of Journalism in 2017 and has also written for W, Brides, Glamour, Women's Health, People and more.