35 Must-Read 2021 Book Releases by Black Authors
From Cicely Tyson's 'Just as I Am' to Amanda Gorman's debut poetry collection.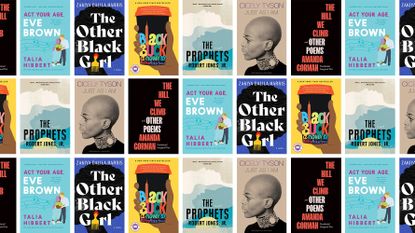 (Image credit: Design By Morgan McMullen)
Books helped us through the chaos of 2020, and in 2021 there are even more releases to offer us solace and comfort. However, despite our love for reading, many book lovers do not see ourselves represented in the books that we pick up. A recent study by The New York Times revealed that just 11 percent of books published in 2018 were written by people of color and an even smaller percentage by Black authors. To fully grasp—and empathize with—the lived experiences of the Black community, our voices and stories must be amplified and celebrated not just on Black History Month, but every month.
Whether you gravitate towards thrillers (see: Zakiya Dalila Harris's The Other Black Girl), or prefer a historical fiction novel (you can't go wrong with Robert Jones, Jr.'s The Prophets), we rounded up the must-read 2021 book releases by Black authors. Go forth and support this mix of new and notable authors, ahead.
1/35
'Black Buck' by Mateo Askaripour
This quick-witted satirical debut follows a young man who transforms almost overnight from an unambitious Starbucks employee to a ruthless salesman after a chance encounter with the CEO of NYC's hottest tech startup. When tragedy strikes, he resets with a new goal: helping young people of color infiltrate America's sales force.
Available January 5, 2021
2/35
'The Prophets' by Robert Jones, Jr.
A devastating and beautifully written novel set at a Mississippi cotton plantation, The Prophets follows two enslaved Black boys, Isaiah and Samuel, as they fall in love and find refuge in each other amidst the horror of their reality. But when a fellow slave seeks to gain favor by preaching the master's gospel, their relationship is exposed, which sets off a brutal chain of events.
Available January 5, 2021
3/35
'Angel of Greenwood' by Randi Pink
Isaiah Wilson and Angel Hill attend the same school in the Greenwood area of Tulsa, Oklahoma—known as Black Wall Street—and hold different views on how to defeat racism. But when a vicious white mob storms the community of Greenwood on May 31, 1921, leaving the town destroyed and thousands of residents displaced, Isaiah, Angel, and their peers discover who their real enemies are.
Available January 12, 2021
4/35
'We Are All Birds of Uganda' by Hafsa Zayyan
This ambitious debut follows Sameer, a high-flying lawyer in present-day London who travels to Uganda to discover his origins, and Hasan, a successful family man in 1960s Uganda facing deportation due to his Asian background. Spanning across two continents and several generations, Hafsa Zayyan's novel is a multi-layered, moving tale about identity, family, prejudice, and how history repeats itself.
Available January 21, 2021
5/35
'Just as I Am' by Cicely Tyson
The late Academy-, Tony-, and three-time Emmy Award-winning actor and trailblazer Cicely Tyson, known for her work in The Autobiography of Miss Jane Pittman, A Woman Called Moses, and Roots, reflects on her life and career spanning more than seven decades, transforming from the church girl who once rarely spoke a word to one of the most prolific actresses of the century.
Available January 26, 2021
6/35
'A Glimmer of Death' by Valerie Wilson Wesley
Fans of cozy mysteries will love this novel about caterer and psychic Dessa Jones who takes a job at a real estate firm when her bakery company goes bust. Her new boss, Charlie, is an abusive jerk, so when he's found brutally murdered, his many victims become the suspects. As Dessa follows the case, she realizes that she needs to do something fast before she's either the next victim or the primary suspect.
Available January 26, 2021
7/35
'This Close to Okay' by Leesa Cross-Smith
Recently-divorced therapist Tallie Clark is heading home when she saves a man from jumping off of a bridge. Told through both Tallie and the man's perspective, this is a touching story about two strangers who meet under the worst of circumstances, but end up finding love and healing within each other.
Available February 2, 2021
8/35
'Four Hundred Souls' by Ibram X. Kendi & Keisha N. Blain
Edited by Ibram X. Kendi, author of How to Be an Antiracist, and fellow historian Keisha N. Blain, Four Hundred Souls is a 400-year history lesson on African Americans from the arrival of 20 enslaved Ndongo people on the shores of the British colony in mainland America to present day. Ninety writers take on five years each to create this essential work of Black history.
Available February 2, 2021
9/35
'Muted' by Tami Charles
Seventeen-year-old Denver is ready to leave her small, white town and become a star with her two best friends, Shak and Dalisay. When they meet R&B star Sean "Mercury" Ellis, it seems like their dreams may come true. But Denver begins to realize that she's trapped in Merc's world, and she must get out or be broken. Written entirely in verse, Muted is a fearless exploration of the way Black and brown girls are exploited in the music industry.
Available February 2, 2021
10/35
'The Gilded Ones' by Namina Forna
One of *the* most talked about books of the year is this West African-inspired feminist fantasy set in a patriarchal society, where a woman's worth is tied to her purity. When Deka bleeds gold—the color of impurity—at the blood ceremony, she's presented with two choices: stay and be subjected to torture at the hands of her former community, or leave and join an army of girls just like her to fight for the empire. The novel has already been auctioned for a TV adaptation.
Available February 9, 2021
11/35
'Honey Girl' by Morgan Rogers
Grace Porter, an overachiever and recent PhD graduate, goes on a girls trip to Vegas to celebrate her degree, but gets drunkenly married to a woman whose name she can't even remember. Staggering under her father's expectations, she escapes to New York to spend the summer with her wife. Morgan Rogers's debut novel is a coming-of-age story that explores what it means to follow your heart and make space in places never meant for you.
Available February 23, 2021
12/35
'Black Boy Out of Time' by Hari Ziyad
One of 19 children in a blended family, Hari Ziyad was raised by a Hindu Hare Krsna mother and a Muslim father. Taking the reader on a journey of their formative years and later throughout their life, as they navigate towards finding their true self in New York City, they explore childhood, gender, race, and what it means to grow up Black and queer in America.
Available March 1, 2021
13/35
'What's Mine and Yours' by Naima Coster
From the author of Halsey Street comes an explosive family saga spanning three decades about two families in Piedmont, North Carolina, whose lives intersect during the aftermath of a high school integration initiative.
Available March 2, 2021
14/35
'The Conductors' by Nicole Glover
In a post-Civil War Philadelphia, Hetty Rhodes, a magic user and former conductor on the Underground Railroad, solves murders and mysteries with her husband, Benjy, that the white police ignore. When one of their friends is found murdered in an alley, they set out to find answers, but their search leads them to unexpected revelations that will change everything.
Available March 2, 2021
15/35
'Lightseekers' by Femi Kayode
Dr. Philip Taiwo is a respected Nigerian investigative psychologist who is called on by a powerful Nigerian politician to look into the public torture and murder of three university students in Port Harcourt. When he arrives there, he discovers that there's far more to the story, and he must quickly navigate the tumultuous sociopolitical landscape to find out the truth before it's too late.
Available March 2, 2021
16/35
'Act Your Age, Eve Brown' by Talia Hibbert
The final installment in The Brown Sisters trilogy centers on the flightiest Brown sister, Eve, who sets out to prove herself to her parents by getting a job at a B&B. However, the rigid, perfectionist owner, Jacob, is instantly put off by Eve. When she accidentally hits him with her car, he's forced to accept her help. Before long, she's infiltrated his work, his kitchen, and his heart.
Available March 9, 2021
17/35
'Black Girl, Call Home' by Jasmine Mans
In a deft and breathtaking portrayal of identity, race, sexuality, family, and feminism, spoken-word poet Jasmine Mans explores the painful, joyous path to adulthood as a young, queer Black woman in America.
Available March 9, 2021
18/35
'Wild Women and the Blues' by Denny S. Bryce
In 1925 Chicago, the jazz capital of the world, Honoree is trying to dance her way to the top at Dreamland Café, where she socializes with celebrities. In 2015, grieving film student Sawyer Hayes seeks out the 110-year-old Honoree to get answers for his thesis on the legendary filmmaker, Oscar Micheaux. As the past meets the present, it's a final chance for Honoree to truly be heard and seen before it's too late.
Available March 30, 2021
19/35
'Libertie' by Kaitlyn Greenidge
In Reconstruction-era Brooklyn, Libertie Sampson, the daughter of a Black female physician, is urged by her mother to become a doctor, but Libertie would rather pursue music. So, when a suitor from Haiti proposes to Libertie promising true equality on the island, she accepts, only to discover that she is far from living the life of freedom she craves.
Available March 30, 2021
20/35
'The Final Revival of Opal & Nev' by Dawnie Walton
Opal is an Afro-Punk performer in the '70s who teams up with aspiring British singer/songwriter Nev for a rock music collaboration. However, when a rival group uses a Confederate flag for their promotion and Opal fights back, their collaboration ends before it has even begun. Decades later, a music journalist sets out to document the rock-and-roll duo's rise and fall. But as she digs deeper, disturbing allegations come to light that threaten to destroy everything.
Available March 30, 2021
21/35
'Caul Baby' by Morgan Jerkins