31 Things We've Learned from Kirsten Gillibrand
U.S. Senator Kirsten Gillibrand challenges women to become major players.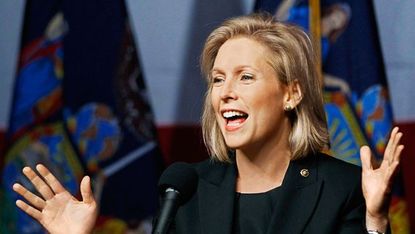 (Image credit: Reuters/Lucas Jackson/Getty Images)
Marie Claire Newsletter
Celebrity news, beauty, fashion advice, and fascinating features, delivered straight to your inbox!
Thank you for signing up to Marie Claire. You will receive a verification email shortly.
There was a problem. Please refresh the page and try again.
U.S. Senator Kirsten Gillibrand (D-NY) celebrates her election at a rally in New York City, November 2010.
Since joining theSenate in 2009, Kirsten Gillibrand (D-NY) has been a fearless advocate for women. She's fought against sexual assault both in the military and on college campuses, called on Congress to help close the gender pay gap, and advocated for better policies to support working women and families. Now, she's turning her attention to getting women involved—a powerful message delivered in her new memoir, Off the Sidelines: Raise Your Voice, Change the World (Ballantine).
THE 11 THINGS WE LEARNED DURING OUR INTERVIEW WITH KIRSTEN GILLIBRAND:
MARIE CLAIRE: What inspired this book?

KIRSTEN GILLIBRAND: I wanted to make a heartfelt request for women to participate. I think women's views, values, and priorities are missing in the national and local debate, and I think if we heard more of them, it would make a difference. It's not just that I want women to run for office; I also want them to be active in their community—in every sphere, because their life experiences are really relevant to all levels of decision making.
MC: In the book you liken your call to action to the Rosie the Riveter campaign. How are the two related?

KG: Rosie the Riveter was such a good image for me because it was an iconic advertising campaign in World War II. By the end of the war, six million women entered the workplace, and that forever changed our U.S. economy and women's roles in it. So I feel like we need a similar call to action that assures women how powerful and important their voices are and let them know that if they usetheir voices, outcomes will be better. Imagine if six million more women were voting today, that aren't voting. If six million more women were holding their elected leaders accountable, that are not holding them accountable today—six million more women at decision making tables all across the country. That would be a really powerful thing.
MC: What lessons do you hope women glean from your personal struggles?

KG: We learn by hearing how someone got from A to B. I thought if I told stories about the challenges I've faced, my book would resonate more. I hope women who read my book see their own lives within my life, their own challenges through my challenges. Then maybe they'll get some guidance or realize they're not alone—we all juggle the same things, and we all struggle with not being perfect at everything, and that's OK.
MC: You've been part of efforts to draw attention to some of the impediments in the workplace, including raising the minimum wage and addressing the fact that women still only make 77¢ to the man's dollar. Sometimes it gets framed as a "women's issue," but as you point out, it is interconnected with our economy. Why is that such a hard connection for people to make?

KG: Well, fundamentally, they shouldn't be "women's issues"—they're issues that affect everyone. Eight out of 10 families have women in the workplace. So being concerned about whether women are receiving fair pay for their work and whether they're getting supported when they need it is highly relevant to all Americans. The discussion about finding balance and raising your family and putting food on the table at the same time is a universal challenge, and if we're not supporting women in the workplace, then we're not doing our jobs. So I think if all of us could, on some level, rise up and be heard on why creating a better workplace for all parents and all working women is so important, we'll have a stronger economy and a stronger workforce.
MC: What is the current landscape for women in D.C.?

KG: Our presence and power are growing. The fact that we have 20 women in the Senate is helpful, but having only 18 percent in the House is not enough—Congress should be 51 percent female. Women bring a problem-solving approach to Washington. And Washington is broken, so it's very important to have women who are trying to reach across party lines and find common ground.
MC: You led a crusade against rape in the military. Where does that stand, and how did you feel when your version of the bill, which would have removed the chain of command from prosecuting sexual assaults, didn't pass?

KG: The issue became so important to me because of the stories of women and men who went through hell to not only survive, but to try to get some measure of justice. It was very crushing not to get the votes that we needed, but the victims and the survivors themselves are the ones who drive me to never give up. So we're going to keep fighting. I am going to have a meeting with President Obama in the very near future to again advocate why this is a change he should make.
MC: During that time you were very publicly on opposing sides of the issue with another fellow Senator, Claire McCaskill. How did you feel about that?

KG: To have a handful of democrats that didn't support the reform was personally challenging. I greatly respect Claire and all the women senators. Claire and I are now working together on sexual assault on college campuses and we're trying to create real accountability on that landscape.
MC: What can you tell us about your new initiative to increase S.T.E.M. [Science, Technology, Engineering and Math] education for women? Why is that something that you thought was important to take on right now?

KG: If we want all of our workforce, all of our great minds, focused on solving all the problems we need solved, we need to have more women interested in S.T.E.M. So I support legislation that can hopefully help teachers inspire young girls in their grade school years and to teach them why being good at math and science can help people, because that's what girls want to do—more often than not, they want to have an impact on the community, and if you're good at these subjects, you can actually accomplish that.
MC: Hillary Clinton, who wrote the foreword in your book, has played a pivotal role in your life. What has she meant to you?

KG: Hillary has always been one of my best role models and mentors. She was the one who got me off the sidelines! When she gave that speech in China [at the United Nations Fourth World Conference on Women in 1995], not only did she inspire me when she said, "Women's rights are human rights and human rights are women's rights," but the fact that she was so bold in delivering that message from a stage in Beijing really blew me away. At that moment, I said, "I have to get involved in politics."
MC: We have to ask: how do you feel about Hillary and her prospects for 2016?

KG: I think she's the most qualified candidate in the country. I think she will make an extraordinary president. So I'm very hopeful that she will run and that she will be our next president. And I will do everything in my power to help her.
MC: What guidance would you offer to young women today?

KG: I think being exactly yourself is really important. Women need to have the confidence to be who they want to be and know that they're different and that's a good thing. We all do our best—no one's ever going to get it perfectly right—but all of these fights are worth fighting, win or lose. If my book can turn even one woman into an advocate on the issues she cares about, then I've accomplished my goal.
Gillibrand's memoir, 'Off the Sidelines', will be published this month.
...AND 20 MORE THINGS WE LEARNED FROM KIRSTEN GILLIBRAND'S MEMOIR
1. She went by the name Tina until her early professional life, when she was told, "Your real name has more gravitas."
2. She's been friends with actress Connie Britton since they went to China during their days at Dartmouth.
3. As a Girl Scout, she "had to earn every badge and sell the most cookies."
4. Her first car was an AMC Pacer.
5. Her father nicknamed her Foghorn and Loudmouth for her tenacity at debate.
6. She had a fake ID at 15.
7. She chose UCLA for law school to follow her first boyfriend—who ended up not going.
8. She was turned down for six jobs, including at the Ford Foundation and the Rockefeller Foundation, before Andrew Cuomo hired her as special counsel at HUD.
9. She played soccer, tennis, and squash in school, has run two marathons, and plays on the congressional women's softball team.
10. When she spoke at the House of Justice in Harlem, Rev. Al Sharpton called her "Reverend Kirsten Gillibrand."
11. Her husband proposed in Central Park with a ring he'd hidden inside a snowball.
12. Her law firm, Boies, Schiller & Flexner, didn't have a maternity leave policy, so she wrote one.
13. A big believer in transparency, she posts her earmark requests and public meetings online in the Sunlight Report.
14. She made her staff read The Secret in preparation for passing the 9/11 health-care bill.
15. She has a "huge girl crush" on Tina Fey.
16. She was among the first to see Gabby Giffords, a close friend, in the Tucson, Arizona, hospital after Giffords was shot.
17. She's allergic to cats.
18. When the positive thinker ran for office in 2010 and set a fundraising goal of $3 million in the first quarter, she made her computer password "3M1stQ."
19. She's been every clothing size from 4 to 16.
20. When appointed as New York senator and called "Tracy Flick" in the press, she didn't consider it a compliment. When fighting against how the military handled rape and Senator Bob Corker (R-TN) called her a "honey badger," she did.
Celebrity news, beauty, fashion advice, and fascinating features, delivered straight to your inbox!