More Than a Pretty Face: Queen Noor of Jordan
More than a pretty face.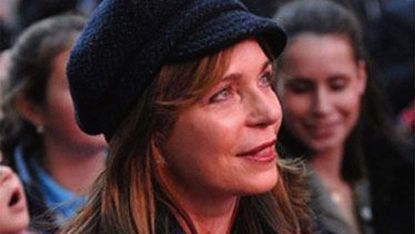 (Image credit: Gary Gershoff)
Age: 56
Notable quote: "In America, there's a sense that anything's possible. It's a luxury, that blind faith and idealism, that sense of, 'I can do something about my life.'"
The Iraq war has forced hundreds of thousands of refugees into neighboring countries, and Queen Noor of Jordan is making it her job to help them - offering counseling, healthcare, and hope. As the fifth anniversary of the war looms, the American-born queen - who was married to King Hussein of Jordan for more than two decades before his death in 1999 - talked with Marie Claire's Abigail Pesta.
Q. Why do you think there's such inadequate attention paid to the refugee situation?
A. Many say the reason countries like the U.S. haven't been more focused on this issue is because it's difficult to admit to the humanitarian catastrophe this war has created, both inside and outside Iraq's borders. This could become a long-term stability issue in the larger region, so we really need more focus on this.
Q. What kind of shape are the refugees in?
A. The majority are young women and children, and they face extraordinary challenges from the trauma they've endured in the war. The Noor Al Hussein Foundation, which I founded almost 25 years ago, has a health center that has been providing medical care, counseling, and pediatric services to refugees in and around our capital, Amman. We've built up our services thanks to help from international aid groups - but the problem is overwhelming.
Q. What's your plan for the coming year?
A. We're setting up special centers that will provide schooling for refugee children, and also guidance for mothers on how to develop their own home-based businesses - for instance, growing herbs and selling them. And for young people, we'll have IT training that can help them avoid becoming absolutely marginalized and hopeless. The kids who benefit from this, and from counseling, are less likely to revert to delinquency and violence.
Q. Have you seen firsthand how education can prevent violence?
A. Yes, I have, in many of the conflict regions where I work around the world. Two international programs that have been uniquely successful are Seeds of Peace and the United World Colleges. Seeds of Peace brings together young people across the Mideast; whether they're Palestinian refugees or Israelis who have been targeted by bombings, they share their own personal stories, so both sides can learn how things look the other way around. Too often, outside conflict zones, it's hard to understand what drives people to violent extremes, because the media and politicians aren't focusing on the human suffering behind the headlines.
Q. What should Americans know about the Middle East?
A. In America, there's a sense that anything's possible. Even people in difficult circumstances, for the most part, believe that their hard work can make a difference, at least for their children. I have realized from my work around the world that it's a luxury, that blind faith and idealism, that sense of, "I can do something about my life." I read some polling data from Gaza, where a phenomenal number of young people thought that the only way they could imagine really expressing themselves, having meaning in their lives, was to become suicide bombers. It's because they saw no economic opportunity, no life, no horizon, no vision for the future.
Q. You're American but deeply rooted in the Arab world. Do you think we can build a bridge between the Middle East and the West? Do you think both sides in fact want this?
A. I do believe that people on both sides want this. But there has to be the desire to understand - we have to have open hearts and minds. There is certainly fear and insecurity on both sides, and extreme forces that are increasingly intolerant, judgmental, and confrontational. We have to more effectively empower and mobilize the moderates.
Q. There's a fair amount of confusion in the West about Muslim women and the head scarf. Can you explain what the scarf represents?
A. Islam calls for men and women to behave and dress modestly. Modest dress for many does not require having to cover up the head. But now, I think, for an increasing number of Arabs and Muslims, there is a resistance to what they see as the Western sexual objectification of women in dress and behavior. So for some, the head scarf is an alternative to that sexual objectification. It is a way of saying, "I don't want to be judged by my appearance. I want to be judged by what I am." For others, it is a way of identifying themselves as Muslims, respecting a more conservative set of personal and social values.
Q. There's been a movement in Jordan to stiffen the sentence for those who conduct honor killings - the killing of women who have "shamed" their family in some way. What's the latest on that?
A. Yes, efforts have been made to bring the sentencing in line with normal sentencing for homicide, but they've been resisted over many, many years by conservative members of parliament. In fact, we are talking about very small numbers of killings, but none of them are acceptable, and certainly none of them should appear to be condoned in any way. It's a big struggle. There are so many patriarchal patterns that really run counter to Islam. Islam forbids taking the law into one's own hands, and it forbids the kind of slander that often comes with condemning these women. Often, tragically, the women are proven not guilty of anything after their death.
Also, I'd like to add something about Muslim women's rights: Few Westerners realize that 7th-century Islam granted women political, economic, legal, and social rights unheard of in the West. These rights were based on the teaching of the equality of men and women before God - and this is when most of the rest of the world considered women chattel.
Celebrity news, beauty, fashion advice, and fascinating features, delivered straight to your inbox!
Abigail Pesta is an award-winning investigative journalist who writes for major publications around the world. She is the author of The Girls: An All-American Town, a Predatory Doctor, and the Untold Story of the Gymnasts Who Brought Him Down.